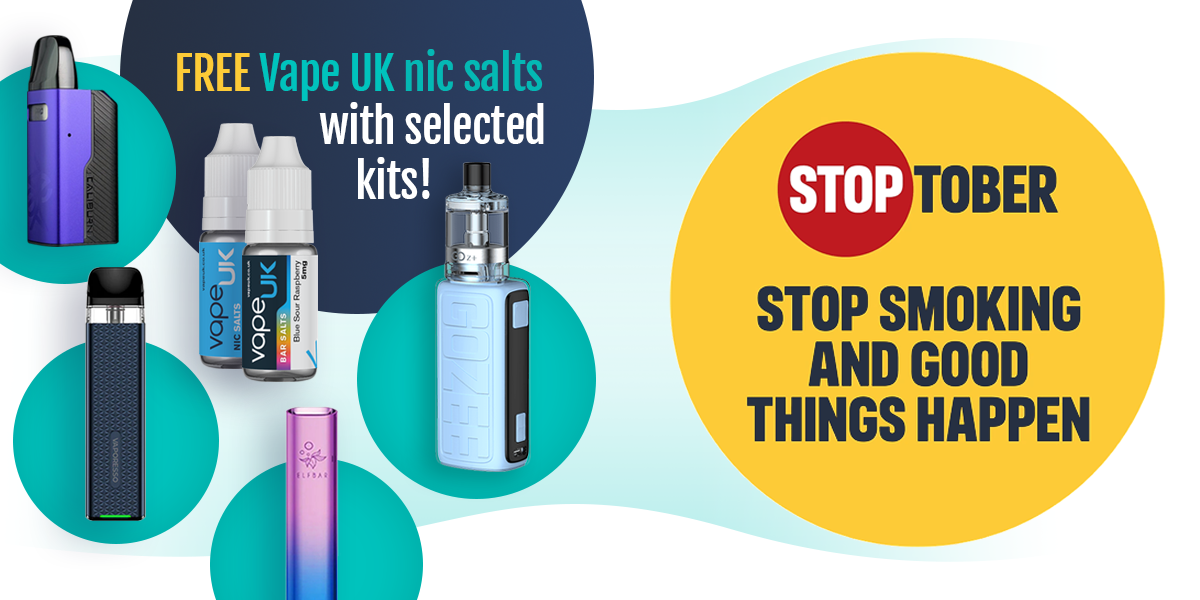 It's never too late to quit smoking and many health benefits will happen faster than you think. Whether you want to start breathing easier, feel the energy boost, or even have a little more money to spend, there has never been a better time to stop smoking. Switching to vaping can help you to quit, and they're substantially less harmful than cigarettes. Stop smoking, and good things happen.
What is Stoptober?
Stoptober is a national, annual smoking cessation campaign led by the Department of Health and Social Care that encourages smokers to start by abstaining from smoking for 28 days during the month of October. In England, it is now entering its twelfth year having been first launched in 2012. Versions have since been adopted in other countries, including New Zealand, the Netherlands, and France, following a positive evaluation of the first campaign.
This year, the campaign is rallying the 5 million smokers in England to join together to support each other and commit to quitting. No matter how many times someone has tried to quit in the past, Stoptober encourages all smokers to make a new quit attempt 1st October.
Why is Stoptober necessary?
The campaign reinforces the positive message that smokers achieving 28 days abstinence are typically five times more likely to become permanent ex-smokers than they were at the start, having recovered from the worst of the cravings and withdrawal symptoms.
The campaign offers smokers a range of proven tools and shares useful tips to help them on their quitting journey. Stoptober support includes an app, social media and daily emails, as well as free face-to-face advice from professionals via local Stop Smoking services.
In the twelve years since the campaign was first launched, Stoptober has driven over 2.5 million quit attempts. New research from a Censuswide survey of ex-smokers finds that nearly all (95%) saw positive changes in their life soon after quitting.
A total of 19.3% of all adults aged 18 and over were smoking in 2012. While smoking rates have declined massively to 12.7% in 2022, we still have 5.3 million smokers in England, and it remains the single biggest cause of preventable illness and death.
Smoking causes 64,000 preventable deaths a year in England. The total cost from smoking to society in England is approximately £17 billion a year. This includes the cost to the NHS of treating diseases caused by smoking at approximately £1.9 billion a year. Between 2019 and 2020, 448,000 hospital admissions were attributable to smoking in England.
Since Stoptober began, there have been 1.4 billion fewer cigarettes smoked per year due to people quitting entirely, or reducing the number of cigarettes they smoke.

Stoptober 2023
For the 2023 campaign, smokers looking to quit are, once again, being advised to choose the support they need to help them stop smoking and start seeing the benefits of a smoke-free life.
This year, Stoptober is back with a new campaign slogan, 'When you stop smoking, good things start to happen', reminding smokers of the many benefits of stopping smoking.
Government health officials have said smokers stand a much greater chance of succeeding by giving up by using official tried and tested stop smoking treatments, such as e-cigarettes.
Research has shown only 4% of those who go "cold turkey" remain smoke-free after a year; yet about two thirds of people who use a vape along with expert support successfully quit smoking.
For the seventh year running this Stoptober, Public Health England is advocating the use of e-cigarettes to help quit smoking. It's not just the health benefits either that should have you convinced - vaping actually costs much less than smoking. Once you have bought the kit, it's been estimated that vaping costs about a third as much as smoking. Win win!

Where does vaping fit into Stoptober?
According to ASH (Action on Smoking and Health), electronic cigarettes have played a significant role in helping the UK achieve the second lowest smoking rates in the EU.
Their 2023 Smokefree GB survey revealed that the proportion of the population using e-cigarettes in 2023 is 9.1%, the highest rate ever, equal to 4.7 million adults in Great Britain. Of these, 2.7 million (56%) are ex-smokers, and 1.7 million (37%) are current smokers.
The main reasons given by current smokers for vaping are to cut down on smoking (19%), to try to help them quit (17%) and to prevent relapse (13%).
The main reasons given by ex-smokers for vaping are to help them quit (31%); to prevent relapse (22%); because they enjoy the experience (14%); and to save money (12%).
Independent research from Public Health England and the Royal College of Physicians in 2015, concluded that vaping is at least 95% safer than smoking.
A major UK clinical trial published in 2019 found that, when combined with expert face-to-face support, people who used e-cigarettes to quit smoking were twice as likely to succeed as people who used other nicotine replacement products, such as patches or gum.

How does vaping help you quit smoking?
Some of the key benefits of vaping, compared to tobacco smoking are:
Vaping offers the 'oral fixation' simulation to smoking along with the nicotine and throat hit found in smoking
The hand-to-mouth action replicates smoking, unlike other nicotine delivery systems
Vaping allows you to inhale nicotine without most of the harmful effects of smoking
E-liquid contains only three components plus nicotine. The three components are vegetable glycerine (VG), propylene glycol (PG), and flavourings, all of which are often found in food products
Modern e-cigarettes deliver nicotine more quickly and effectively than cigarettes
E-cigarettes are tightly regulated for safety and quality by the Tobacco Products Directive (TPD)
What about risks from nicotine?
While nicotine is the addictive substance in cigarettes, it is relatively harmless in the volumes used in regulated e-liquids. Almost all of the harm from smoking comes from the thousands of chemicals contained in tobacco smoke, many of which are toxic. Nicotine replacement therapy has been widely used for many years to help people to stop smoking and is a safe form of treatment.

Is e-cigarette vapour harmful to others?
So far, there is no evidence that vaping causes harm to other people around you. The available evidence indicates that any risk of harm is extremely low, especially when compared with secondhand tobacco smoke.
Are children more likely to vape?
It is illegal to sell e-cigarette products to anyone under 18 or for adults to buy them on behalf of under 18s. Reputable retailers, such as ourselves, use robust age verification software on their websites to ensure that we protect those below the minimum legal age.
Experimenting with e-cigarettes isn't unheard of among young people. However, use among 11-17 year olds who have never smoked remains low and largely experimental. While 7.5% of never smokers have tried an e-cigarette in 2022, only 1.7% report at least monthly use. Vaping remains largely confined to regular smokers.

Vape UK backs Stoptober 2023
Ultimately, all the evidence points to vaping being a massive help to people who want to quit smoking for good. For that reason, we at Vape UK are once again joining the Stoptober revolution in 2023 to help people who want to quit smoking get their best shot at succeeding.

Quit smoking for good this Stoptober
We also pride ourselves on our expert knowledge and outstanding customer service. This means that we're on hand to provide the advice and support you need to help ensure you choose the right products, and have the best chance of success.
We have tons of helpful guides in our news section. To help you through Stoptober, you might find our guide to the 'Benefits of Switching from Smoking to Vaping' particularly useful.

Our Stoptober 2023 starter kit offers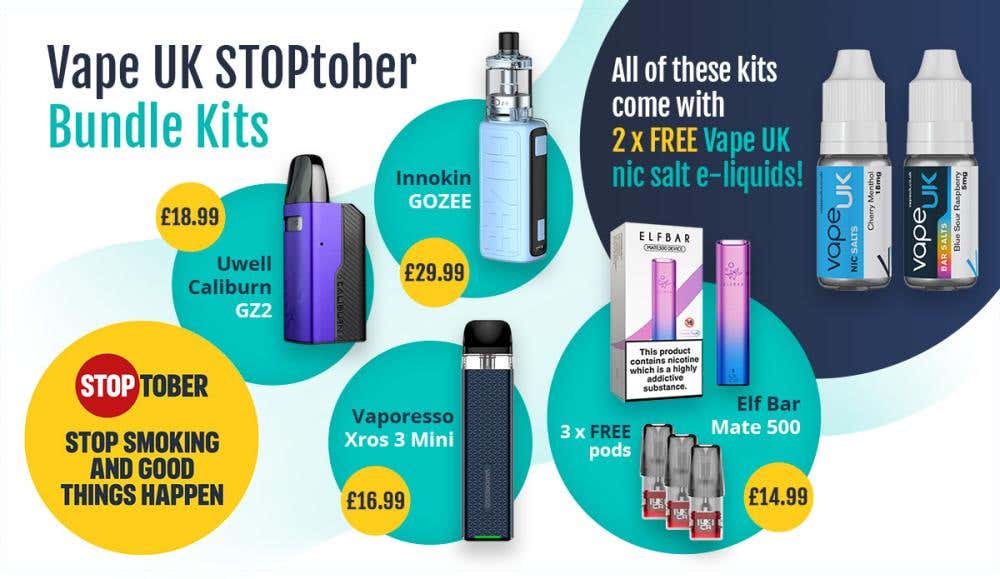 We have selected four highly recommended starter kits to help you through your breakup with smoking.
Each kit is designed to offer something slightly different, so you can choose the style and features that suit you best. They have proved a big hit with our customers, and have been generating great reviews.
Prices for these kits start from just £14.99, which is about the same as 20 cigarettes these days!
Choose between the super simple Elf Bar Mate 500, the stylish Vaporesso Xros 3 Mini, the state-of the-art Uwell Caliburn GZ2, or the uber funky Innokin GOZEE, and prepare yourself for smoking cessation success!
Plus, as a bonus, we're throwing in TWO FREE premium Vape UK nic salt e-liquids with every purchase of a Stoptober Bundle Kit! You'll get to choose the flavour, and the nicotine strength, for each vape juice. There's a huge range of options, so you're guaranteed to find at least one that you'll love.
No matter which kit you decide upon, they are all specially designed for mouth-to-lung (MTL) vaping, which is the vaping style that most closely replicates smoking a cigarette. Most newcomers to vaping who are switching from smoking will start with MTL vaping, as it feels like the most natural way for smokers to inhale.
Stop smoking by switching to vaping this Stoptober. We're always here to help!

We're here to help you quit smoking for good
At Vape UK, we are famous for being responsible vaping advocates. We keep up to date with all of the latest news and studies; we supply high quality TPD compliant vaping products; and we are always on hand to offer helpful and honest advice about vaping. Please get in touch if you have any questions about vaping for our team.