E-Liquids
We offer a wide variety of premium quality e-liquids to satisfy your vaping cravings. We believe that the right e-liquid can make all the difference in your vaping experience, and that's why we only stock the best brands in the market. Our selection includes a diverse range of flavours, from classic tobacco and menthol to fruity and dessert-inspired blends. Whether you're a beginner or a seasoned vaper, we have something for everyone.
About E-Liquids
At Vape UK, we appreciate how important e-liquids are for vapers. After all, it's the part you actually vape! And that's why we have the biggest collection of premium quality e-liquids, which are certain to satisfy your vaping cravings.
Our online range spans into the thousands, with many top-notch brands and flavours to try out and enjoy.
Whether you're into high-VG vape juice or want that 50/50 e-liquid balance, Vape UK has you covered. From our very own 10ml bottles you can slip in your pocket to bigger Shortfill E-Liquids for vapers that want more.
And let's not forget our extensive range of flavours and strengths – from classic Freebase Nicotine to Nic Salts.
It doesn't matter how much or little cash you have to splash, as our e-liquids start from just £2. Customers who spend £20 or over qualify for free delivery too – perfect!
Whether you're new to the vaping world or consider yourself a pro, take a look below at this handy guide we've created on e-liquids.
What is an e-liquid?
E-liquid (otherwise known as vape liquid and vape juice) is the specially crafted fluid that fills up your vape kit. To put it simply, it's fuel for vaping.
They fulfil your cravings for nicotine and replace the dangerous smoke you inhale when using traditional cigarettes. From Disposable Vapes to sophisticated Pod Kits, e-liquid is the key player across the board.
If you've taken a glimpse at our page, you'll notice the expansive array of vape liquid options we have available. This diversity ensures compatibility with any vape kit. E-liquids also give you the opportunity to experiment with different flavours and varying nicotine strengths that will elevate your vaping experience in terms of taste and sensation.
How does vaping e-liquid work?
When vaping is done correctly, the e-liquid doesn't turn into steam – it transforms into an aerosol mist. This mist becomes the vapour you exhale, in the same way water droplets create clouds. The mist contains CO2, a gas that naturally exits our bodies during regular breathing.
The temperature of the vapour will depend on your vape settings. It might feel pleasantly cool, akin to a refreshing breeze, or slightly warm.
Most importantly, the vapour is never as hot as the smoke produced by a cigarette. Vaping provides a smoother experience to savour various flavours without the intense heat linked with smoking.
What is in vape juice?
There are four key components in vape juice. These are:
PG (propylene glycol)
VG (vegetable glycerine)
Nicotine
Flavourings
Your vape doesn't house any tobacco, and it certainly doesn't do any burning. So there's no tar or any other nasty stuff commonly associated with traditional smoking.
All the ingredients of your e-liquid have a part to play. PG and VG work together to create that cool vapour you see while nicotine steps in to tackle those cravings.
Speaking of nicotine, it isn't the best flavour on its own, which is where the fourth and final component comes in – flavouring. This makes your vape juice taste brilliant and keeps you happily vaping along.
What is VG?
VG (vegetable glycerine) is a clear liquid made from processing certain plant fats like coconut oil and soybean. It's safe to use and doesn't have any colour. VG resembles a thick, odourless syrup that is a bit sweet, like sugar.
There are two main things VG does when you vape:
It adds a sweetness to the liquid, which makes the puff feel nice and easy.
It helps create vapour. The more VG in an e-liquid, the smoother the puff will feel on your throat. You'll also see thick clouds when you exhale.
VG isn't as good at carrying flavours as PG. Sometimes, it can even out the tastes in the vapour. You can vape a liquid that's purely VG, but it's often better to mix VG with PG.
The more VG you have in a vape liquid, the more suitable it is for certain kinds of vaping, like dripping and temperature control vaping.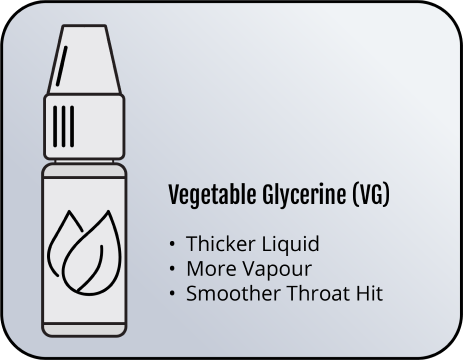 What is PG?
PG stands for propylene glycol. This chemical is safe to use in:
PG is a part of a group of chemicals called diols, and its structure is quite similar to alcohol. The UK's Food Standards Agency has officially approved PG to be added to food (it's listed as E1520).
To make PG, a substance called propylene is mixed with water. PG looks like water. It doesn't have a strong smell, is a little sweet, and flows more easily than VG.
PG makes vapes taste great and gives you a similar feeling in your throat to when you smoke a cigarette. If you're used to smoking and have just switched to vaping, you may prefer liquids with more PG, as it creates a stronger throat hit.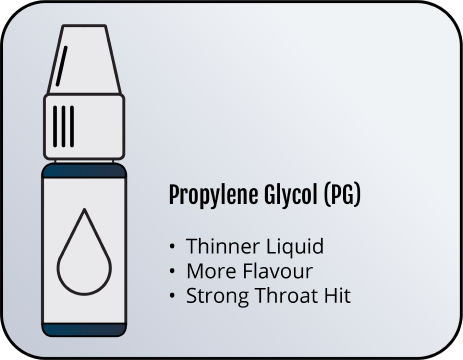 What are PG and VG ratios?
E-liquid is made up of nicotine, flavours, and PG & VG in different amounts.
The most important element to consider is how much PG and VG are in the e-liquid. This is known as the PG/VG ratio.
The ratio affects various aspects of vaping, such as how powerful the flavour is, how strong the sensation is on your throat, and how much vapour is produced.
Let's take a look at the two most common PG/VG ratios:
50VG/50PG
The 50/50 PG and VG ratio, as the name suggests, offers an even share of PG and VG. It's the most common ratio and can be found in all 3 types of e-liquids - Nic Salts, Freebase Nicotine and Shortfills.
You can vape all e-liquids at an even ratio, but you can only vape them at certain power levels in certain Vape Kits.
70VG/30PG
The 70VG/30PG ratio is great for those who enjoy creating big clouds of vapour when they use their device. If you want your vaping experience to have a bit of flavour and a touch of that nicotine kick, this blend is spot on.
70VG/30PG is popular with vapers who use high-wattage Sub-Ohm Vapes. Pairing these powerful kits with delicious Shortfill E-Liquids in this ratio ensures an enjoyable vaping experience.
Which type of e-liquid is right for my vaping kit?
The type of e-liquid you should pick depends on both the vaping device you are using and your personal preference. The VG:PG ratio determines the viscosity and overall vaping experience.
For Pod Kits
Pod Kits are brilliant options for new vapers. Not only are they compact, but they're simple to use too. Opt for Nic Salts or Freebase Nicotine E-Liquids in these low-powered vapes.
The coils in these kits feature small wicking holes, which means they work best with thinner e-liquids. You can use any nicotine-strength e-liquid from 0mg to 20mg.
When you use this kind of kit with an e-liquid, you produce a small level of vapour, which you inhale into your mouth first before you take it into your lungs, similar to how you would smoke a cigarette. These kits are often known as 'mouth to lung' vapes.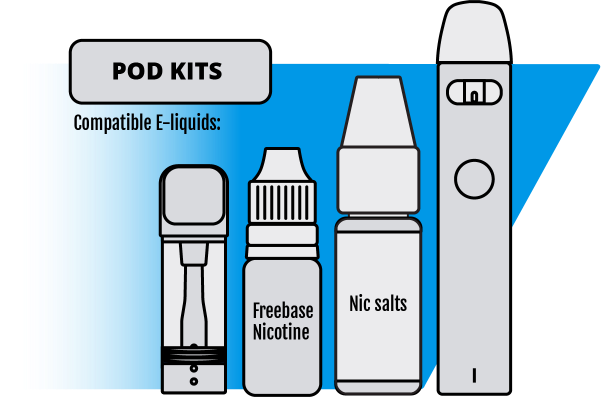 For Sub-Ohm Kits
Sub-Ohm Vape Kits make tons of vapour, and their coils feature huge holes that soak up the liquid. These kits are brilliant for thick juices like Shortfill E-Liquids that produce more vapour.
You need to breathe these in a bit differently than you would with other kits by breathing vapour straight into the lungs without holding it in your mouth first (known as direct-to-lung vaping).
With the use of Nic Shots, you can increase the nicotine level of your Shortfills to a 3mg or 6mg nicotine strength, but we don't recommend going higher as it would get too harsh to enjoy.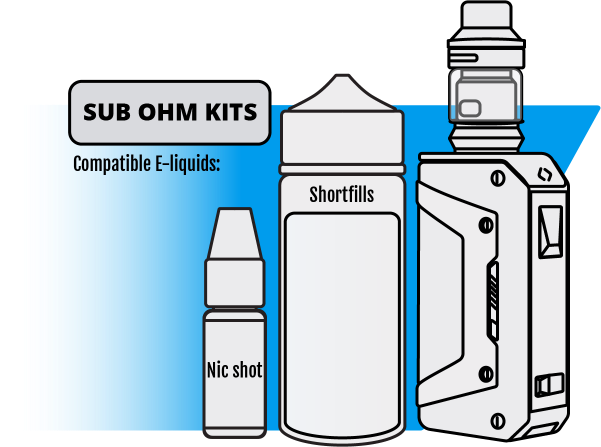 FOR
Vape Starter Kits & Pod Vape Kits
CHOOSE
Balanced VG/PG (50:50)
E-liquids with an even VG:PG ratio strike a perfect balance between vapour production and flavour delivery. They're ideal for most vapers, including those who use Pod Vape Kits and Vape Starter Kits. Balanced VG/PG e-liquids have a good throat hit and carry flavours well.
CHOOSE
High VG (80:20 or 70:30)
E-liquids with a high VG ratio produce thicker vapour clouds and a smoother hit, however, due to the thickness of the e-liquid, they are only suitable for Sub-Ohm Vape Kits. High VG e-liquids tend to have a slightly sweet taste due to the VG's natural sweetness.
What makes a good e-liquid?
A good e-liquid should have a balanced blend of PG and VG to produce satisfying vapour, as well as high-quality flavourings to deliver a delicious taste. It should also be made with pharmaceutical-grade ingredients and undergo strict quality control measures to ensure safety. A good e-liquid should also not contain too much sweetener, as overly sweet e-liquids are known for reducing the lifespan of your coils.
What nicotine strength should I choose?
E-liquids contain different levels of nicotine, and different types of e-liquids are enjoyed best at certain strengths.
People who use Shortfills in Sub-Ohm Kits will usually only have minimal nicotine levels in their vape juices at 3mg to 6mg to avoid harsh throat hits. On the other end, people who vape Freebase Nicotine or Nic Salts in Pod Kits can vape anywhere from 0mg to 20mg nicotine-strength e-liquids as it's suited to low-powered vapes.
First-time buyers have to think about how often they smoke to calculate what nicotine-strength e-liquid to go for in their Pod Kits.
Nicotine types
Three types of nicotine can be found in e-liquids, with each feeling a little different when you vape:
Freebase nicotine
Freebase Nicotine stands as the original form of nicotine found in e-liquids. It's responsible for delivering that robust throat hit, especially noticeable when using e-liquids with high nicotine concentrations. This sensation may be a touch overpowering for some vapers.
However, freebase nicotine is appealing to vapers who seek out that distinctive sensation or those who prefer to take multiple, brief puffs throughout the day.
Nicotine salts
E-liquids containing Nicotine Salts are normally gentler on the throat compared to regular freebase nicotine products. Nicotine salts are essentially regular nicotine that has been adjusted to have a balanced pH level. This adjustment removes the harsh sensation often felt in the throat when inhaling nicotine.
These kinds of e-liquids are especially beneficial for vapers who rely heavily on nicotine or those who want to experience the hit through fewer puffs.
Hybrid nicotine
Hybrid nicotine features a combination of both nicotine salts and freebase nicotine, offering the best of both worlds.
We sell a range from Riot Squad, whose Hybrid Range uses 50% freebase nicotine and 50% salt nicotine.
Is it safe to vape without nicotine?
Vaping e-liquids with no nicotine is safe to do, but that is not to say that it is completely harmless, as we're still in the early days of research on the long-term effects of vaping. For ex-smokers who are looking to start their vaping journey, it's best to start off with nicotine in your e-liquids to keep away the cravings.
If you opt for a Nicotine Free E-Liquid from the jump, you won't receive your hit and might be at greater risk of switching back to traditional cigarettes. It's best to start off with nicotine-infused e-liquids and then gradually decrease the nicotine strength.
Why do e-liquids come in different bottle sizes?
Bigger vape juice bottles aren't just about holding more liquid. Due to TPD Laws in the UK, vape liquid that contains nicotine can't be in bottles larger than 10ml. Any bigger bottle you come across will have vape liquid without nicotine, but there's space left to add nicotine. These are known as Shortfills.
10mls explained
When you first start vaping, you'll likely use small 10ml bottles as Nic Salts and Freebase Nicotine E-Liquids come in this quantity. To get going, you just pour the 10ml liquid into your device's tank, which holds the vaping liquid.
With less powerful vaping devices, these bottles can last a week as you only have to refill your tank every other day.
There are plenty of 10ml options available, and it's essential to find good flavours of great quality at the best price, which is where we come in. Our Vape UK 10ml E-Liquids come in countless flavours, starting at £2.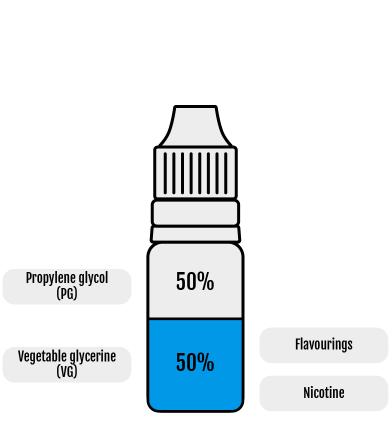 Shortfills explained
Shortfills are so-called because they aren't filled all the way up. That's so there's space for you to add nicotine shots if you wish.
Shortfills are used by more experienced vapers who opt for high-wattage vaping with the use of Sub-Ohm Vape Kits. These liquids offer a more intense vaping experience with huge clouds and minimal but effective nicotine strengths.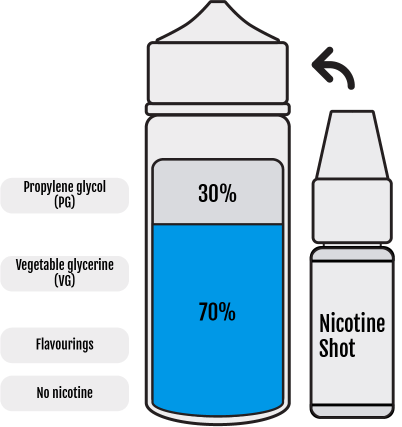 E-Liquid FAQs
How much do e-liquids cost?
Normally, an average 10ml e-liquid bottle costs between £2 to £4. However, if you take advantage of our Multibuy E-Liquid Offers, you are sure to get the best deals. Our own crafted 10ml e-liquids start at just £2!
What are the most popular vape juice flavours?
The great thing about e-liquids is they come in a wide selection of flavours. Picking the right flavour is one of the most exciting aspects of vaping.
While some enjoy tobacco or menthol flavours, others dive into fruity and sweet flavours. Ultimately, the best vape flavour is down to personal preference.
Can I use any e-liquid brand in my vape?
Certainly! You can buy any brand of e-liquid to use in your vape kit. As all the brands we sell adhere to the legal requirements for sale in the UK, the possibilities are endless. Just make sure you use the right type of vape juice for your kit.
Which is the best vape juice brand?
The best vape juice brand is purely down to personal preference. We are extremely lucky to offer some of the best vape brands on the market, including the likes of Vampire Vape, Aisu, Charlie's Chalk Dust, and a whole lot more.
Don't be afraid to experiment and try out different brands. Soon enough, you'll find one that aligns with your taste.
As well as these brands, we have our own 10ml e-liquids you can buy too, where you have the luxury of picking between our High VG, 50/50 Freebase, and Nicotine Salt blends.
How often should I use an e-liquid?
When making the switch to vaping, you may not be sure how much to vape at first. Many people begin by taking a few puffs whenever they would have smoked a cigarette.
Normally, a cigarette takes between 10 and 12 puffs to finish. How well vaping compares to smoking is up to the user, so you just have to see how many puffs it takes to ease your cravings.
Once you get going, your vaping habits may change. You may not take 12, 13, or 14 puffs in a row. Instead, you may take 3 to 4 puffs and then put your vape down; the most important thing is finding what works best for you
Can I refill Disposables and Pre-Filled Pods with E-Liquid?
You cannot refill Disposable Kits or Pre-Filled Pods with E-Liquid as they come pre-filled with vape juice and have a closed tank.
Pre-Filled Pods are super simple to use. You don't need to refill them with e-liquid from a bottle. With these Prefilled Pod Vape Kits, simply swap out the empty pod for a new one, and you're good to vape again.
Disposable Vapes are even easier! They're pre-filled with vape juice, so when they run out, you can just switch to a new device as they're not refillable.
How do I store an e-liquid?
Taking good care of your e-liquid is key to ensuring its freshness over time. For it to stay in tip-top condition, it's a smart move to shield your e-liquid from direct sunlight and aim to keep it at a comfy room temperature. A good spot to house your e-liquid is in a cupboard or a drawer.
Safely storing your e-liquid has the added bonus of keeping it out of the grasp of curious children and pets too. Should you leave your e-liquid in the sun or in high temperatures, you can wave goodbye to a lot of its flavour and some of its nicotine strength.
A bit of love for your e-liquid goes an enormous way towards maintaining its premium quality.
Can my vape e-liquid go off?
Yes, vape juice can expire, but e-liquid is also known as 'shelf stable'. This means it can last a long time before that will happen.
E-liquids last roughly two years. If you open the bottle or do not store it right, this timeframe might be shorter. Understandably, this is a huge range, so vapers need to use other methods to check if their e-liquid is expired.
The good news is you can simply pick up a new one if you find your existing e-liquid isn't hitting the spot.
What does TPD compliant mean?
Any e-liquids sold in the UK must adhere to mandatory TPD regulations. This is essential for protecting customers, ensuring products are safe to use for the intended purpose and aren't ending up in the wrong hands.
At Vape UK, we follow this protocol and commit to providing e-liquids and vaping products of the highest quality and safety standards.
How do I pick the right e-liquid?
While our guide covers everything you need to know about e-liquids and their purpose in the vaping world, you may want to get in touch with our experienced team for extra help.
At Vape UK, we pride ourselves on our excellent customer service, in-depth blogs, outstanding knowledge, and expert advice, where we can offer direct recommendations on e-liquids that match your needs.
Are e-liquids safe?
All the e-liquids we sell are TPD compliant, made with high-quality ingredients and proper manufacturing practices and are considered safe for use. However, it's important to follow proper storage and handling instructions to avoid accidents.
Why choose Vape UK?
When we say we're the best online vape shop, we mean it! At Vape UK, we offer the widest selection of e-liquids in the UK, with thousands of different flavours to pick from. And we only stock the top vape brands, too.
Once you've found the right e-liquid, take advantage of our free delivery on orders over £20. We ship seven days a week, so our products will be on your doorstep before you know it.
We'll always go the extra mile to make you smile.