Vape UK E-Liquids
We are proud to stock our very own UK-made e-liquids, suitable for every vaper, whatever your preference or device choice.
Choose from our wide choice of vape juices ranging from Nic Salts and Bar Salts, Freebase Nicotine, Bar Flavours Shortfills and accompanying Nic Shots from just £1.
About Vape UK E-Liquids
As market leaders, we have a duty to provide our customers with everything they need to have a successful transition into vaping; this includes low-cost yet premium-quality vape juices.
Our UK-made e-liquids are top-of-the-range vape juices made with premium ingredients finished to the highest standard. We are fortunate and proud to be able to offer these exceptional e-liquids at affordable prices without compromising on flavour or quality.
What E-Liquids do Vape UK make?
We make all types of e-liquids for all vapers and devices. Since our inception in 2016, we have had freebase nicotine and nic shots, which were the most popular e-liquids at the time, but we have since expanded and now offer nic salts, bar salts and shortfills to have a complete collection of e-liquids that cater to all vapers.
Whether you're a beginner vaper who just got their first pod kit or a seasoned vaper looking for a new shortfill flavour, we have an e-liquid that will elevate your experience and make each vaping session a treat.
Freebase Nicotine, Nic Salts and Bar Salts
Nic salts and freebase nicotine are the best-selling e-liquids, and for good reasons. In the early years of vaping, freebase nicotine was the standard in the industry, so it was everyone's go-to for e-liquids. This meant many brands and vape juice makers, including us, had an extensive range of freebase e-liquids.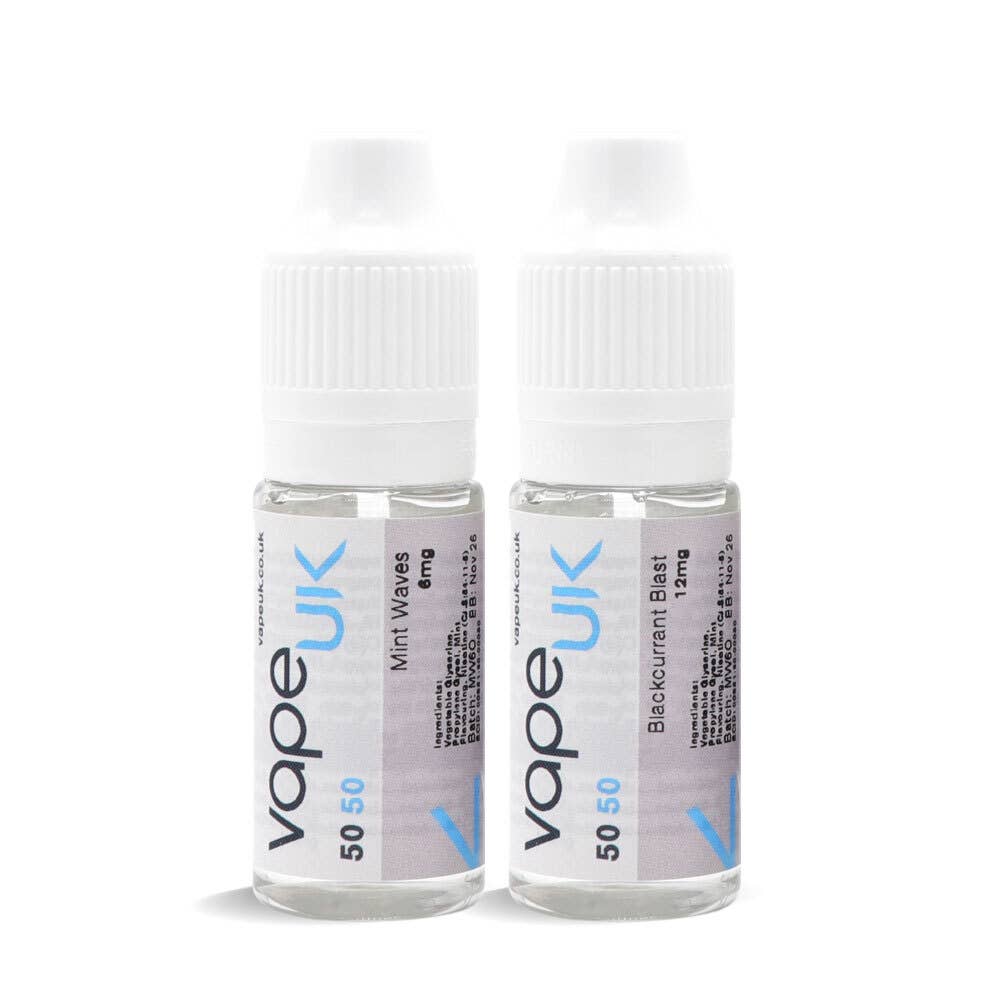 Freebase nicotine provides users with tantalising flavours and a satisfying throat hit, which those who are moving on from smoking tend to enjoy; this e-liquid contains the pure form of nicotine, which delivers an intense hit in high strength.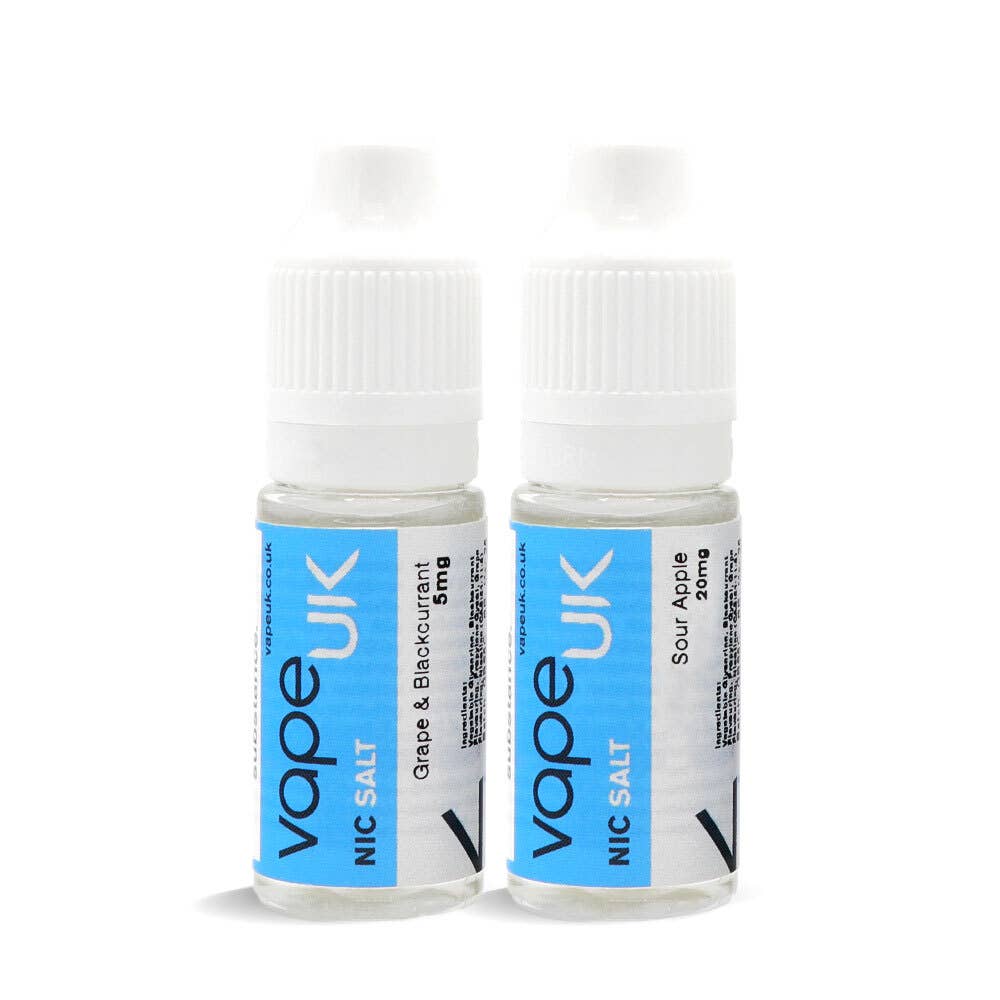 Nic salts, on the other hand, were introduced years after freebase nicotine e-liquids but gained immediate attention from all vapers because of their difference from freebase nicotine. Nic salts contain the natural form of nicotine, which allows the e-liquid to be smooth on the throat even at high strengths without compromising on flavour or vapour output.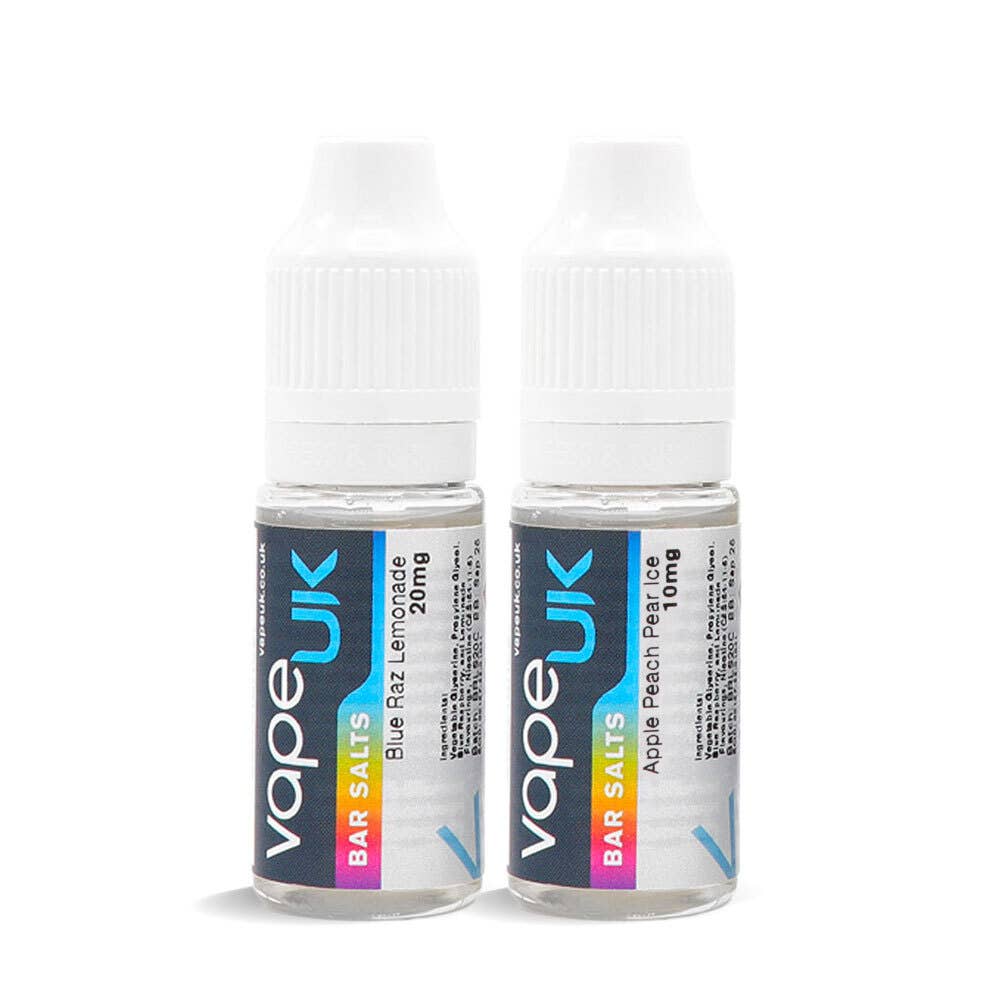 Bar salts are a recent phenomenon but are essentially the same e-liquid as nic salts. Bar salts are a sub-category of nic salts, created to be a style of vape juice that resembles flavours you would find in disposable bars, as the name suggests.
Bar Flavours Shortfills and Nic Shots
High VG e-liquids are for more experienced vapers who are used to high-wattage vaping with powerful devices. These e-liquids contain a high amount of vegetable glycerin, allowing the vape juice to create massive amounts of vapour through intense direct-to-lung vaping while staying smooth on the throat.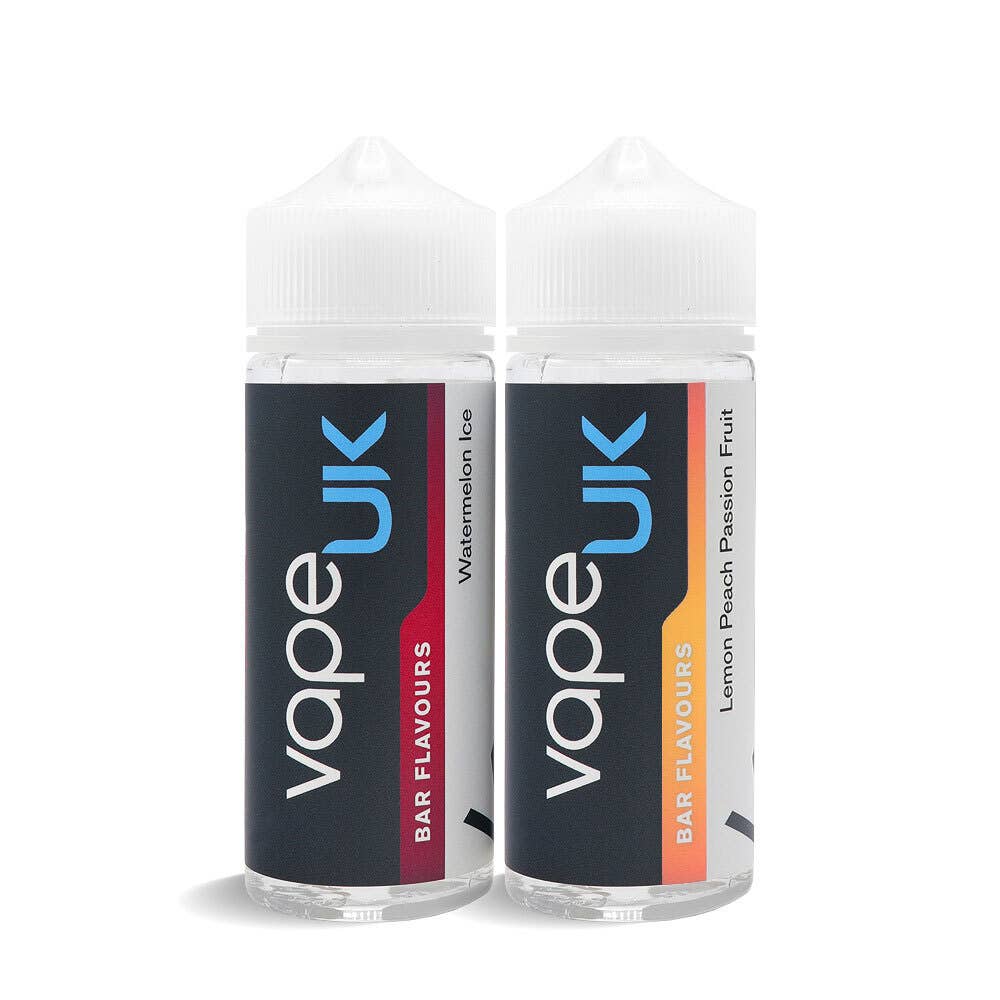 Vape UK bar flavours shortfill e-liquids come in the top disposable bar inspired flavours for those who want to recreate that fruity and menthol taste in their sub-ohm devices - a familiar taste but a whole new experience: massive clouds and exceptional flavour delivery.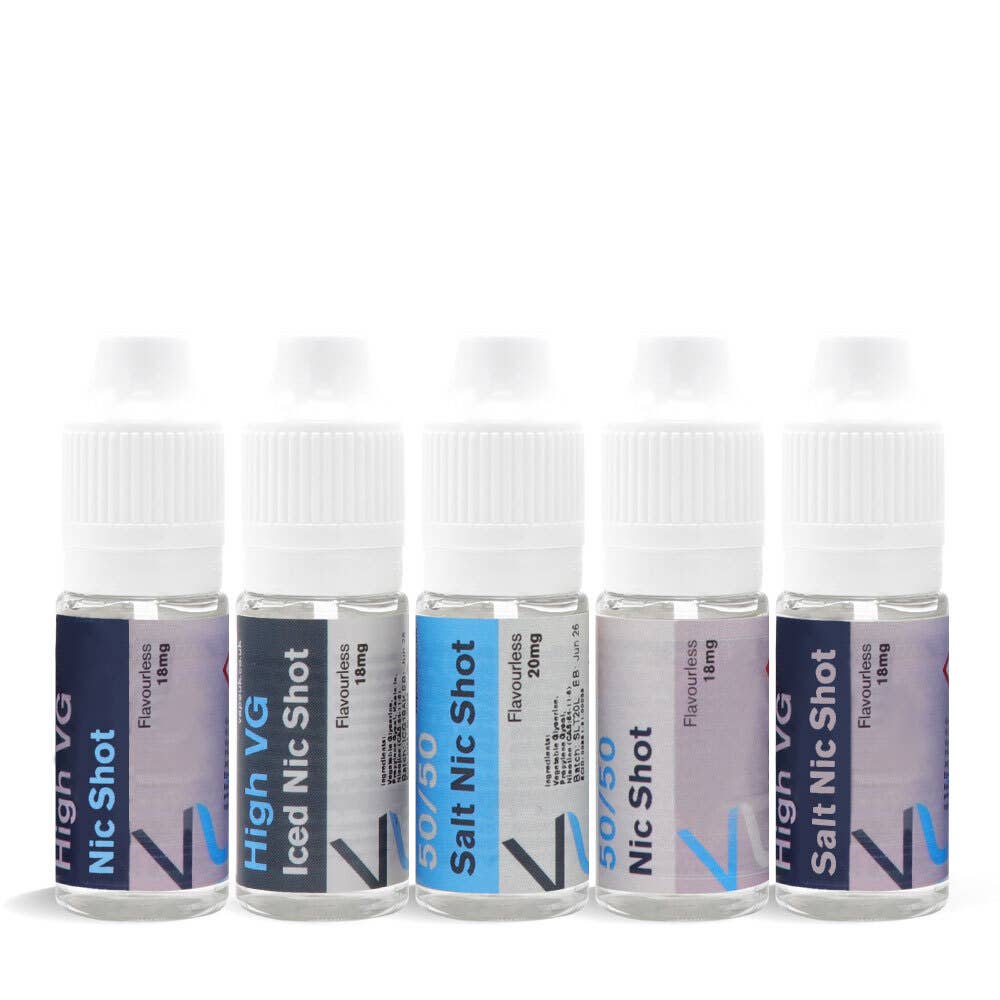 Pair your shortfill e-liquids with our indispensable nic shots, which come in multiple types to match your preference. Choose from 5 different kinds to add to your shortfills to create a ready-to-go vape juice that will deliver delicious flavours and satisfying nicotine.
Vape UK E-Liquid FAQs and Troubleshooting Tips
Which Vape UK e-liquid should I buy?
Which e-liquid you buy depends on your current device.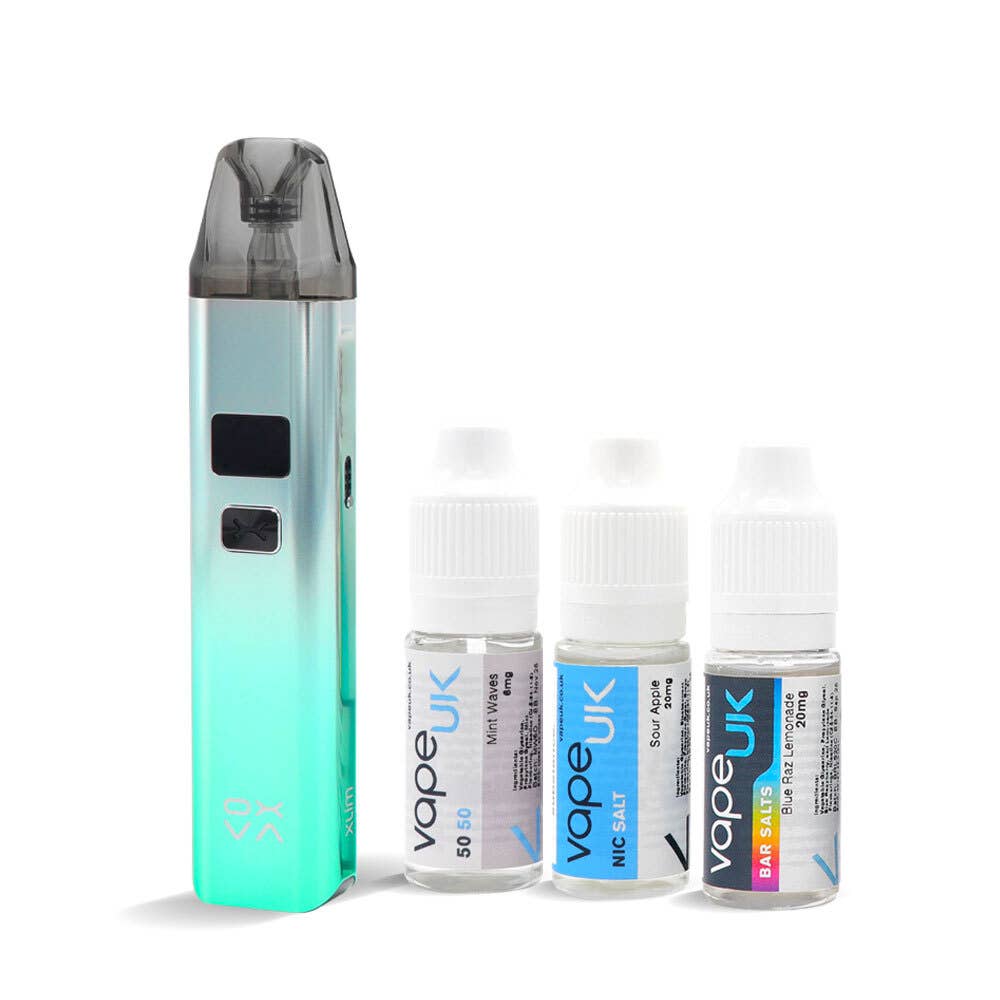 For mouth-to-lung vaping with pod kits, use nic salts and freebase nicotine for good flavour delivery and discreet vapour production.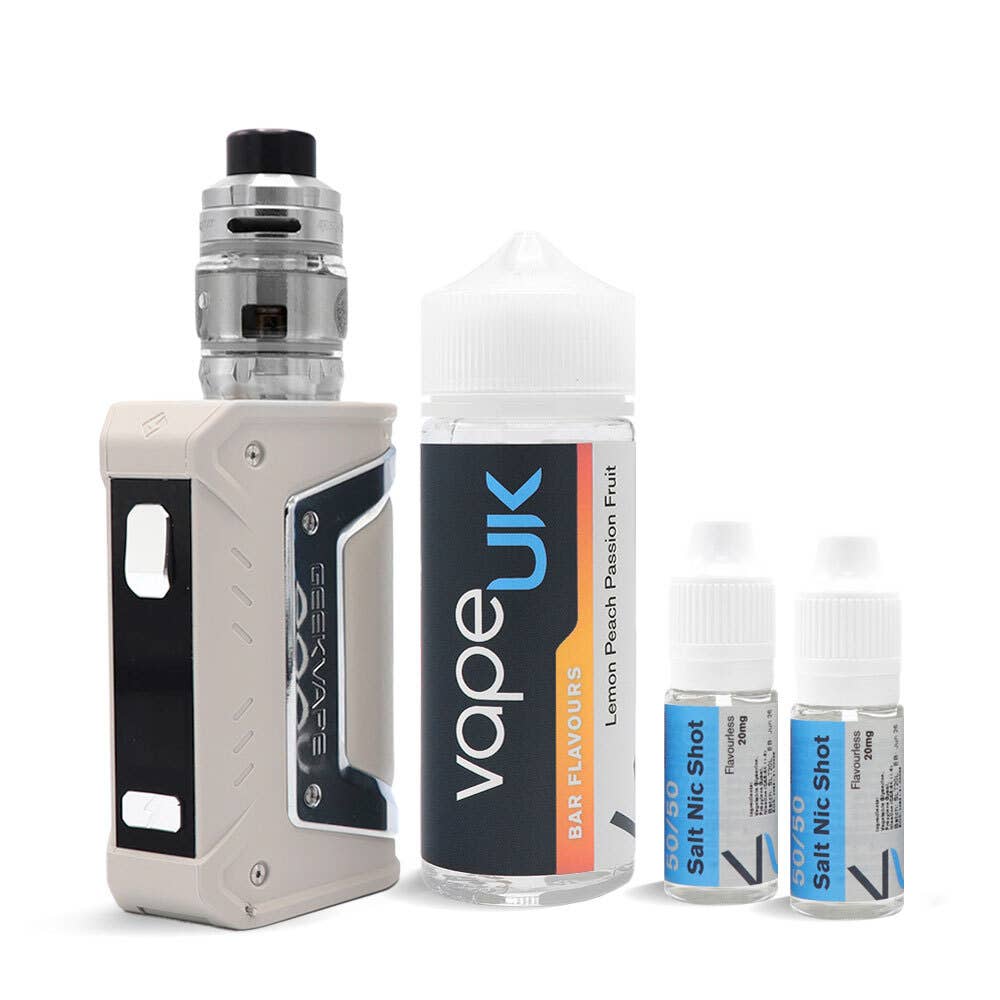 For direct-to-lung vaping with sub-ohm kits, use shortfills with added nic shots for exceptional flavour output and vapour creation.
What strength do Vape UK e-liquids come in?
Nic salts, bar salts and freebase nicotine e-liquids come in strengths from 3mg to 20mg of nicotine in 10ml bottles. These e-liquids are excellent for those who want to get a quick nicotine buzz to ease their cravings.
Shortfills, on the other hand, are nicotine-free but are used with nic shots to increase their strength up to 6mg of nicotine. This is great for those who enjoy DTL vaping and want a more full and satisfying inhale.
What is the best Vape UK e-liquid to buy?
We don't like to brag; however, we have to admit that our Vape UK e-liquids range is something remarkable. Don't believe us? Then believe our customers! With over 500 5* reviews on our Vape UK e-liquid range alone, we're confident that whichever vape juice you decide to buy will impress you, and you will be delighted to have chosen to shop with us.
Our best recommendation for a refillable starter kit user would be our disposable bar flavour inspired Vape UK bar salts range - the perfect option to recreate that unforgettable disposable vape experience.
For those who vape DTL, we urge you to try our bar flavours shortfill e-liquids. These high VG e-liquids will allow you to taste those familiar fruity and menthol flavours you remember from disposables but now in your sub-ohm device.
How much are Vape UK e-liquids?
We believe that high-quality e-liquids should not cost a fortune when it is such a crucial part of every vaper's hobby. We provide our customers with premium UK-made vape juices at affordable prices so that every time you pick up your device for a session, it's a delight each time.

You can get our nic salts, bar salts and freebase nicotine e-liquids for as low as £2 in our Multibuy Deal or £2.99 each.

Our bar flavours shortfills are available in our 2 for £20 Multibuy Deal, or you can grab them for £12.99 each and pair them with our wide range of nic shots for just £1 each.
How to get the best flavour out of your e-liquid
Buying an e-liquid and being let down by the flavour output is one of the most annoying things to happen to a vaper. To get the best flavour out of your e-liquid, try these three steps:
Always prime your coils before use; this allows the coils to perform at their best and deliver the expected flavour profiles.
Change your pods and coils regularly; coils should last a week for regular vapers, after which they should be replaced to keep a fresh taste and optimal performance.
Don't mix e-liquids; mixing very different VG/PG levels and flavours doesn't usually end well, and you will be disappointed with the flavour output.
How to get the best vapour out of your e-liquid
For some vapers, it's all about the clouds, which we understand. Try these three steps if you're struggling to get those massive clouds out of your vape:
Opt for a high VG e-liquid; sub-ohm kit users can vape high VG e-liquids with ease. Push the limits and try a higher VG e-liquid than you usually go for to see if it matches your expectations.
Vape at the correct wattage; with a wattage adjustable vape, you can experiment and find the perfect level for the best vapour output from your chosen e-liquid. Go in small increments to avoid burning your coils and e-liquid.
Try different vaping styles; pod kit users can switch between mouth-to-lung vaping and restricted-direct-to-lung vaping with ease if they have an airflow adjustment system on their devices. Simply open up the airflow to let in more air for a deeper inhale, creating more clouds.
How to get the perfect nicotine hit from your e-liquid
Different e-liquids will have various nicotine strengths and nicotine types, so how do you get the best nicotine hit that you crave so much?
For smokers who are switching to vaping, it's essential to experiment and, most importantly, don't give up. Try different types of e-liquids at different strengths and see what works for you.
Our top tip for new vapers using refillable vapes is to try both nic salts and freebase nicotine e-liquids, as they come in various strengths and countless flavours and deliver quite different vaping experiences.