Mouth To Lung Vape Tanks
Here you'll find our collection of Mouth to Lung Vape Tanks, which are ideal if you're trying to replicate the mouthfeel of smoking a cigarette.
Mouth to Lung Vaping
Mouth to lung vaping, also known as MTL and M2L vaping, replicates smoking a cigarette more so than vaping directly to lung. Beginners making the switch from smoking will usually start with MTL vaping as it feels most natural to the way smokers inhale.
How to Take a Mouth to Lung Hit
A key difference between mouth to lung vaping and smoking a cigarette is the length of the draw.
When smoking a cigarette, we usually take short, sharp drags into the mouth. With vaping, we typically take long, smooth and steady draws to maximise flavour and satisfaction.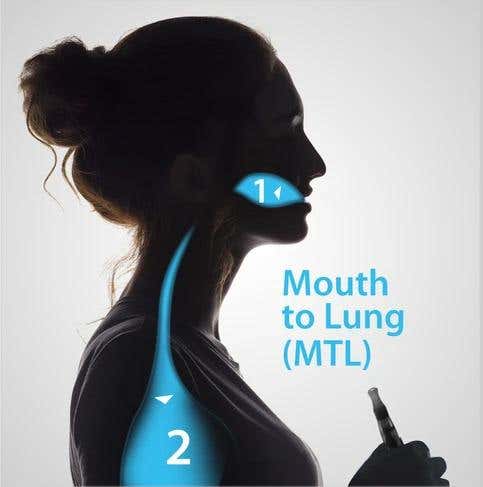 Similarly to smoking, the vapour in the mouth should then be inhaled into the lungs, which will also allow for air to be drawn at the same time. Then exhale.
Timing Your Vape Hit
The length of time you choose to draw the vapour from the mouth to the lungs is up to you. Drawing for longer periods of time and letting the vapour linger in your mouth will provide a more satisfactory hit.
Also, the longer you leave it before you exhale, the less vapour there will be which is useful if you're trying to be stealth. MTL vaping produces far less vapour than DTL anyway (one reason being that it's limited to the amount of breath you can fit in your mouth) so it's great if you're conscious about vaping in public spaces.
Tank and Hardware Requirements
The good news for beginners and MTL vapers is that it can be achieved with some pretty inexpensive kit. Today's vape starter kits, and pod vape kits are really good value and more than capable of providing an excellent hit.
If you still really covet the features and feel of a chunky box mod, fear not. MTL vapers can still use the advanced equipment - you just need to run the mod on a lower wattage (usually around 15W but some MTL coils can handle more) MTL coils will be packed with more cotton which enables a tighter draw.
A vape tank that is designed for MTL vaping will typically have a smaller, and more narrow mouthpiece (510 drip tip) which feels closer to a cigarette in the mouth. If your chosen tank has an adjustable airflow, you should keep this to a minimum. If you try to take an MTL hit with an open airflow, you'll get a mouthful of heat and not much else. Be mindful not to fully close the airflow, as you won't be able to pull any air through the tank.
What E-Liquid Do You Need for Mouth to Lung Vaping?
The recommended VG/PG ratios for vape juices in mouth to lung devices are 50/50 VG/PG. This can be in both nicotine salt e-liquids and freebase nicotine e-liquids, with some preferring freebase due to a harsher throat hit.
Having a higher amount of PG in your e-liquid will produce a sharper throat hit, closer to cigarette smoking.
Finally, one of the fundamental parts of successfully switching from smoking to vaping is controlling those pesky nicotine cravings. The good news for MTL vapers is that it's the preferred vaping style for e-liquids that contain a high nicotine content. This includes nic salt vape juice which, at 20mg of nicotine, is better suited to MTL devices.
MTL Features Summarised
Designed for transitioning smokers
Best vaping style for newbies
More discreet as there is less vapour and smell
Economical as it can be achieved with more 'basic' kit
Ability to vape higher nicotine content or nic salts
MTL tanks use less e-liquid
Ideal for anyone who (due to smoking related lung damage) would struggle to take a direct to lung hit
You can read more about salt nic here.
Please check out our guide on the differences between mouth to lung and direct to lung vaping.