Vape Tanks
Shop some of the best and most advanced vape tanks here, where you'll find the likes of SMOK, Innokin, and Geekvape products for ultimate flavour output and cloud production.
We stock MTL Tanks and DTL Tanks, so whatever your preference; we will have the right tank for you. Get in touch for some expert advice on what Vape Kit will suit your style so that you can have an enjoyable vaping experience.
Items 1-16 of 36
Page
You're currently reading page

1
Items 1-16 of 36
Page
You're currently reading page

1
About Vape Tanks
What are Vape Tanks
Vape Tanks are the part of your vape that hold and vaporise the e-liquid to create flavourful clouds. They're also known as atomisers and clearomisers, but the term 'tank' is most common. Both MTL Vape Kits and DTL Vape Kits can use tanks for enhanced vaping.
How it works: A tank will hold the vape juice, which gets saturated into the coil, and as the coil is heated by the vape kit, you inhale the vapour that is created in the process.
Vape Tank Coils and E-Liquids
The most important part of any tank is its Coil; it determines whether the tank is used for Mouth-to-Lung vaping or Direct-to-Lung vaping.
MTL coils range from 0.8-ohm to 1.8-ohm, and before you get to DTL coils, you have Restriced-Direct-to-Lung coils. RDL vaping is possible with coils in the 0.7-ohm to 0.5-ohm range, then anything below that is meant for DTL vaping.
MTL Coils are best with Nic Salts and Freebase Nicotine E-Liquids. Both vape juices can come in similar nicotine strengths ranging from 3-20mg, but the main difference is that Nic Salts stay smooth in higher strengths, whereas Freebase Nicotine becomes harsher in higher strengths.
RDL Coils can be used with Nic Salts but are best with Freebase Nicotine E-Liquids. Whatever your choice, it's best to use low-strength vape juices in this coil range to avoid harsh throat hits.
DTL Coils are best with Shortfill E-Liquids, perfect for cloud chasing in low but still effective nicotine strengths.
Check out our Guide on Nicotine Salts to learn more about the different types of vape juices.
Vape Tank Functions
Vape tanks come with handy functions which you can use to make your vaping experience more enjoyable and match your style.
Adjustable Airflow
Most Vape Tanks will come with an adjustable airflow system either at the top or the bottom of the tank. The airflow system allows you to control the fresh air coming into your tank as you inhale from the mouthpiece. As you close up the airflow, the vapour becomes more warm and dense, whereas the opposite happens as you open up the airflow to your tank.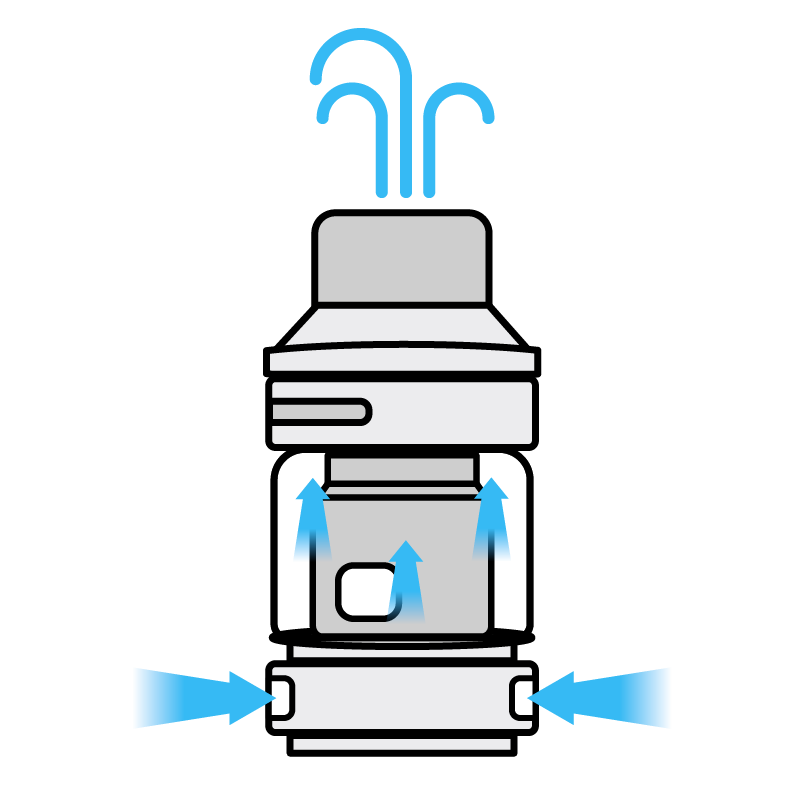 Top-Filling System
Vape Tanks will also come with a top-filling system which can be accessed in different ways depending on the tank. Sometimes it's a slide-to-open or a twist-to-open mechanism; nonetheless, it's great for a mess-free filling and has anti-leaking qualities.
All Vape Tanks sold at Vape UK follow TPD Regulations, restricting them to a maximum liquid capacity of 2ml. This may seem like a small amount, but you should be able to get plenty of puffs before needing a refill.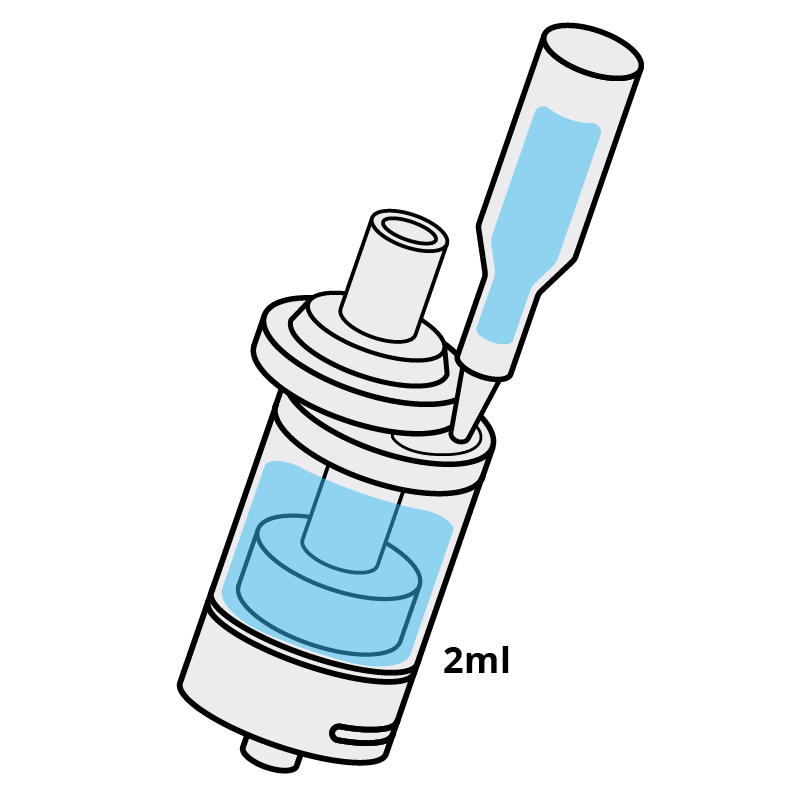 High Compatibility
The great thing about Vape Tanks is that most of them use a 510 thread connector at the base to be able to fit onto most Vape Kits. This means you can pair your favourite vape tank with any vape kit as long as they both have a 510 connector.
Some tanks will even let you switch out the Drip Tip (Mouthpiece) as long as it is removable. Drip tips come in two sizes, a 510 and 810 fitment; you can swap out the stock drip tip of your tank to match your style.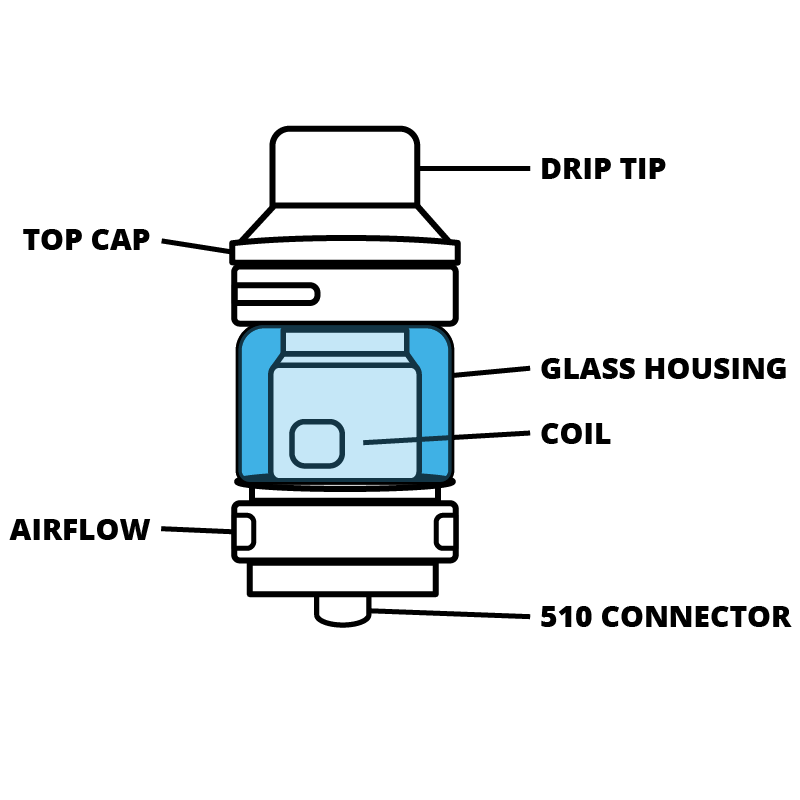 Looking After Your Vape Tank
Do:
Make sure you get a compatible coil for your tank that matches your style to avoid disappointment.
Follow our Coil Priming Guide when filling up your tank for the first time to get the best results and avoid premature coil failure.
Use the recommended wattage for your coils and keep your tank topped up to avoid dry hits.
Use the right E-Liquid with your coils.
Store your tank safely to avoid damaging the glass or any components.
Don't:
Overuse your device at high wattage levels; this leads to premature coil failure and dry hits.
Leave your tank sitting full of liquid for a long time; this leads to oversaturated coils.
Forget to change your coils regularly; coils should be changed every 10 days or so to keep a fresh taste and optimal output.
Over-tighten or under-tighten the components; overtightening can lead to malfunctions, whereas under-tightening may lead to a leaking tank.
Forget to clean your vape tank; cleaning the tank between coil changes will keep your e-liquids tasting good.
Tank Glasses and many other tank parts are found on our Vape Accessories page for easy replacements.
Vape Tank FAQs
What are the different vaping styles?
There are 2 main vaping styles; Mouth-to-Lung and Direct-to-Lung.
MTL vaping is when you inhale into your mouth and then into your lungs, whereas with DTL vaping, you inhale straight to your lungs.
There is also Restricted-Direct-to-Lung vaping which is the bridge between the two vaping styles but is closer to DTL vaping.
Which vape tank should I buy?
When choosing a vape tank, it's important to check that it comes with coil options that suit your vaping style, whether it's MTL or DTL.
The Innokin Zlide Top Tank is a great vape tank which facilitates both MTL and RDL vaping with plenty of coil options.
The Geekvape Z Sub Ohm Tank is one of the best DTL tanks on the market, with plenty of sub-ohm coil options.
What e-liquid should I use with my vape tank?
What e-liquid you use in your vape tank depends on what coil you have fitted.
If you vape MTL and use coils above the 0.8-ohm mark, you should use Nic Salts and Freebase Nicotine E-Liquids.
If you vape DTL and use sub-ohm coils below the 0.5-ohm mark, you should use Shortfill E-Liquids.
Between 0.5-ohms and 0.8-ohms, you can use low-strength Nic Salts but Freebase Nicotine E-Liquids are recommended because they are more compatible with powerful devices.
How do I clean my vape tank?
Cleaning your vape tank is easy; just separate the components and place them under warm running water. After, just wipe them with some paper towels and let the parts completely air dry before reassembling them.
You should clean out your tank whenever you replace your coils to keep a good flavour output.
How do I know when to replace my vape coils?
There are multiple signs to look out for which tell you it's time to replace your coils:
Noticing a lack of flavour while you're vaping is a clear sign that your coils are past their prime.
Getting a burnt taste from your coils is also a clear sign that they need to be replaced.
If your coils are spitting vape juice or leaking from the mouthpiece and can't be fixed, your coils should be replaced with fresh ones.
You should replace your vape coils every 10 days or so. It all depends on the frequency of use and how you use the coils; it's always good to replace coils regularly to have optimal flavour and vapour output.