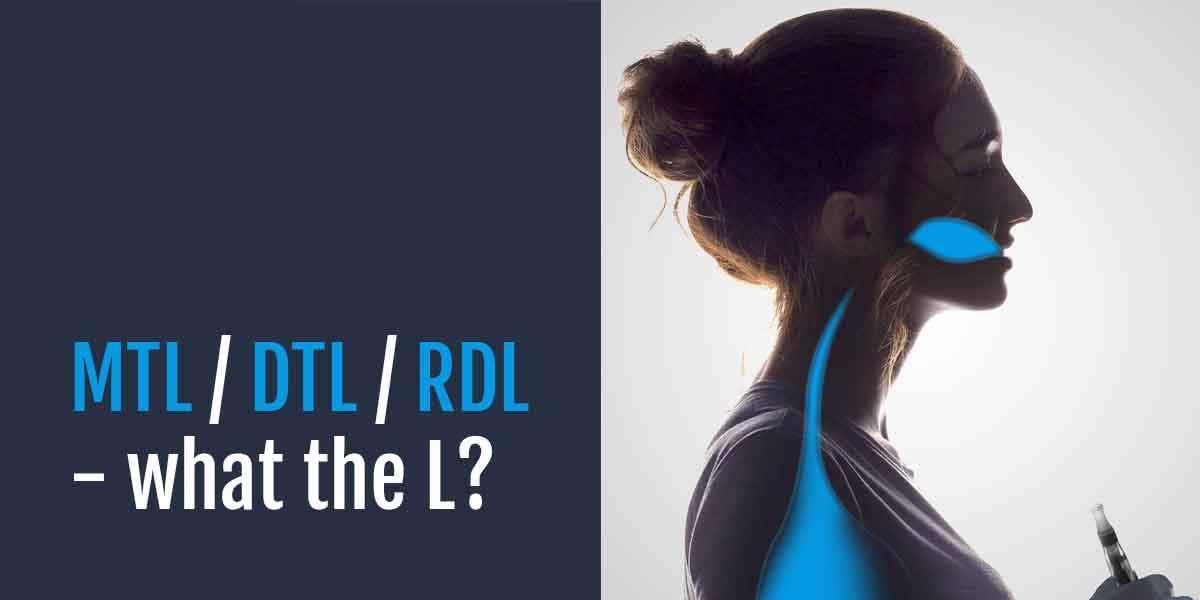 If you're new to the whole vaping thing, then the first thing you need to do is figure out what your vaping style is. Understanding the difference between MTL, DTL, and RDL vaping is what will firstly determine the kit you need; and ultimately determine if you will achieve your vaping goals.
In the relatively short amount of time that vaping has been part of our lives, the industry has evolved beyond recognition to suit the changing needs of smokers, and give them the best shot at quitting for good. This includes the vape kits that are on offer; from the (terrible) cig-a-likes of 2013 to what's available today, there have been enormous advancements.
My own vaping journey, which started back in 2015, has taken some interesting twists and turns, and has ultimately led me to the Aspire Flexus Q pod kit that I use today. I've taken some detours into sub-ohm kit territory along the way, but I've always come back to my starter kit roots. The reason for this lies with my preferred vaping style.
MTL, DTL, RDL - what the L?
I'm an MTL vaper. I always have been, and experience now tells me that I probably always will be. My brief dalliances with DTL (sub-ohm) vaping kits have been unsuccessful because DTL vaping just doesn't feel natural to me.
If you're a smoker looking to quit, and hoping that vaping is going to be the key to your success, then you've probably been trying to find the perfect vape kit.
Whilst searching, you'll have come across these terms yourself, and may be wondering if they're important. Let me tell you now that the differences between MTL and DTL (and, to some extent RDL) vape kits are crucial; and knowing which of these styles of vaper you are will help you narrow down your options when choosing your vape kit.
Trying to get on board with a DTL vape kit, when you're a natural MTL vaper will leave you disillusioned with vaping, and convinced it's not the right path for you to take.
Which vape kit should I buy?
This is a question that we're asked countless times per day. With the number of options available, the choices can be intimidating; plus, as we've already discussed, it's not simply a case of choosing the one you like the look of, or the one that your mate has that they rave about.
To advise on which vape kit YOU should choose, we first need to know your vaping style. Which means that, first and foremost, YOU need to know your vaping style.
MTL vs DTL vaping styles
MTL and DTL refer to the two most common inhalation methods, and are the terms used by the vaping industry to describe the two most prevalent vaping styles.
Firstly, just be aware that there's no right or wrong way to vape - only personal preference and what feels the most natural. However, as your vaping style will determine the vaping kit, e-liquid, and coils that you choose, it's important to familiarise yourself with the differences.
MTL - mouth-to-lung vaping style
Let's start with the vaping style that most closely replicates smoking, since this is the style that most newbie vapers will adopt as they switch from combustible cigarettes to e-cigarettes.
The key difference between MTL vaping and cigarette smoking is the length of the 'draw'.
When smoking a cigarette we tend to take short, sharp drags into the mouth. With vaping, a longer, smooth and steady draw is recommended for maximum flavour delivery and craving satisfaction.
As with smoking, the vapour in the mouth is then inhaled into the lungs which allows air to be drawn in at the same time. Then you exhale.
The length of time between drawing the vapour from the mouth into the lungs and exhaling the vapour is up to you. The longer you let the vapour linger in your mouth, the more fulfilment you'll get from the 'hit' and the flavour.
Also, the longer you leave it before you exhale, the less vapour there will be, which is useful if you're trying to be stealth. MTL vaping produces far less vapour than DTL anyway (one reason being that it's limited to the amount of breath you can fit in your mouth) so it's great if you're conscious about vaping in public spaces.
Vape kits suited to MTL vaping style
What's great about MTL vaping is that you can get started with a tiny budget.
In actual fact, you don't even need a full 'vaping kit' in the traditional sense, as today's disposable vape bars (from brands such as Elf Bar and SKE) are the perfect way for smokers to give vaping a go.
They aren't designed for MTL vaping indefinitely though, as they're the least cost-effective way to vape in the long run. They're also pretty dreadful for the environment, and require safe and responsible disposal.
Once you know that vaping is working out for you, you should be looking to upgrade your kit. At this point though, you'll still be an MTL vaper (since there's no such thing as a DTL disposable), so your next move might be to get a starter kit.
Our customers have reported great success with our bundle kits, as they combine a top-rated MTL starter kit with the perfect e-liquids and the correct coils or pods to help you get used to refillable and rechargeable devices.
Can I still geek-out as an MTL vaper?
Vaping can be super simple, or super geeky, depending on what you want to get out of it. If you really covet the advanced tech of a box mod kit or a pod mod kit, but want to stick with your MTL vaping style, then you're covered.
As the vaping industry evolves, innovations with coil technology means vape kits that were previously the sole domain of DTL vapers can now be enjoyed by MTL vapers as well. You'll need to run the battery at a lower wattage (usually a max of 15W, although some MTL coils can handle higher), and choose a tank or pod with an ergonomic, slim mouthpiece suited to the MTL vaping style.
You'll need to go with a coil that has a resistance of 0.8Ω or more in order to get maximum satisfaction from your MTL draw. If the fancy vape kit you opt for has an adjustable airflow, keep the opening to a minimum. If you try to take an MTL hit with a fully open airflow, you'll get a mouthful of heat and not much else.
E-liquids suited to MTL vaping style
If you're getting started with a disposable vape kit, then the e-liquid choice is made for you. Single-use vapes commonly contain 2ml of nic salt vape juice, with varying nicotine strengths ranging from 0mg to 20mg (as per TPD regulations).
When switching from smoking to vaping, the fundamental key to success is managing the cravings. You need a decent amount of nicotine in the first instance, which you can then wean yourself off when the cravings subside.
To achieve this, you need an e-liquid that can carry the highest level of nicotine without becoming harsh. Nic salts are perfect for this as their lower pH level means that you can inhale the required level of nicotine without getting a severe throat hit that could put you off vaping for good.
They typically contain an even blend (50/50) of PG and VG, which (along with high nicotine content) can only be handled by MTL coils. PG is the ingredient in vape juice that carries the flavour, and VG is the ingredient that creates the clouds. Since MTL vapers hold the vapour in their mouth before inhaling to the lungs, the taste buds can be fully activated to get the most out of the chosen flavour.
PG also delivers a sharper throat hit than VG, which is far closer to the experience of smoking. Pairing it with nic salt, as opposed to freebase nicotine is ideal to stop the throat hit becoming TOO sharp. Of course, some MTL vapers like to really feel that throat hit, so a 50/50 freebase vape juice would be perfect for them. Each to their own!
MTL vaping style in summary
Designed for smokers making the switch to vaping
Best vaping style for newbies
More discreet as there is less vapour and smell
Cheap to get started with disposables or more 'basic' vape kits
Ability to vape higher nicotine content and nic salts
MTL tanks use less e-liquid
Ideal for anyone who (due to smoking related lung damage) would struggle to take a direct-to-lung hit
DTL - direct-to-lung vaping style
DTL is the vaping style that is most commonly used by experienced vapers. For transitioning smokers, it feels like a completely alien way to inhale at first. However, it is essentially the same thing we do when breathing normally.
To achieve direct-to-lung vaping you need to slowly and steadily draw the vapour directly into your lungs - effectively bypassing the mouth.
The action doesn't involve sucking or puffing on the mouthpiece, but more using the vape device to 'breathe through'. Imagine being asked to take a deep breath… that's what you're trying to achieve.
As soon as the vapour hits your lungs, you exhale (as you would with your own breath).
Your first DTL attempt will likely be a shock to your lungs and you will need to exhale immediately. Especially if you're a transitioning smoker and your lungs are still full of sticky tar - your first DTL hit is likely to hurt and send you into a coughing fit!
However, as you become more accustomed to the style, you should be able to achieve a steady 6-10 second inhale to your full lung capacity before the urge to exhale kicks in. And when you exhale - do it fast! That's if you want to achieve the full billowy clouds that are the holy grail of DTL vapers.
Vape kits suited to DTL vaping style
It probably won't come as a shock that the advice on equipment for DTL vaping is the exact opposite to the recommendation for MTL vaping. There are no disposables or starter kits that are designed to suit the DTL vaper.
The first thing you'll need is a sub-ohm vape kit with a variable wattage that can be cranked up high. DTL vapers typically run their devices around 40W, with some going as high as 300W! However, going that high is pretty unusual and tends to be reserved for tricks and competitions.
The vape tank that is best suited to DTL vaping will have a wide mouthpiece (810 drip tip) which allows for a much fuller inhale. The coil should be sub-ohm (low resistance) to allow for the higher wattage required and maintain a high output for the longer inhale needed to fill your lungs.
Adjustable airflow is a must for direct lung hits. Opening up the airflow allows more air to flow through the tank and into your lungs. The more open the airflow, the bigger the clouds as you'll be able to take longer hits. You should play around with your airflow to find your preferred combination of cloud production and flavour delivery.
E-liquids suited to DTL vaping style
We tend to find that most DTL vapers tend to favour a shortfill e-liquid, for a few reasons.
Firstly, shortfills are nicotine free. This is because TPD regulations restrict the volume of nicotine containing e-liquids to 10mls. Your typical sub-ohm tank/coil combo is going to burn through 10mls of vape juice in no time, so a shortfill is far more economical.
Secondly, being nicotine free allows the sub-ohm vaper to control the level of nicotine in their juice. If they still need the nicotine to control any lingering cravings, then they can add a nic shot (or two) to the bottle to create a lower strength nicotine e-liquid.
As a DTL vaper, you're going to be taking some epic inhales directly into your lungs so a high nic content is going to deliver a really harsh hit and a whopping great head rush. That's not a pleasant experience, so we always recommend 6mg of nicotine or less for sub-ohm devices.
As with MTL vaping though, if you need the nicotine but don't want the throat hit to be too severe, opt for a nic salt shot.
Finally, shortfill e-liquids tend to come with either a 70/30 or 80/20 VG/PG blend. This is the ideal ratio for cloud production and flavour delivery when taking a DTL hit.
Be careful with your coil choice though; some sub-ohm coils that can handle 70% VG would struggle with 80% as the liquid gets thicker and more viscous as the VG content gets higher. If the liquid can't easily pull through the wicking holes, then you're going to end up with a nasty dry hit.
DTL vaping style in summary
Designed for advanced vapers
Feels less like smoking a cigarette
Epic cloud production
More advanced kit required
Some juices are blended to deliver their flavours better when DTL vaping
DTL vaping uses far more e-liquid
RDL - restricted-direct-lung vaping style
RDL, or RDTL, is a relatively new vaping term, but it's not complex to understand.
This new vaping acronym stands for restricted-direct-lung and is becoming increasingly popular amongst vapers - particularly those who've been vaping for a while.
This vaping style is considered to be the midpoint between MTL and DTL, but the actual inhalation technique far more closely resembles DTL vaping.
The difference is the amount of airflow. When vaping in an RDL style, you inhale DTL, but you close off most (or all) of the airflow.
This offers DTL vapers better flavour delivery, and MTL vapers more cloud production. It's popularity is growing as it's seen as the best of both worlds.
Vape kits suited to RDL vaping style
You'll still need equipment that could handle a DTL vaping style, as you need the higher power and the adjustable airflow.
Many vape kit manufacturers now offer devices that are described as MTL & DTL. Their power output has a wide range that can handle all coil resistances. For RDTL vaping, you should opt for a coil with a resistance of between 0.5Ω and 0.8Ω. This is to get the right balance between vapour and flavour that is making RDL a fast growing vaping style.
As mentioned previously, airflow is the key. Play around with the airflow on your chosen vaping device until you achieve the level of restriction on your draw that is right for you.
E-liquids suited to RDL vaping style
Restricting the airflow to a DTL hit means that RDL vapers can try e-liquids in their device that would previously only be suitable for MTL kits. This is great when you're looking for a higher level of vapour production, without taking in too much nicotine.
It opens DTL vapers up to the delicious nic salt vape juices on offer, that were once only available to MTL vapers, while still allowing them to switch back to their tried and tested shortfill favourites.
RDL vaping style in summary
Looser than an MTL draw, so more vapour
Tighter than a DTL draw, so more flavour
More of a throat hit than DTL vaping
Warmer flavour production than MTL vaping
MTL and DTL e-liquids can be used within the same device
Less wattage required, meaning your battery lasts longer than DTL
Less e-liquid consumption than DTL vaping
Higher nicotine content can be vaped without being too harsh
MTL vs DTL vs RDL - what's your vaping style?
Ultimately, your vaping style will depend on your own preferences and what you want to achieve from vaping. Knowing how you vape will help you to make an informed choice about the equipment you need, which will ensure you get the best possible experience from vaping.
The other thing to remember when assessing your particular vaping style is that your choice today doesn't have to be your choice forever. In fact, my experience as a dyed-in-the-wool MTL vaper is not the norm. Many vapers evolve their vaping style over time; others find that they enjoy both MTL and DTL vaping styles, so opt for an RDL style as a happy medium.
Just remember though, that any style of vaping is the right one if it helps you stay off the ciggies!
We're here to help you quit smoking for good
At Vape UK, we pride ourselves on being responsible vaping advocates. We keep up to date with all of the latest news and studies; we only supply high quality TPD compliant vaping products; and we are always on hand to offer helpful and honest advice about vaping. Please get in touch if you have any queries on quitting smoking.