STOPTOBER BUNDLE - VAPORESSO XROS 3 MINI POD KIT WITH 2 FREE VAPE UK NIC SALT E-LIQUIDS
This Stoptober 2023 Bundle features the famous and well-trusted Vaporesso Xros 3 Mini refillable pod vaping kit.
In addition, each kit comes with your choice of two free Vape UK Nicotine Salt E-Liquids.
Select your preferred colour of kit and two free e-liquid flavours and strengths from the drop-down menus above.
If you are unsure, check out our guide on recommended nicotine strengths for advice on choosing a suitable nicotine strength, depending on how many cigarettes you smoke.

STOPtober
Do you know a smoker who wants to try quitting this STOPtober? Refer them to us, and we'll give you 100 extra loyalty points if they shop with us.
For every friend you refer who spends £15+ on their first order with us, we'll credit your loyalty account with 100 points.
Simply click our Stoptober Loyalty Referral link and enter your friend's email address into the referral form. We'll send them your unique referral link and gift you the points when they buy.
It couldn't be easier to earn more points towards your future orders. It's our way of saying a big thank you for spreading the word!
11 Colours of kit to choose from
Aqua Green
Black
Icy Silver
Lemon Yellow
Lilac Purple
Navy Blue
Phantom Gold
Phantom Green
Rose Pink
Sky Blue
Space Grey
33 Vape UK Nic Salt flavours to select from, available in 20 mg, 10 mg, and 5 mg nicotine strengths
Apple Peach Pear Ice
Banana Ice
Blackcurrant
Blue Razz Lemonade
Blue Slush (Blueberry raspberry menthol)
Blue Sour Raspberry
Blueberry Blast
British Blend
Bubblegum
Cranberry Cherry Blueberry Ice
Double Menthol
Golden Tobacco
Grape & Blackcurrant
Grape & Blue Raspberry
Heizburg (Fruity menthol)
Kiwi Passionfruit Guava
Lemon Peach Passionfruit
Lion's Blood (Watermelon, strawberry, coconut)
M NRG
Mango
Mango Blast
Menthol
Pear Drops
Pink Lemonade
Rainbow Candy
Sour Apple
Strawberry
Strawberry Blast
Strawberry & Kiwi Bubblegum
Strawberry & Watermelon
Triple Menthol
Tutti Frutti
Watermelon Ice
The Vaporesso Xlim 3 Mini Pod Kit is a slim, sleek and incredibly simple-to-use pod vape kit with convenient refillable vape pods.
This pocket-size pod vaping system features a large 1000 mAh built-in battery and an intelligent battery life indicator. It offers various vaping styles, from tight MTL to a looser RDL inhale and is quickly charged using Type-C USB charging.

XROS Family
The XROS 3 Mini system allows vapers to use a straightforward MTL pod system, with the added flexibility of restricted direct-to-lung vaping through a more free and open inhale, achieved using the 0.6Ω pod option.
With a 1000 mAh high-density battery and COREX heating tech, the XROS 3 Mini pod system is the best within the XROS family of pod devices.

Flawless, rounded-edge design
The XROS 3 Mini pod kit features a mouthpiece shaped to be flatter and ideally suited to fit the user, providing a more accurate, tight MTL experience.
The sleek, slim design of the XROS 3 Mini presents a premium and modern look, with comfortability delivered in the palm of your hand.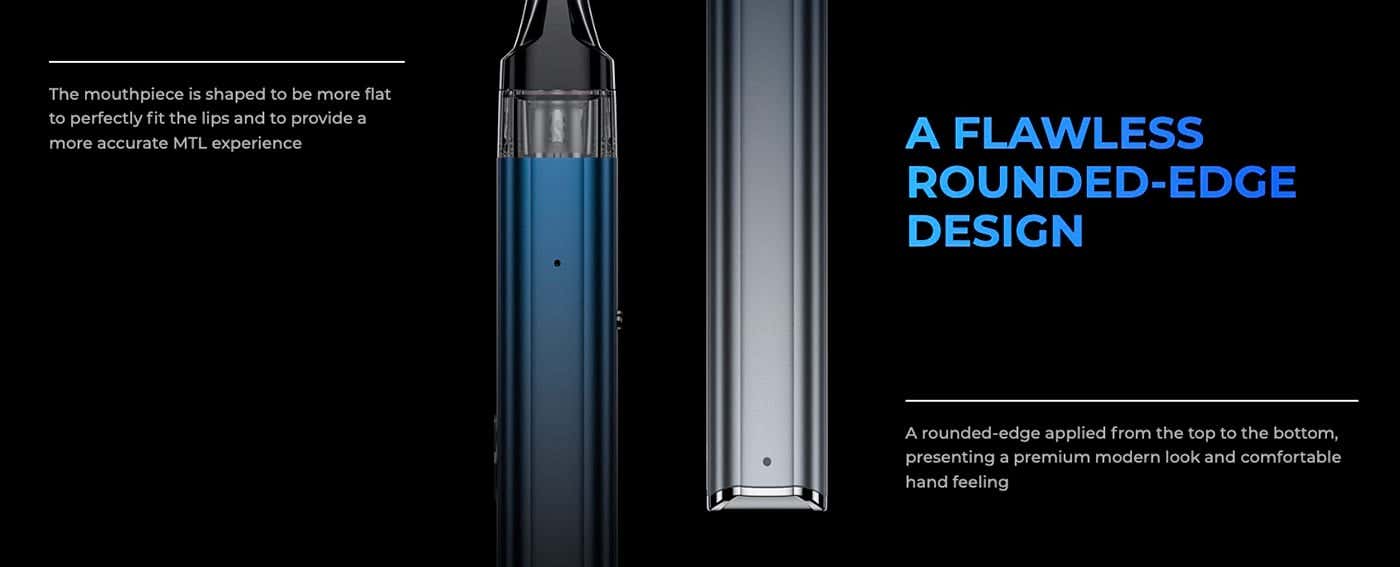 XROS 3 and XROS 3 Mini Pods
The XROS series of replacement pods already feature 0.8Ω and 1.2Ω MTL pod choices, with top-filling and Mesh coil features.
New to the series is a 1.0Ω addition to the tighter MTL experience and a 0.6Ω RDTL option, offering a more free inhale while still benefiting from the flavour production that the XROS is renowned for. XROS pods offer the assurance of a leak-proof experience with SSS Leak-Resistant technology.

Nic Salt and Free Base
All four XROS pod options are designed for use with both Freebase and Nic Salt e-liquids, with the 0.6Ω pod being designed to provide a sweeter experience with free base e-liquids.

High-density battery
The XROS 3 Mini might be mini by nature, but with a huge internal 1000 mAh high-density battery, the XROS mini delivers a consistent all-day vaping experience.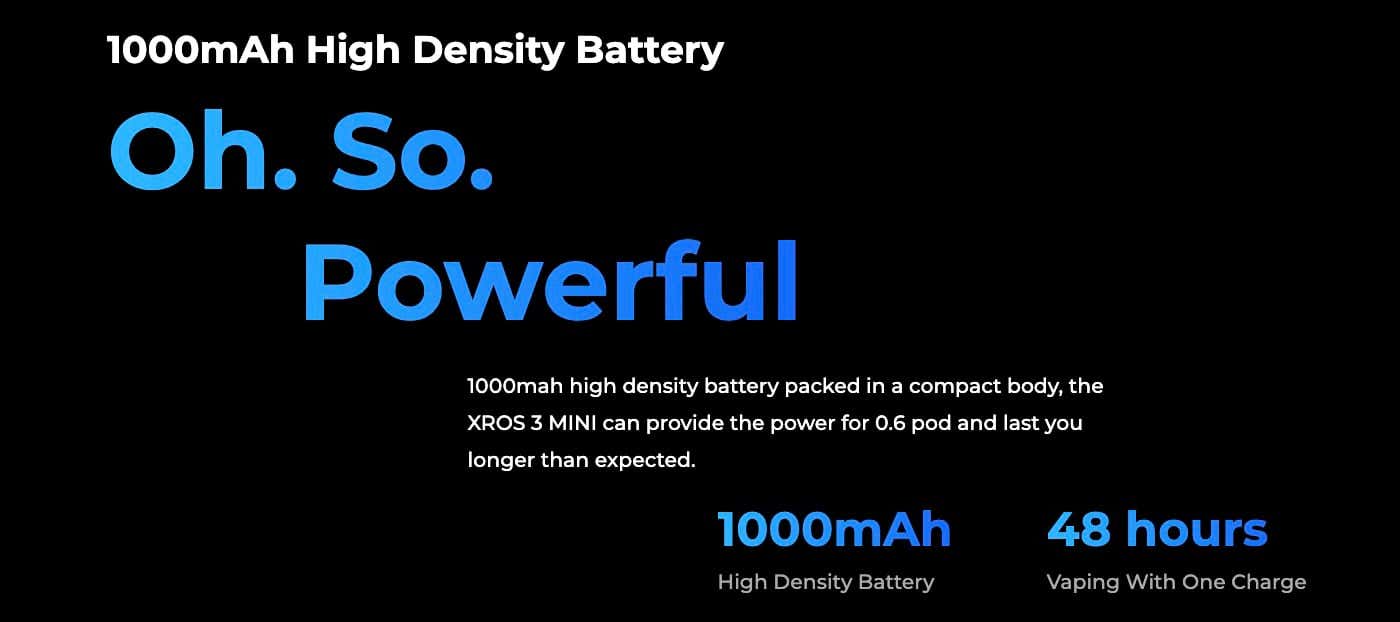 Oh. So. Powerful.
Don't be fooled by the XROS' size, as the innovative COREX heating technology applied with a unique morph-mesh coil structure ensures a more rapid and even heating system to vaporise your e-liquid to provide full flavour potential efficiently.
XROS pod technology provides higher liquid delivery through the use of fluffier cotton material, preventing a burnt taste from a shortage of e-liquid and extending the pod's longevity by up to 50%.

Specifications
Dimensions: 23.6 x 13.8 x 99.2mm
XROS Pod Capacity: 2 ml TPD compliant
Type-C USB Charging: DC 5V/1A
Battery Capacity: 1000 mAh
What's in the box?
XROS 3 Mini Pod battery device
1 x XROS Series 0.6Ω Refillable Mesh Pod
1 x Type-C USB charging cable
User Manual / Warranty Card
Stoptober 2023 Kit includes 2 FREE Vape UK 10 ml Nic Salt E-Liquid flavours of your choice.

To avoid premature coil failure, follow our coil priming guide before using this kit.
Depending on how many cigarettes you smoke, we recommend using the following strength e-liquids with the Stoptober Bundle Vaporesso Xros 3 Mini kit:
Please read our guide on nicotine salts, which further explains the difference between nic salt and freebase nicotine e-liquids and better understand vaping styles, including MTL and DTL vaping.
Replacement items for this kit
We found other products you might like!
Customer Reviews