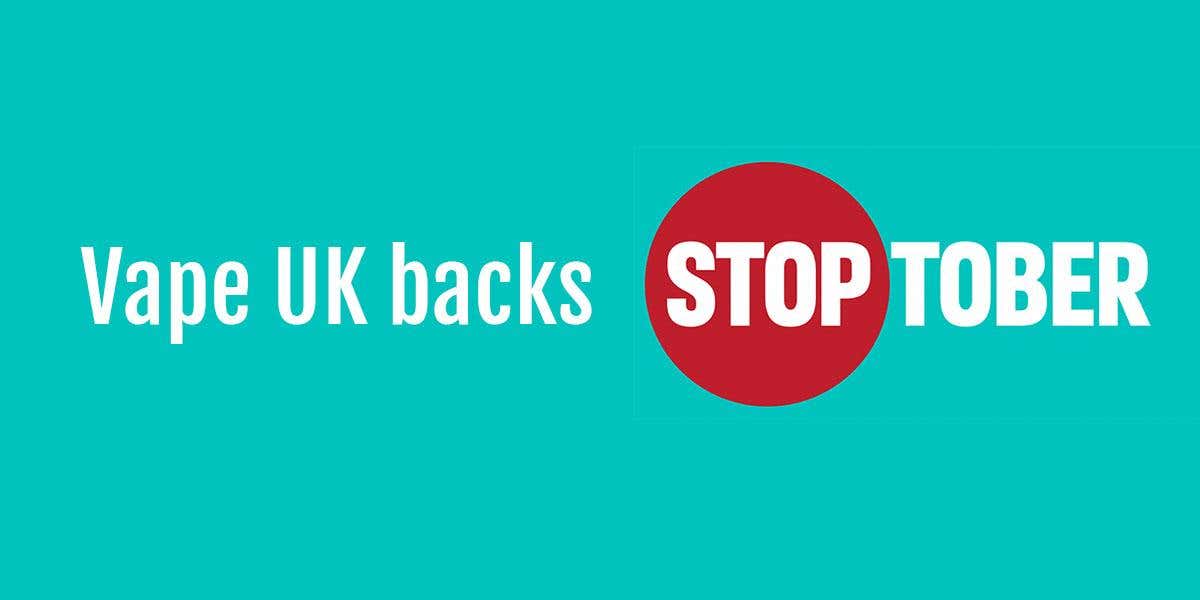 The 'Stoptober' stop smoking campaign was launched by Public Health England in 2012 and, since then, over 2.3 million people have used Stoptober to help them quit.
Why is Stoptober so effective?
The premise behind the campaign is that you are 5 times more likely to quit smoking for good if you don't smoke for 28 days.
Stoptober offers support via an app, social media and daily emails, as well as free face-to-face advice from professionals via local Stop Smoking services.
In the nine years since the campaign was first launched, Stoptober has driven over 2.3 million quit attempts.
Stoptober 2021
For the 2021 campaign, smokers looking to quit are being advised to choose the support they need to help them stop smoking this Stoptober and start doing so much more.
The campaign states, "giving up smoking is one of the best things you'll ever do for your health. There are lots of other benefits too, and they start almost immediately."
Government health officials have said smokers stand a much greater chance of succeeding by giving up by using official tried and tested stop smoking treatments, such as e-cigarettes.
Research has shown only 4% of those who go "cold turkey" remain smoke-free after a year.
For the fifth year running this Stoptober, Public Health England is advocating the use of e-cigarettes to help quit smoking. In fact, they claim that people who choose the vaping route have some of the highest quitting success rates.
The vaping stats
According to ASH (Action on Smoking and Health), electronic cigarettes have played a significant role in helping the UK have the second lowest smoking rates in the EU. This was their statement about the positive message that Stoptober is sending by including vaping in their campaign.
"With the help of Stoptober there has never been a better time to try to quit smoking. We know that smokers find e-cigarettes helpful in quitting so it's great that Stoptober is encouraging their use..."
Independent research from Public Health England and the Royal College of Physicians in 2015, concluded that vaping is at least 95% safer than smoking.
A major UK clinical trial published in 2019 found that, when combined with expert face-to-face support, people who used e-cigarettes to quit smoking were twice as likely to succeed as people who used other nicotine replacement products, such as patches or gum.
How does vaping help you quit smoking?
Some of the key benefits of vaping, compared to tobacco smoking are:
Vaping offers the 'oral fixation' simulation to smoking along with the nicotine and throat hit found in smoking
Vaping allows you to inhale nicotine without most of the harmful effects of smoking
When you vape, nothing is burnt, there is no smoke.
E-liquid contains only three components plus nicotine. The three components are Vegetable Glycerine, Propylene Glycol and flavourings, all of which are often found in food products
Modern rechargeable e-cigarettes deliver nicotine more quickly and effectively than cigarettes
E-cigarettes are tightly regulated for safety and quality by the Tobacco Products Directive (TPD)
What about risks from nicotine?
While nicotine is the addictive substance in cigarettes, it is relatively harmless. Almost all of the harm from smoking comes from the thousands of chemicals contained in tobacco smoke, many of which are toxic. Nicotine replacement therapy has been widely used for many years to help people to stop smoking and is a safe form of treatment.
Is e-cigarette vapour harmful to others?
So far, there is no evidence that vaping causes harm to other people around you. The available evidence indicates that any risk of harm is extremely low, especially when compared with secondhand tobacco smoke.
Are children more likely to vape?
It is illegal to sell e-cigarette products to anyone under 18 or for adults to buy them on behalf of under 18s. Experimenting with e-cigarettes isn't unheard of among young people; however, regular e-cigarette use is rare, with only 1% using them at least weekly. Vaping remains largely confined to regular smokers.
Vape UK backs Stoptober 2021
Ultimately, all the evidence points to vaping being a massive help to people who want to quit smoking for good. For that reason, we at Vape UK are once again joining the Stoptober revolution in 2021 to help people who want to quit smoking get their best shot at succeeding.
Quit smoking for good this Stoptober
We also pride ourselves on our expert knowledge and outstanding customer service. This means that we're on hand to provide the advice and support you need to help ensure you choose the right products, and have the best chance of success.
We have tons of helpful guides in our news section. To help you through Stoptober, you might find our guide to the 'Benefits of Switching from Smoking to Vaping' particularly useful. Read it here.
Vape UK's Stoptober 2021 starter kits
We have selected three highly recommended starter kits to help you through your break up with smoking.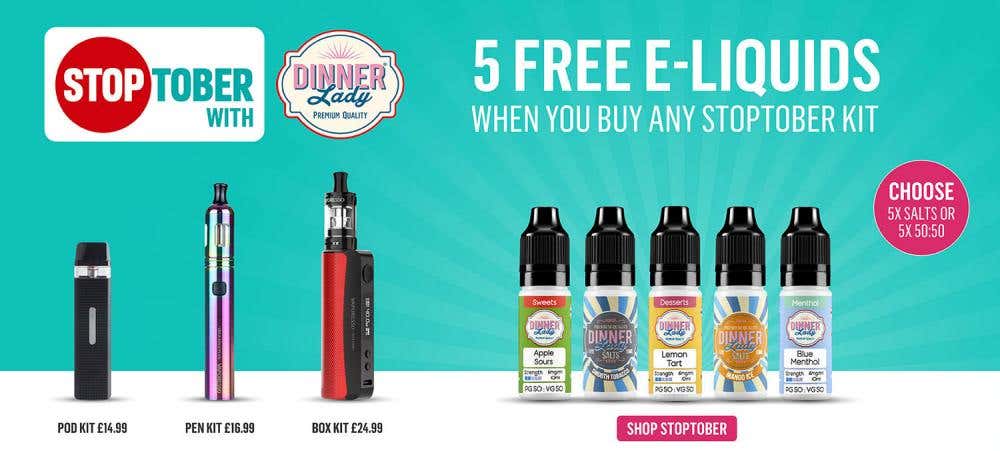 Each kit is from the vape masters at Vaporesso, and consistently top the bestseller list with our customers. Prices for these kits start at just £14.99, which isn't far off the cost of a single packet of cigarettes these days!
They are specially designed for mouth to lung (MtL) vaping, which is the vaping style that most closely replicates smoking a cigarette. Most newcomers to vaping that are switching from smoking will start by MtL vaping, as it feels the most natural way for smokers to inhale.
Choose between a pod kit, pen kit, or box kit, and get ready for smoking cessation success!
As if the kit price wasn't attractive enough, we're giving you FIVE FREE Dinner Lady 50/50 or Nic Salt 10ml e-liquids.
If you need help with the difference between freebase and salt nicotine, be sure to read our helpful guide.
We're here to help you quit smoking for good
At Vape UK, we pride ourselves on being responsible vaping advocates. We keep up to date with all of the latest news and studies; we supply high quality TPD compliant vaping products; and we are always on hand to offer helpful and honest advice about vaping. Please get in touch if you have any questions about vaping for our team.