OXVA XLIM SQ PRO POD KIT
The Oxva Xlim SQ Pro pod vape kit is a slim, compact and stylish mouth-to-lung (MTL) pod vaping system benefiting from a vast 1200 mAh internal battery, a large 0.96-inch colour TFT display and an extensive range of Xlim refillable or prefilled pod options.
The Xlim SQ Pro can be customised to suit MTL or RDL vaping needs with Power and Smart Modes, 30 watts of maximum output and side-located airflow control.
Choose from eight different colours and finishes, complete with type-c fast-charging and convenient lanyard for transport.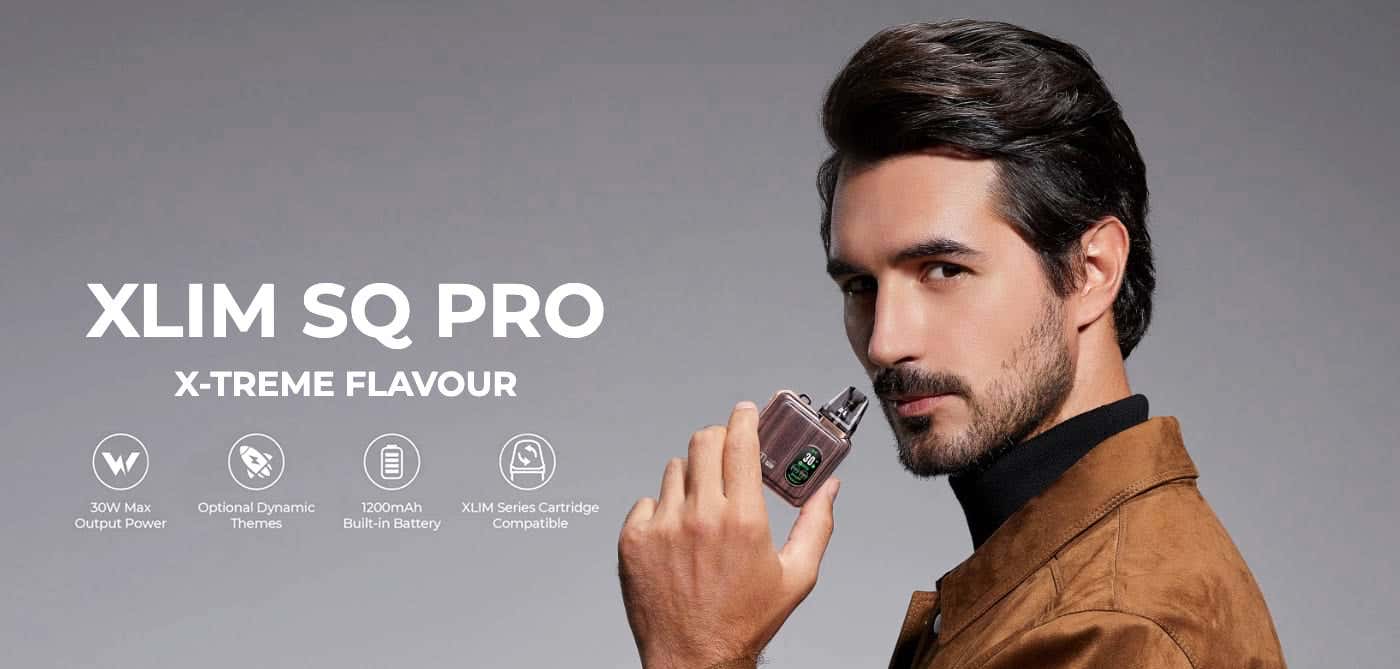 Key Features
30w Maximum output power
Optional dynamic themes
1200 mAh built-in battery
Smart & Power modes

Style
The Xlim SQ Pro vaping system is available in eight stylish and unique colour finishes:
Black Carbon
Bronze Wood
Gentle Blue
Gold Carbon
Gunmetal Woods
Mauve White
Pastel Pink
Spring White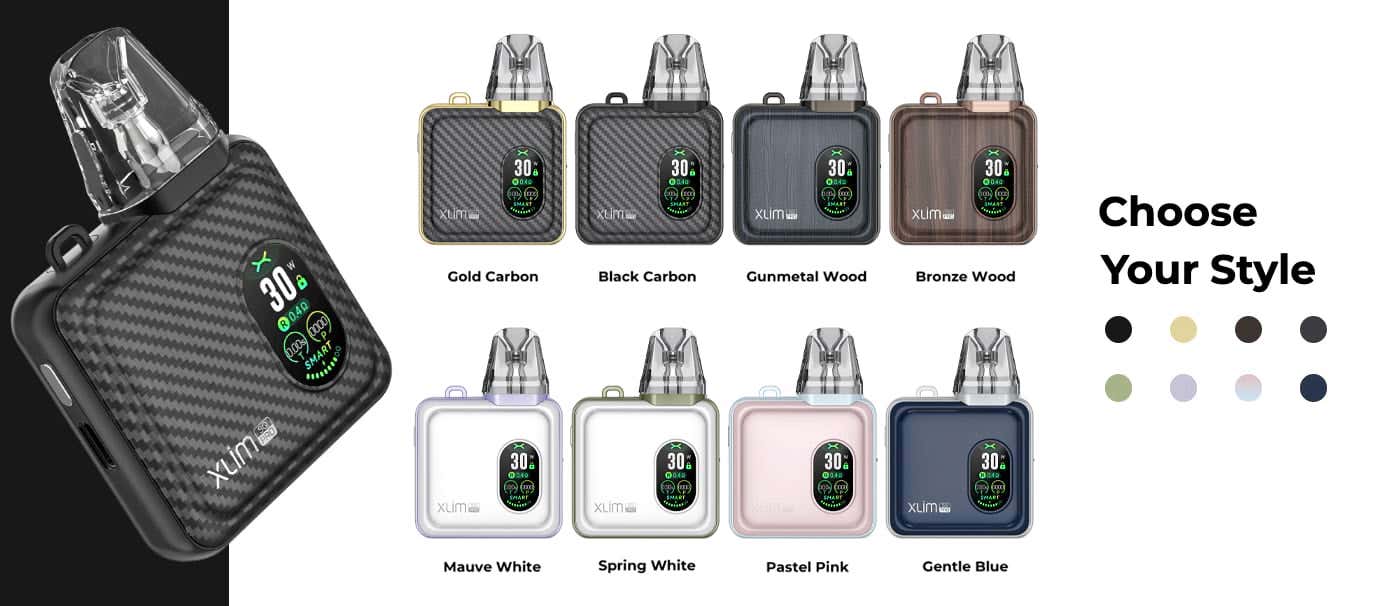 Customisation
Using the large TFT display screen, the Xlim SQ Pro has an in-depth ability to customise the device to accompany your vaping needs.
With intelligent UI, the Xlim SQ Pro displays battery and power levels, puff counts and temperature, and an easy-to-navigate menu with multiple modes.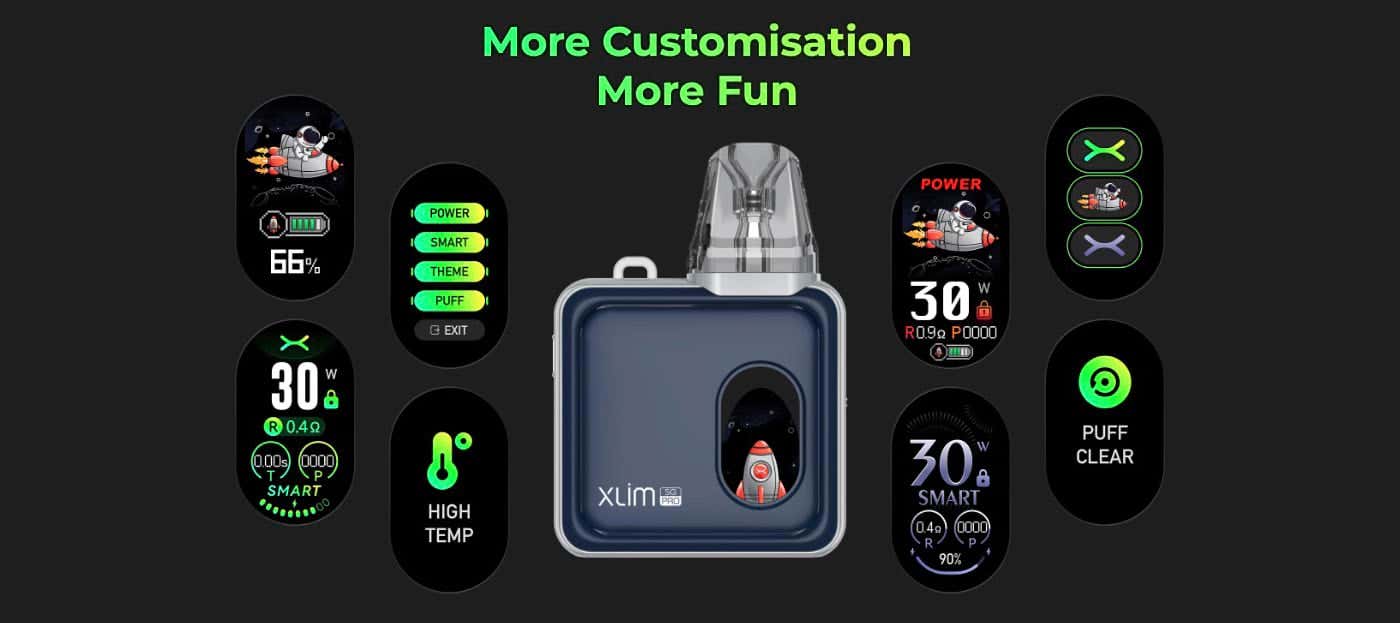 Visual
Xlim SQ Pro features a 0.96-inch TFT (thin film transistor) colour screen and optional dynamic themes for an enriching visual vaping experience.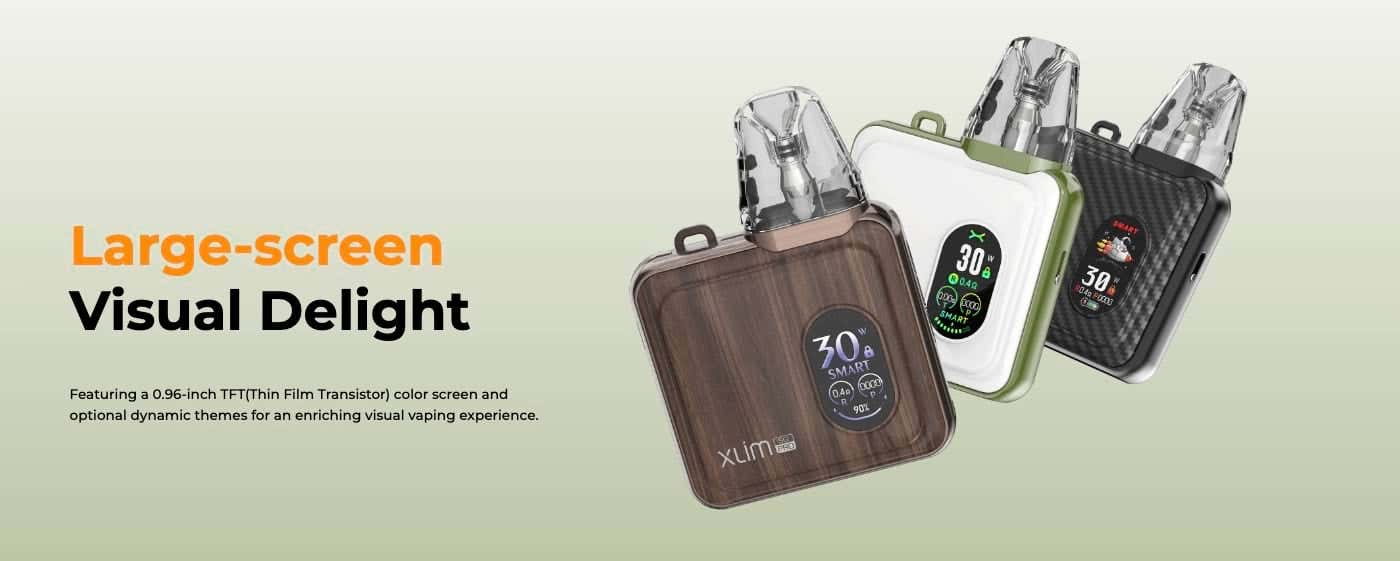 Preference
The Xlim SQ Pro allows you to customise and fully meet your preferences with two different operation modes. To operate, press the button twice within 1.5 seconds to enter the secondary interface, and press the button once to select various methods, completing the selection with a long button press.
Power
Power mode allows you to adjust the power to your desired strength manually, customisable power ranging from 5 to 30 watts, depending on the Xlim pod installed.
Smart
Smart mode precisely and automatically matches the optimal power for the installed Xlim pod. For example, if an Xlim V3 0.6Ω pod is installed, the device will automatically run between 20 to 25 watts.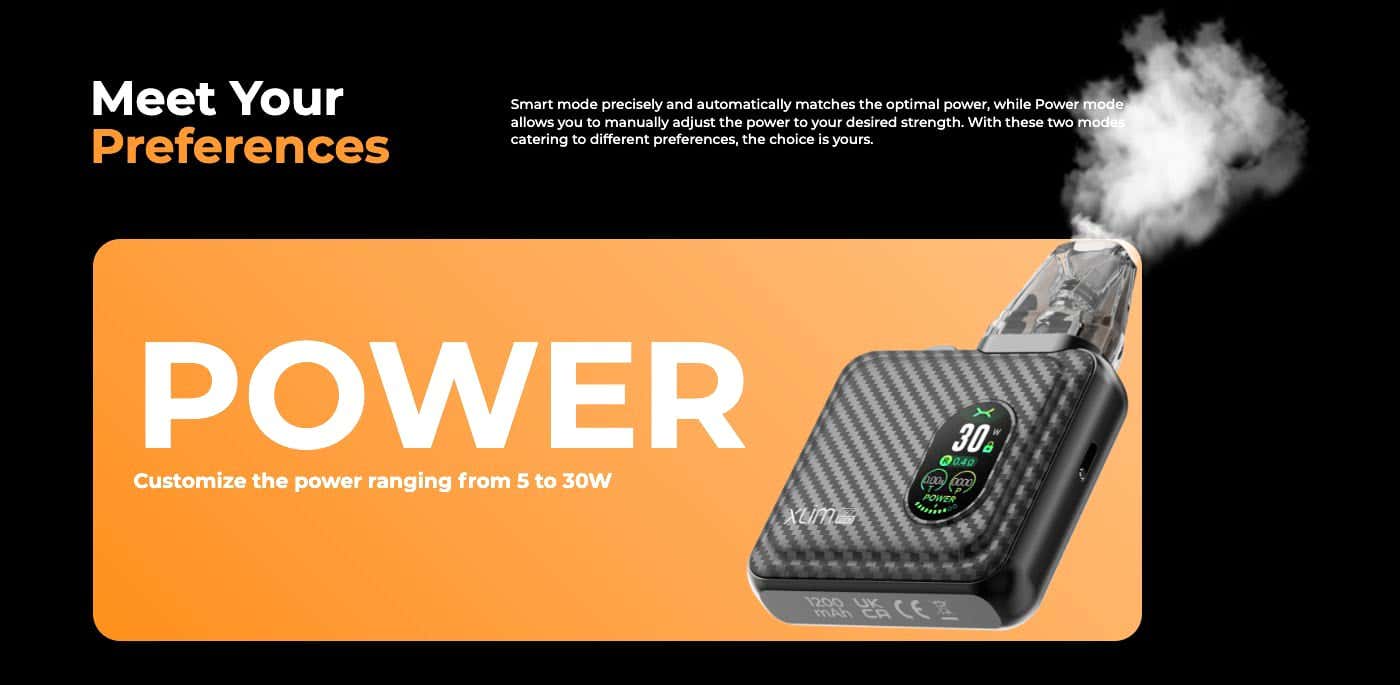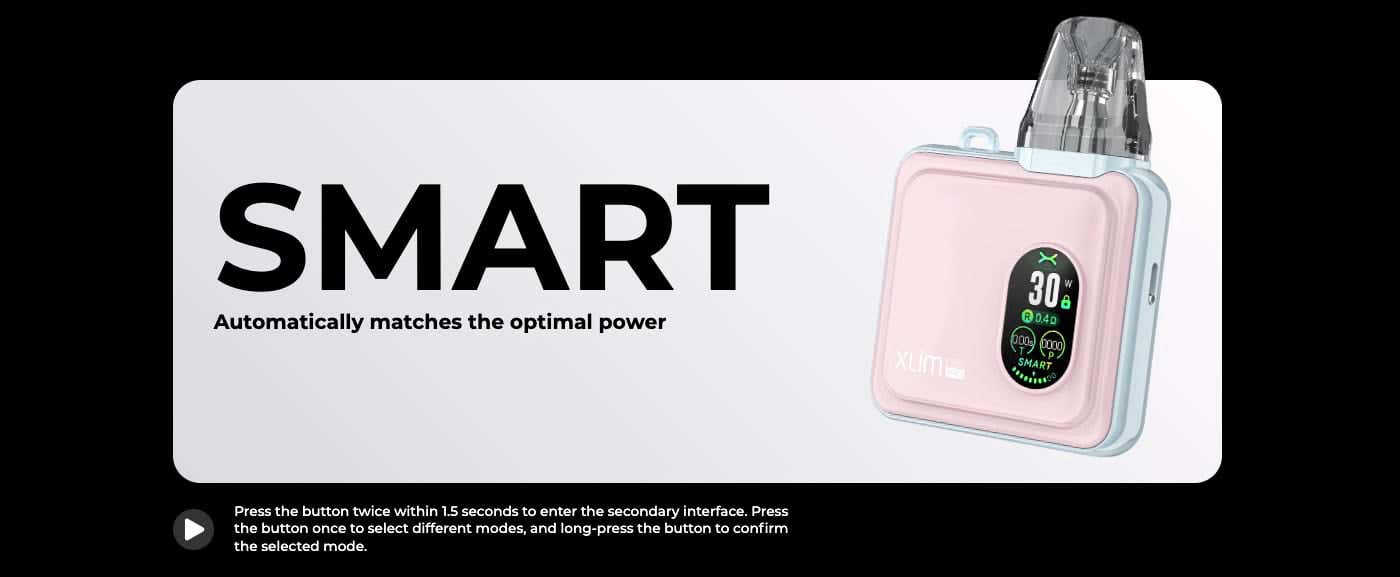 Long-lasting
The Xlim SQ Pro features a massive 1200 mAh high-capacity battery, ensuring longer vaping sessions and lasting performance without frequent recharging.
Quickly charge the Xlim SQ Pro battery in 45 minutes using 2A fast charging, providing up to 3 days of vaping with one charge.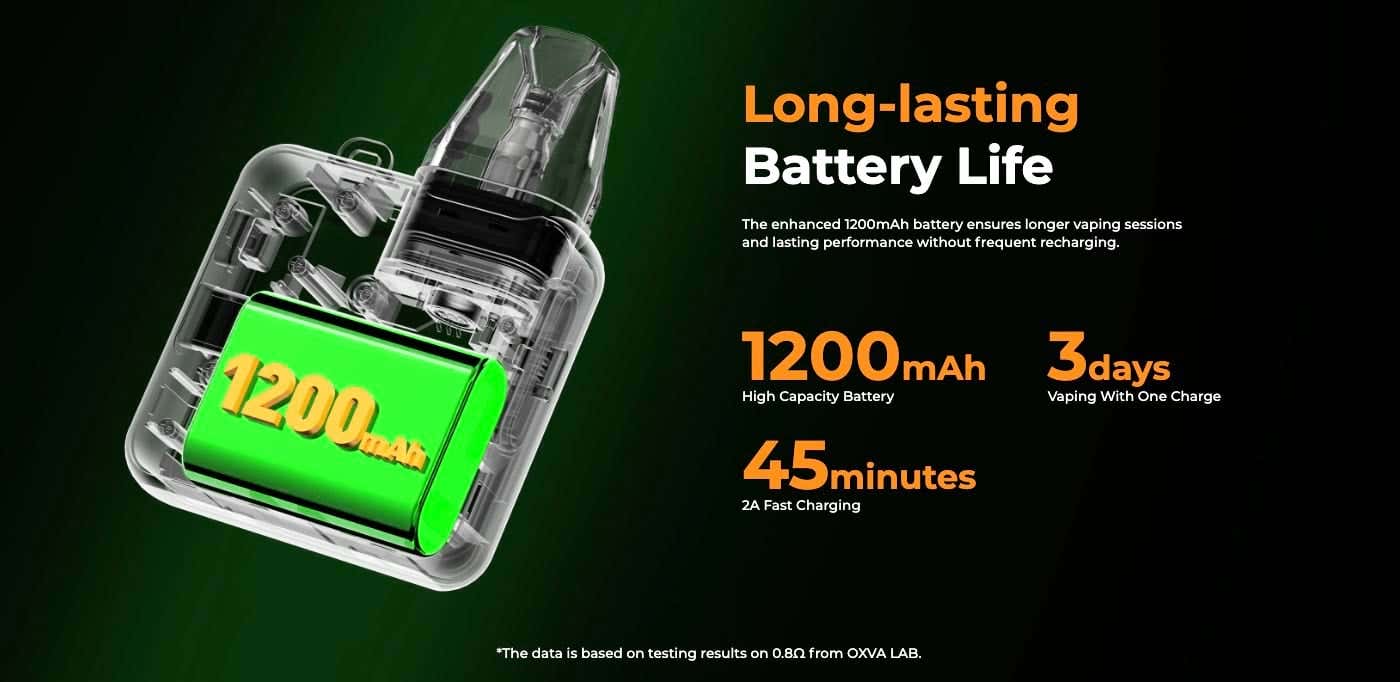 Compatibility
Oxva's Xlim SQ Pro pod vaping system is compatible with an extensive range of Xlim pods, including Xlim V2 side-filling, V3 top-filling, and Xlim prefilled pod cartridges.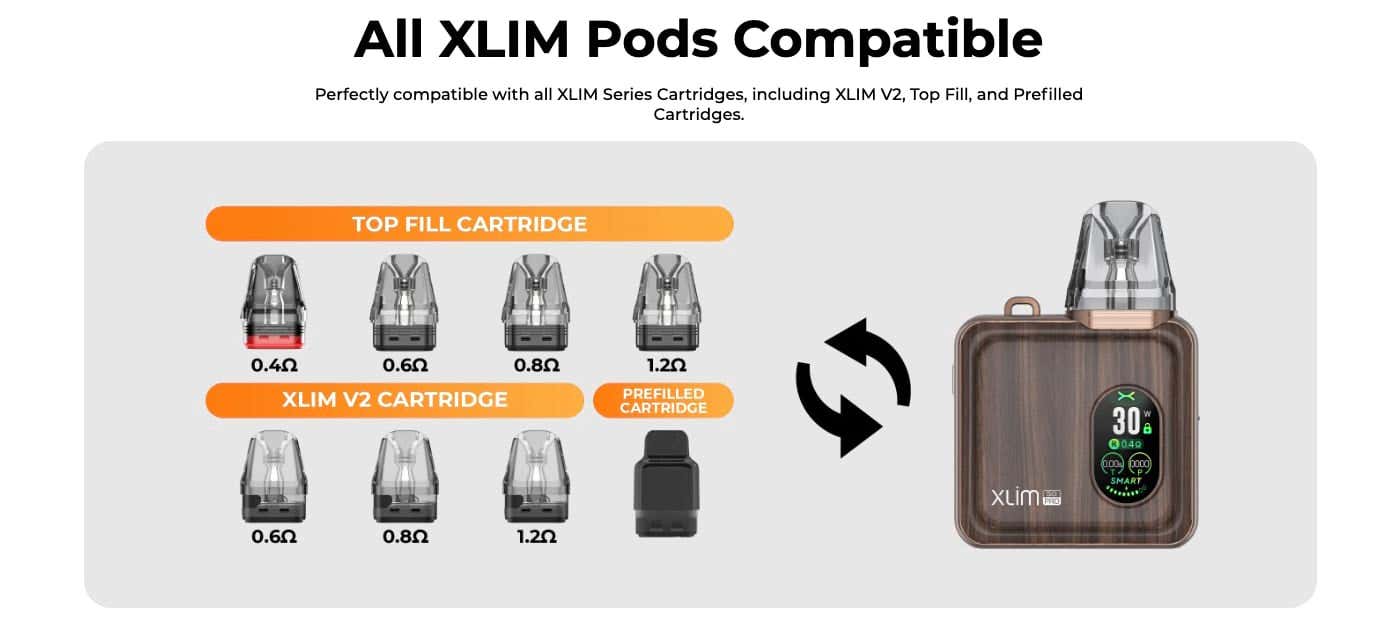 Choice
The exceptional compatibility of the Xlim series of pod cartridges gives you the freedom to choose between both freebase and nic salt e-liquids, offering a versatile vaping experience from MTL to RDL.
We would always recommend using either Nic Salt or Freebase Nicotine vape juices with the Xlim V3 pods, allowing sufficient time for the liquid to soak into the pod before use.
Xlim V3
The Xlim V3 pod cartridges benefit from a top-filling design and remove the need to remove the pod to refill your e-liquid.
0.4Ω - (26-30w) RDL vaping, offering a strong free inhaling throat hit.
0.6Ω - ( 20-25w) RDL vaping, offering a strong throat hit.
0.8Ω - (12-18w) MTL vaping, providing medium to strong throat hit.
1.2Ω - (10-12w) MTL vaping for a smoother, lesser throat hit.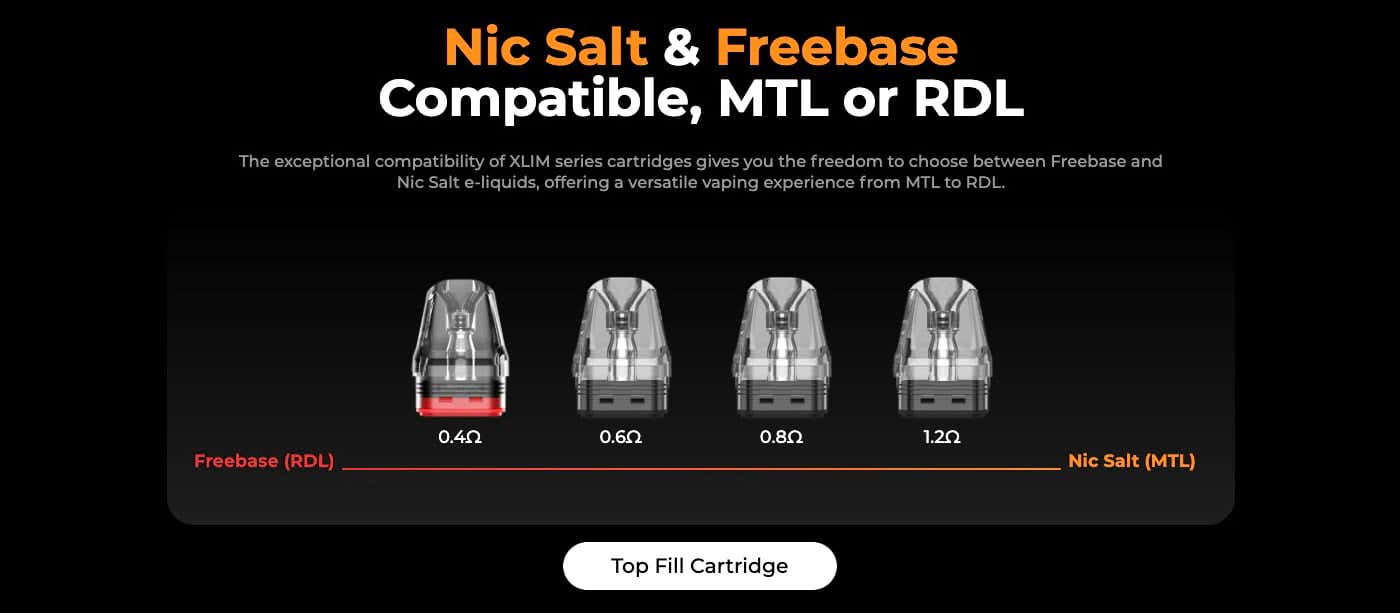 Xlim V2
The Xlim V2 pod cartridges are a side-filling mesh-constructed pod available in three different resistances, providing both RDL or MTL vaping experiences.
0.6Ω - (20-25w) RDL vaping, offering a strong free inhaling throat hit.
0.8Ω - (12-16w) MTL vaping provides medium to strong throat hits.
1.2Ω - (10-12w) MTL vaping for a smoother, lesser throat hit.

Prefilled
The Xlim SQ further enhances its choice of pods with the Oxva Xlim Prefilled e-liquid pod cartridges, delivering a smooth MTL vaping experience.
Available in 10 different fruit and menthol flavours, these hassle-free pods remove the need to refill your pod and are ready to go and provide approximately 200-300 puffs per pod.

Specifications
Dimensions: 54.4 x 20.4 x 77.0mm
Weight: 88g
Output Power: 5-30w
0.96-inch TFT Colour screen
Side AFC (Airflow Control)
Type-C USB Charging: 5V/2A
Battery Capacity: 1200 mAh
Material: Zinc Alloy + IML + PCTG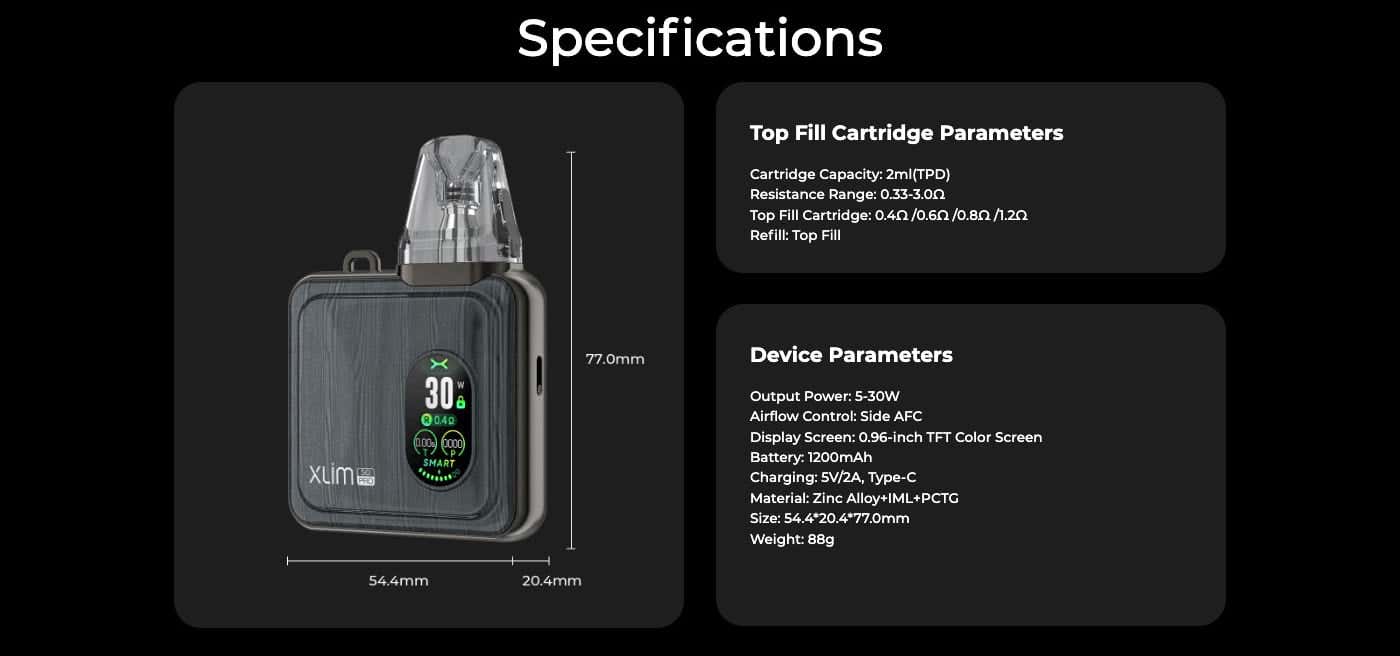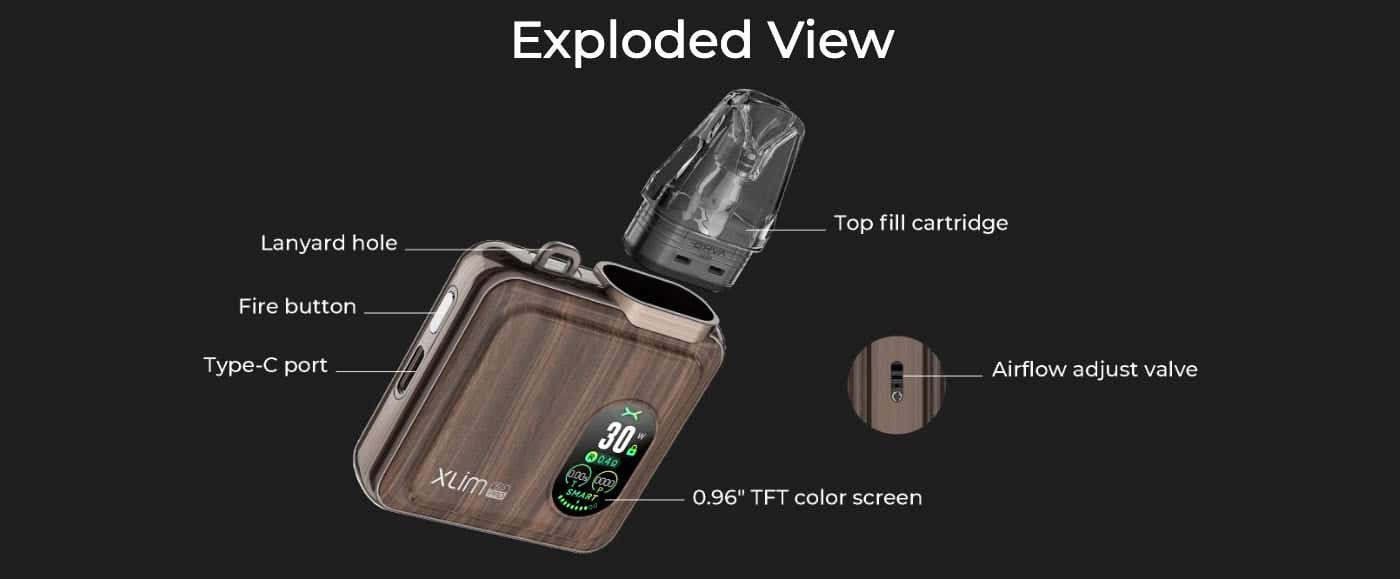 What's in the box?
Xlim SQ Pro device
1 x Xlim V3 Top-Filling 0.6Ω Refillable Pod (preinstalled)
1 x Xlim V3 Top-Filling 0.8Ω Refillable Pod
1 x Type-C USB charging cable
1 x Lanyard
User Manual


Depending on how many cigarettes you smoke, we recommend the following strength e-liquids with the Oxva Xlim SQ Pro Pod Vape Kit.
Not sure what Nic Salts are? See our guide here.
To avoid premature coil failure, be sure to follow our coil priming guide.
Compatible pods for this kit
We found other products you might like!
Customer Reviews