VOOPOO DRAG E60 KIT
The VooPoo Drag E60 Pod Vape Kit is the latest addition to the Drag series of vaping devices, which uses the full PnP coil range and newly launched PnP-TW coils.
There are 14 different coil choices available for use in the Drag E60, ranging from low-powered MTL options to RDTL and DTL coil choices.
With a large 2550 mAh built-in battery, quickly charged by type-C USB charging, you can expect all-day, comfortable vaping with power capabilities of up to 60w.
The Drag E60 Pod Vape Kit comes with the new top-filling PnP Pod II and features a conveniently built-in, adjustable airflow by simply rotating the installed pod.

Features and highlights
Designed with streamlining in mind, the Drag E60 has several unique built-in features and highlights, such as the following:
Minimalistic and compact design
Long-lasting ECO Mode
Dual-in-one PnP coils
2550 mAh built-in battery
Pod airflow adjustment
Easy top-filling
The Drag E60 features the Gene.TT 2.0 chipset, maximising performance and fast ignition with multiple vaping modes such as Smart, RBA and Eco.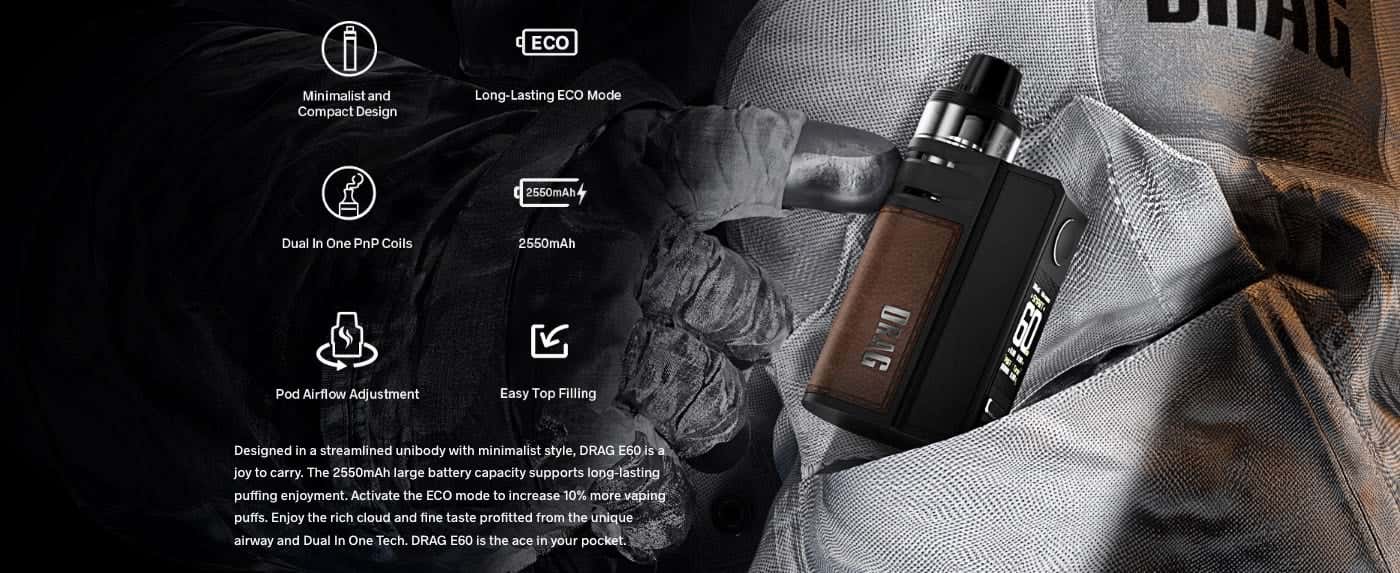 11 Available colours
The VooPoo Drag E60 is available in 11 different colours, with comfortable leather-bound edging (not featured in carbon-fiber colour).
Black
Grey
Coffee
Golden
Pink
Carbon Fiber
Grey Metal
Modern Red
Obsidian Black
Rainbow Silver
Streamers Green


Sleek and minimalist
The Drag E60 Pod Mod is a lightweight vaping device, measuring just 94 mm in height, perfect for all-day travel and vaping.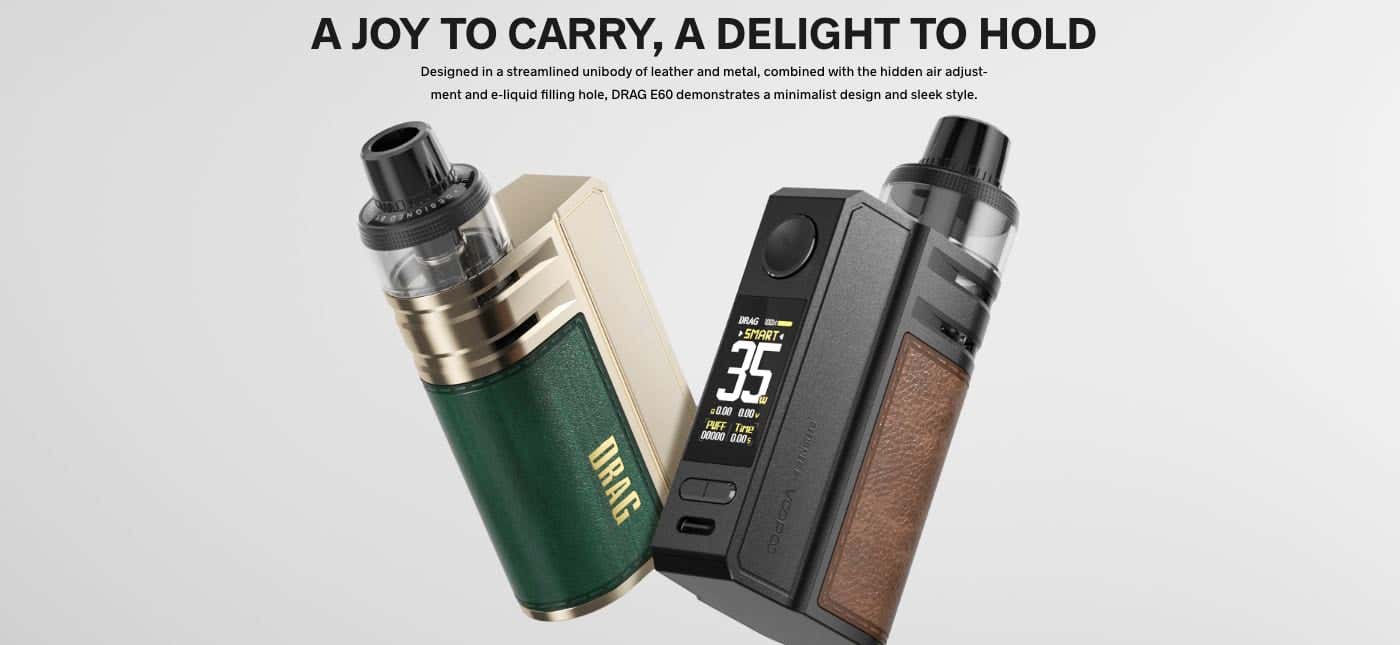 Enhanced power, performance and battery life
The VooPoo Drag E60 features a large 2550 mAh type-C USB rechargeable built-in battery with superspeed charging.
The device also features a unique Eco Mode, which powers down unnecessary features and allows vaping to continue at a low battery percentage.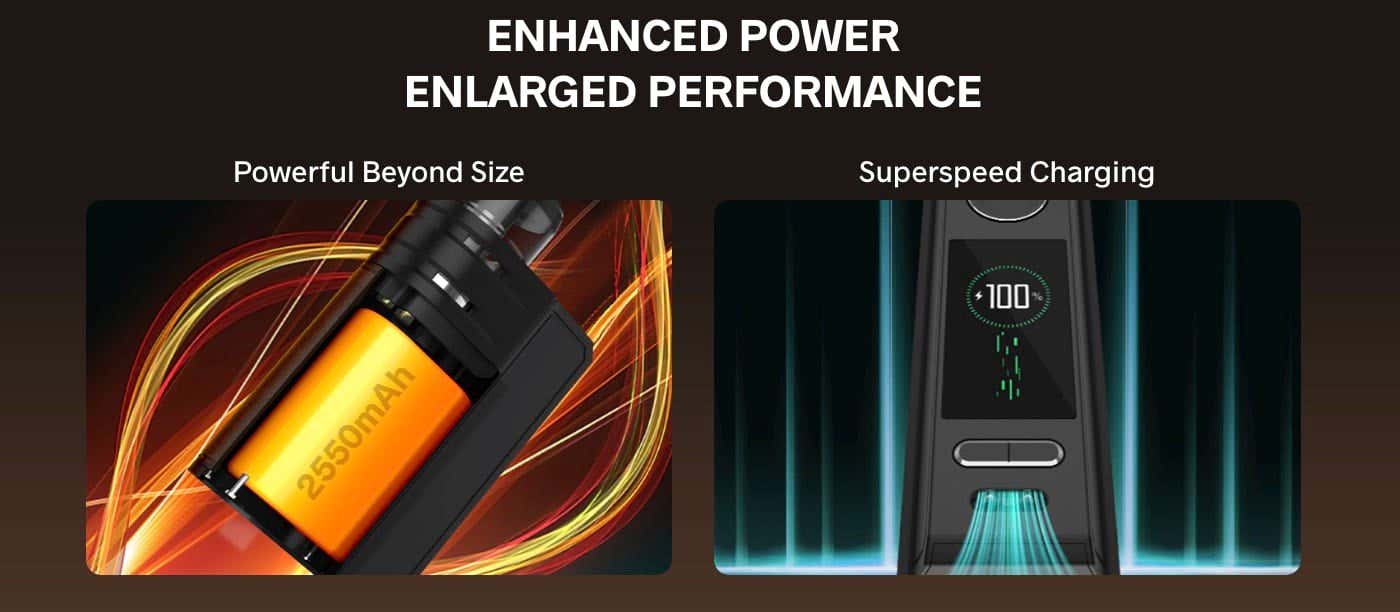 PnP Pod II
Included with the kit is the new PnP Pod II, which has an easy top-filling design, allowing the user to unscrew and fill their e-liquid.
The air adjustment is incorporated into the Drag E60 mod, which is conveniently adjusted by turning the pod within its secure connection.

Airway structure
Bring out the dense and smooth taste of your desired e-liquid with a unique built-in airway structure.

PnP-TW coils
The VooPoo Drag E60 Pod Vape Kit comes with the all-new PnP Pod II design and fitment of pod, along with two of the newly launched PnP-TW mesh-constructed coils.
Available PnP-TW coil range:
PnP-TW15 - 0.15Ω Mesh (55-70w) DTL
PnP-TW20 - 0.2Ω Mesh (40-55w) DTL (included in kit)
PnP-TW30 - 0.3Ω Mesh (28-36w) RDTL (included in kit)


Additional PnP coil choice
The PnP Pod II allows the full use of the eleven PnP coil options, maximising choice and flexibility on different vaping styles and e-liquids.
PnP-VM1 - 0.3Ω Single Mesh (32-40w) DTL
PnP-VM3 - 0.45Ω Single Mesh (25-35w) RDTL
PnP-VM5 - 0.2Ω Mesh (40-60w) DTL (not for use with High-VG e-liquids)
PnP-VM6 - 0.15Ω Mesh (60-80w) DTL (not for use with High-VG e-liquids)
PnP-R1 - 0.8Ω Regular (12-18w) MTL
PnP-R2 - 1.0Ω Regular (10-15w) MTL
PnP-C1 - 1.2Ω Ceramic (10-15w) MTL
PnP-M1 - 0.45Ω Regular (28-35w) MTL
PnP-M2 - 0.6Ω Regular (20-28w) RMTL
PnP-TM2 - 0.8Ω Mesh (12-18w) RMTL
Specifications
Output Power: 5w - 60w
Output Voltage: 3.2-4.2V
Materials: Zinc Alloy, Leather, Aluminium Alloy, PC
Dimensions: 94 mm x 46 mm x 24.9 mm
Battery Capacity: 2250 mAh
Coil Compatibility: PnP coils

What's in the box?
1 x Drag E60 battery device
1 x PnP Pod II pod
1 x PnP-TW20 0.2Ω coil
1 x PnP-TW30 0.3Ω coil
1 x Type-C USB charging cable
1 x User Manual

We found other products you might like!
Customer Reviews