VAPORESSO XROS 3 MINI POD KIT
The Vaporesso XROS 3 Mini Pod Kit is one of our best-selling pod kits. This compact and discreet pod starter kit features a large 1000 mAh internal battery with an intelligent battery life indicator and offers various vaping styles, from tight MTL to a looser RDTL inhale.
The XROS 3 Mini Pod kit includes a 0.6Ω XROS series pod, fully maximising Vaporesso's Corex Heating Technology, delivering an intense and full flavour experience. An additional 1.0Ω pod option is also available separately.

XROS Family
The XROS 3 Mini system allows vapers to use an extremely simple MTL pod system, with the added flexibility of restricted direct-to-lung vaping through a more free and open inhale, achieved by using the 0.6Ω pod option.
With a 1000 mAh high-density battery and COREX heating tech, the XROS 3 Mini pod system is the best within the XROS family of pod devices.

Flawless, rounded-edge design
The XROS 3 Mini pod kit features a mouthpiece shaped to be more flat and perfectly suited to fit the user, providing a more accurately tight MTL experience.
The sleek, slim design of the XROS 3 presents a premium and modern look, with comfortability delivered in the palm of your hand.
XROS 3 and XROS 3 Mini Pods
The XROS series of replacement pods already feature 0.8Ω and 1.2Ω MTL pod choices, with top-filling and Mesh coil features.
New to the series is a 1.0Ω addition to the tighter MTL experience and a 0.6Ω RDTL option, offering a more free inhale while still benefiting from the flavour production that the XROS is renowned for. XROS pods offer the assurance of a leak-proof experience with SSS Leak-Resistant technology.


High-density battery
The XROS 3 Mini might be mini by nature, but with a huge internal 1000 mAh high-density battery, the XROS mini delivers a consistent all-day vaping experience.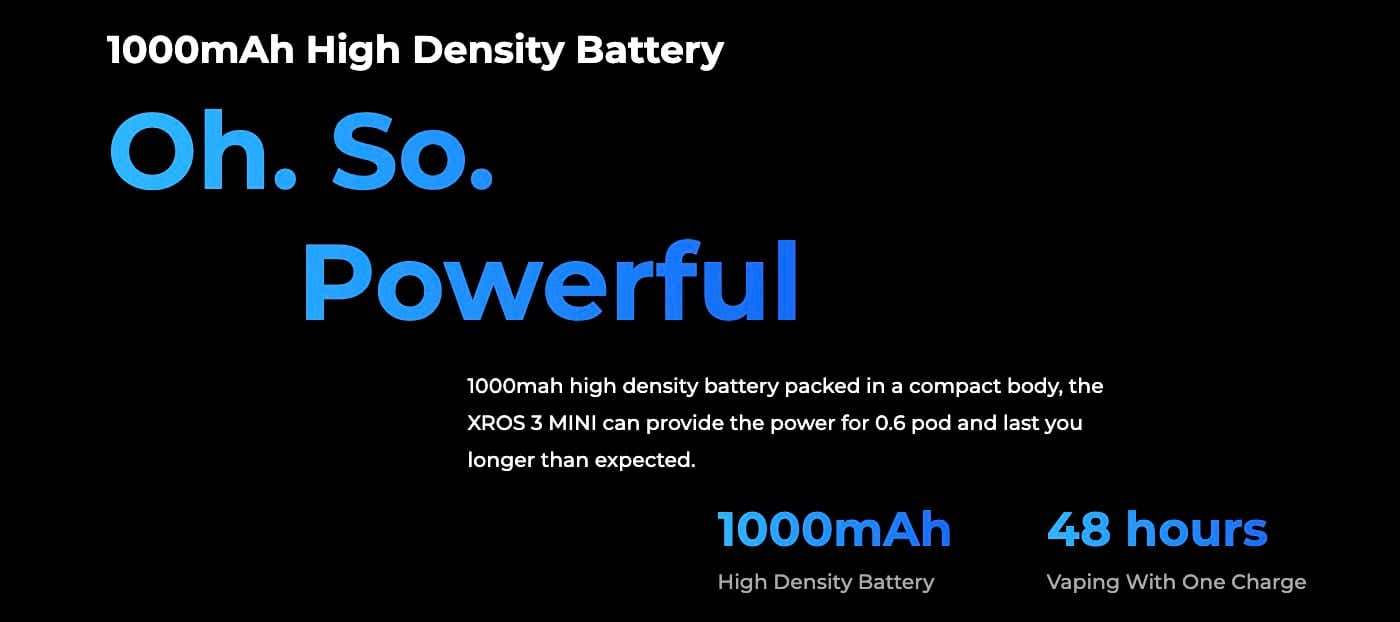 Precision carving texture technology
The XROS 3 Mini has an ingenious combination of gradient and diamond sections, forming the amazing visual art of light and shadow.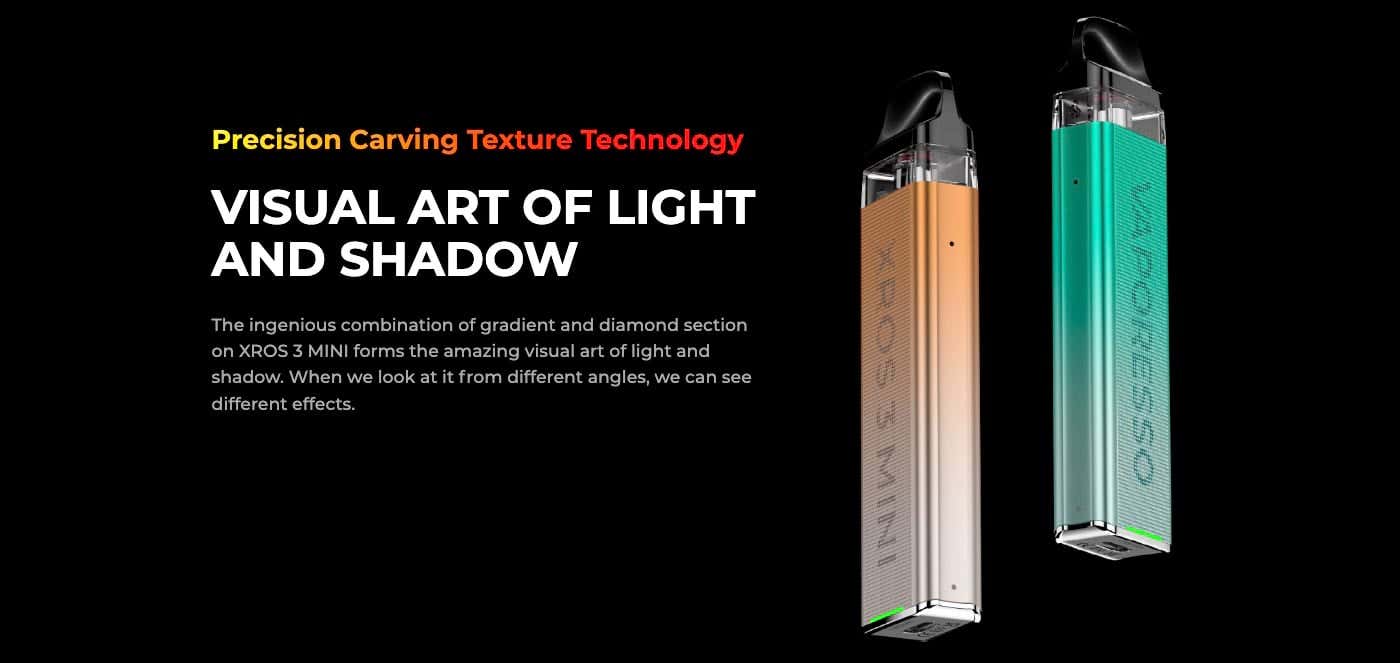 Oh. So. Powerful.
Don't be fooled by the XROS' size, as the innovative COREX heating technology applied with a unique morph-mesh coil structure ensures a more rapid and even heating system to vaporise your e-liquid to provide full flavour potential efficiently.
XROS pod technology provides higher liquid delivery through the use of fluffier cotton material, preventing a burnt taste from a shortage of e-liquid and extending the pod's longevity by up to 50%.


Nic Salt and Free Base
All four XROS pod options are designed for use with both Freebase and Nic Salt e-liquids, with the 0.6Ω pod being designed to provide a sweeter experience with free base e-liquids.

Specifications
Dimensions: 23.6 x 13.8 x 99.2mm
XROS Pod Capacity: 2 ml TPD compliant
Type-C USB Charging: DC 5V/1A
Battery Capacity: 1000 mAh


What's in the box?
XROS 3 Mini Pod battery device
1 x XROS Series 0.6Ω Refillable Mesh Pod
1 x Type-C USB charging cable
User Manual / Warranty Card

Depending on how many cigarettes you smoke, we recommend the following strength e-liquids with the Vaporesso Xros 3 Mini kit.
Not sure what Nic Salts are? See our guide here.
To avoid premature coil failure, be sure to follow our coil priming guide.
Compatible pods for this kit
We found other products you might like!
Customer Reviews