VAPORESSO MOTI X MINI POD KIT
The Vaporesso Moti X Mini Pod Kit is a dedicated restricted direct-to-lung pod kit with a built-in 1150 mAh battery, firing up to 29 watts of power.
The comfortable and discreet pod kit utilises the Vaporesso X35 coils, a honeycomb mesh 0.35Ω coil technology and has adjustable airflow, for consistent flavour throughout use.
The main body of the device offers an insight into the internal circuitry, with 6 differing colours available for the main section.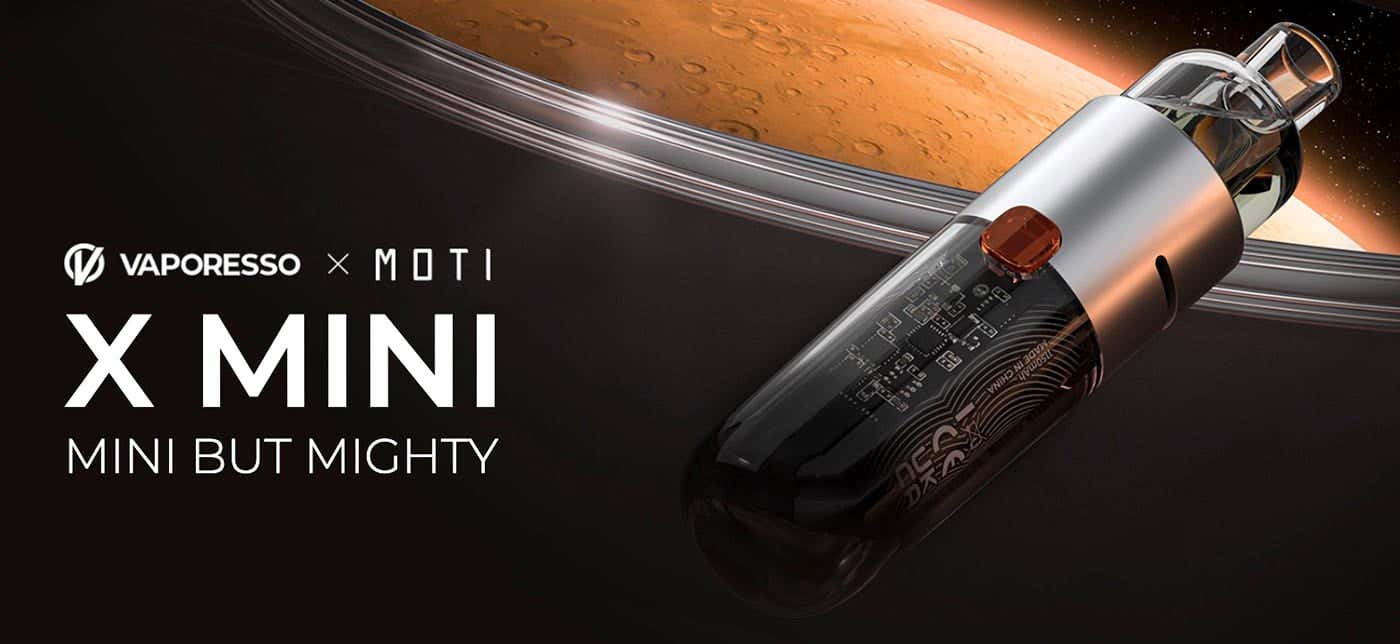 Key Features
Honeycomb Mesh 0.35Ω DTL coils
Intelligent adaptive power control
1150 mAh built-in battery
Adjustable airflow control
Type-C USB charging capabilities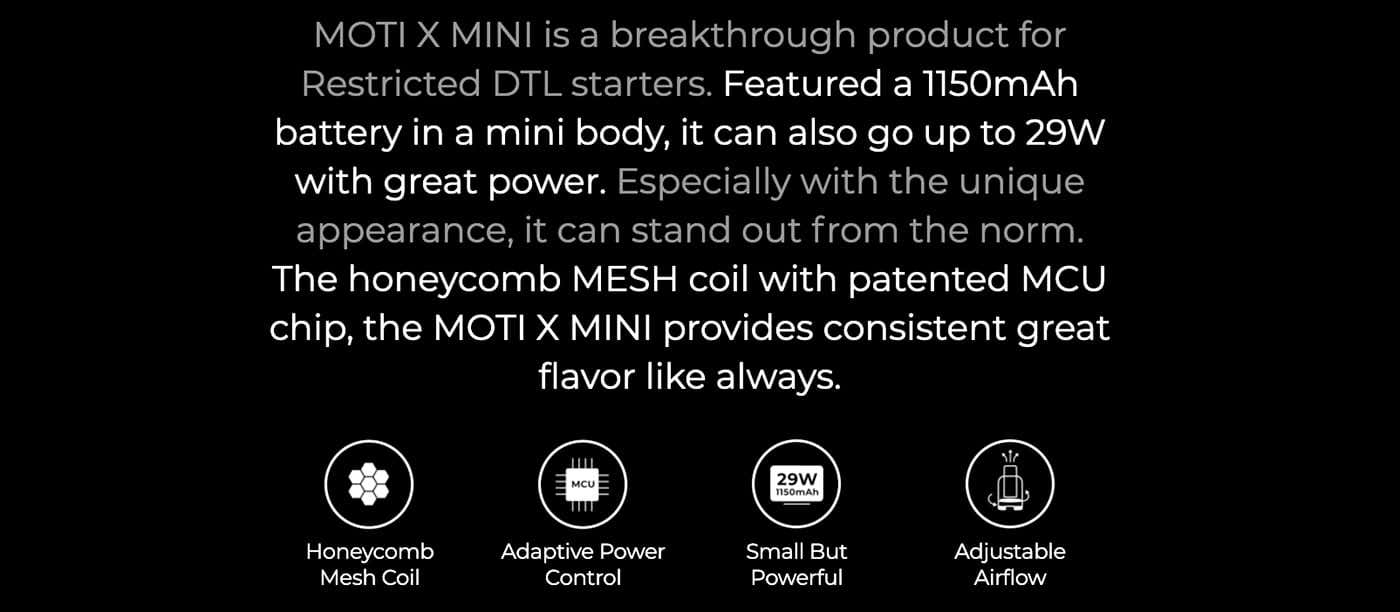 Slim body, with mighty power
The Moti X Mini battery device is pocket friendly, with 1150 mAh battery capacity and up to 29W of power.

Consistent taste from first puff to last
The Moti X Mini Pod Kit boasts 20,000 power adaptions by a patented MCU chip, enabling consistent high flavour production from the first puff, to the last.


Adjustable Airflow
The Moti X Mini Pod device allows the user to close off, or open up the airflow, customising the DTL experience the kit has to offer.
The intelligent battery automatically recognised the installed coil and adjusts the best wattage for the user.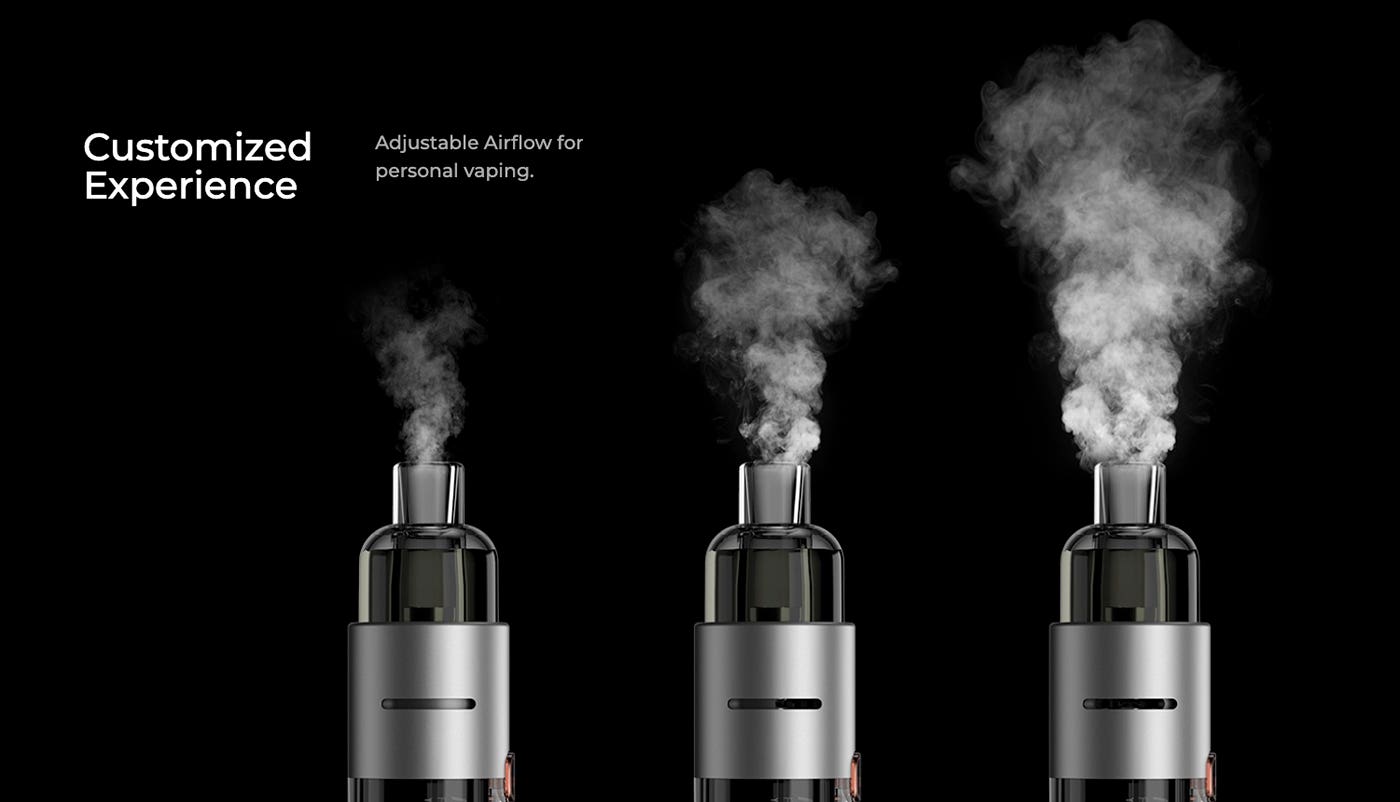 Comfortable grip and prompt warnings
The Moti X Mini battery device offers a prompt indication of when the battery is running low, ensuring you charge it before it depletes.
This small and ergonomic shaped device with fit well in the hand, as well as in your pocket.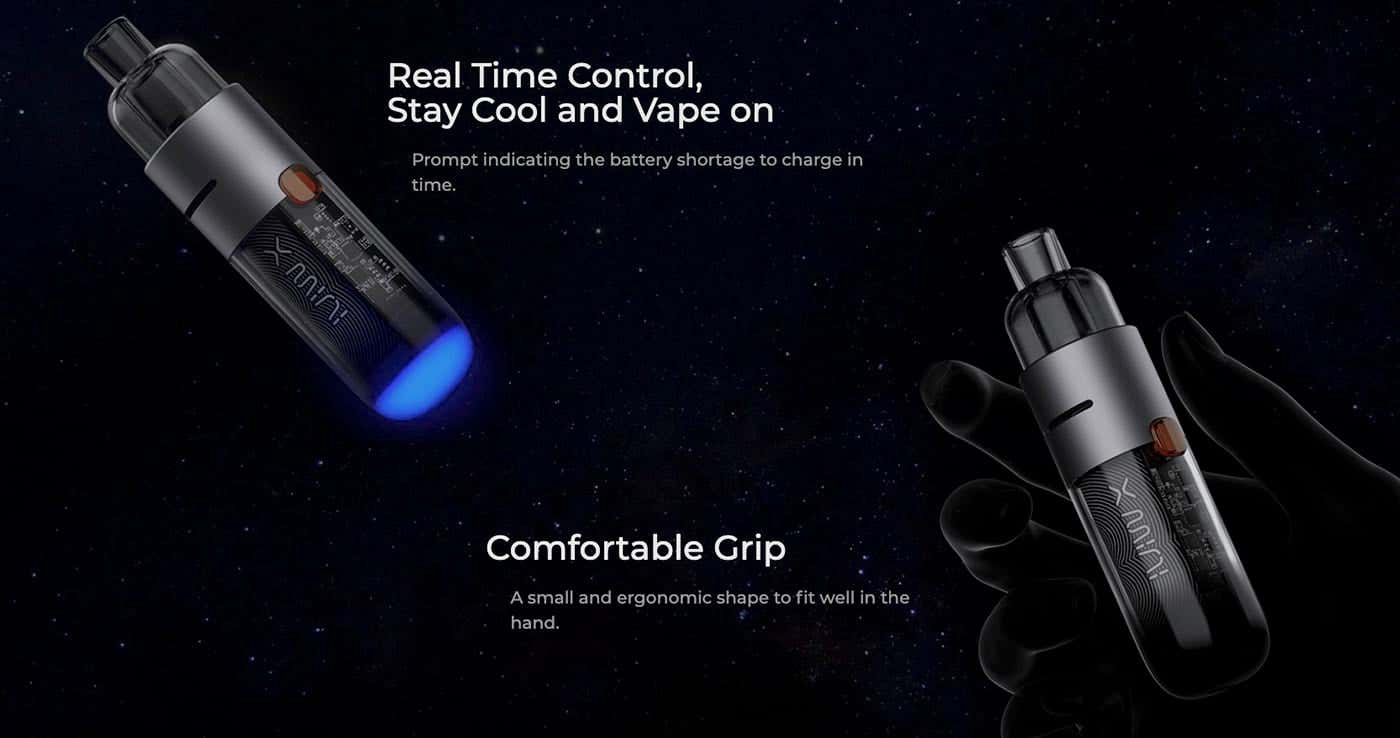 Replacement items
The Vaporesso Moti X Mini Pod kit is compatible with X35 0.35Ω DTL coils, and offers replacement pods, available in packs of two.

Specifications
Dimensions: 73.3 mm x 25.4 mm (diameter)
Battery Capacity: 1150 mAh
Charging Current: Type-C USB, 5V / 0.5A
Coil Resistance: X35 0.35Ω coil


Kit Contents:
1 x Moti X Mini Pod device
1 x Moti X Mini Pod
1 x X35 0.35Ω coil
1 x Type-C USB charging cable
1 x User Manual / Warranty Card

We found other products you might like!
Customer Reviews