VAPORESSO iTANK 2
Please note: Images are for display purposes only, tank is 2 ml capacity, as per required TPD regulations.
The Vaporesso iTank 2 is the upgraded version of the popular iTank DTL sub-ohm vaping tank, featuring a sprung-loaded filling mechanism for easy-filling, without the worry of leaking, along with innovative Turbo Airflow System.
The iTank 2 makes use of the Vaporesso GTi mesh constructed coils, available in four different resistances ranging from 0.15Ω and 0.2Ω, through to 0.4Ω and 0.5Ω.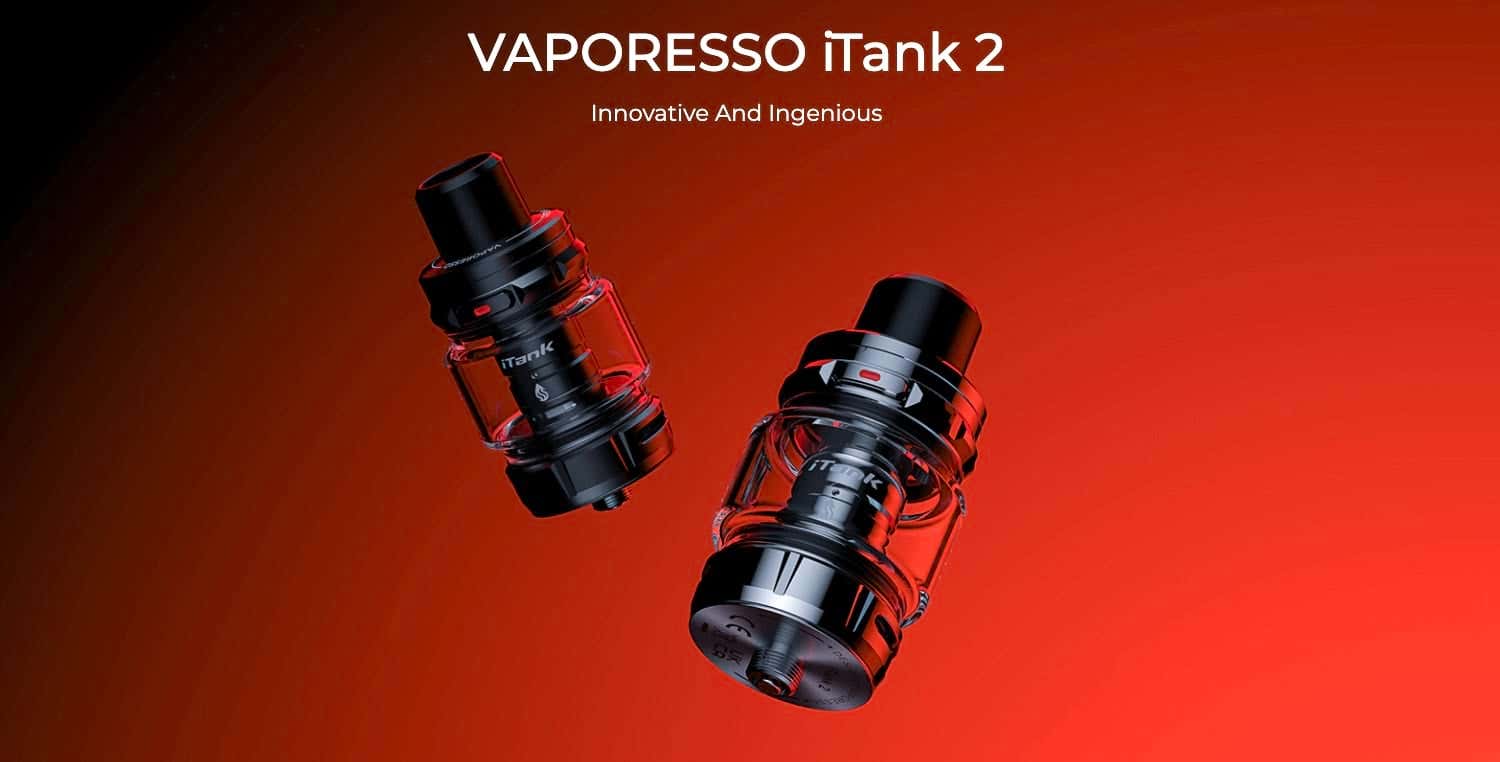 Less-worry
Worry less and expect more flavour with the Vaporesso iTank 2 DTL vaping tank.

Accurate Flavour
The iTank 2 continues Vaporesso's accurate delivery of flavour with improved unique morph-mesh coil structure and fluffier COREX cotton, providing a much denser vapour production and extending coil lifespan by up to 50%.
The Turbo Airflow system combines airflow from two wide inlet holes, located at the bottom, delivering a smoother airflow and overall quieter than its predecessor.

Colours
The Vaporesso iTank 2 is available in their traditional six colour choices.
Black
Brown
Blue
Grey
Rainbow
Silver

GTi Coil Platform
The iTank 2 tank makes use of the increasingly popular GTi coil platform, now offering four different mesh constructed coil designs, for a revolutionary DTL vaping experience.
0.15Ω Mesh - 75 - 90w (Best 85w)
0.2Ω Mesh - 60 - 75w (Best 65w)
0.4Ω Mesh - 50 - 60w (Best 55w)
0.5Ω Mesh - 30 - 40w (Best 35w)
The GTi coil range are an easily installed push-fit coil system, without the need to screw or unscrew the coil for installation and removal.

Spring-loaded
The upgraded top-filling system features a spring-loaded mechanism, activated by pressing the red button, enabling the powerful spring-loaded catch. The silicone membrane filling hole found on the original iTank has been removed, with easy and quick access to filling the tank.
In addition to this, the self-circulating e-liquid system draws in condensation to re-vapourise it and reduce further risks of leakage.

Specifications
Size: 59.8 mm x 24.5 mm (base diameter) 30 mm (with bulb glass fitted)
Drip-tip: 810
Top-fill
Capacity: 2ml

What's in the box?
1 x Vaporesso iTank 2

1 x GTi 0.2Ω Mesh Coil (60 — 75W)
1 x GTi 0.4Ω Mesh Coil (50 — 60W)
1 x Extra glass tube
3 x Spare O-rings
1 x User manual

The Vaporesso iTank 2 Tank is a powerful dedicated sub-ohm, Direct to Lung Vaping Tank, recommended for use with High VG 70+ e-liquids.
Our guide on vaping styles, explains the differences between mouth to lung vaping and direct to lung vaping.
To avoid premature coil failure, be sure to follow our coil priming guide.
Replacement Items for this kit
We found other products you might like!
Customer Reviews