Vape UK Bar Flavours Blue Sour Raspberry 100ml Shortfill
VAPE UK BAR FLAVOURS BLUE SOUR RASPBERRY
Vape UK's Bar Flavours Blue Sour Raspberry is a classic blend of sour blueberries and sweet, tarty raspberries.
Discover the full range of Vape UK Bar Flavours cost-effective, disposable-inspired shortfill flavours, including Blue Razz Lemonade, Kiwi Passion Fruit Guava and Watermelon Ice.
Free Nic Shots Included
Specifications
Flavours: Blueberry, Raspberry, Sour
Bottle Size: 100ml of e-liquid in a 120ml shortfill bottle
Nicotine Strength: 0mg
Nic-Shots: Space for two 10ml nic shots
Manufactured in the UK
Childproof Cap with a tamper-proof seal
Easy Fill Spout
Since 2016, Vape UK's mission has been to curate the finest quality vape products at every price point to help current smokers switch to vaping. Vape UK stocks a wide range of UK-made vape juices suitable for every vaper, including 10ml Nic Salt, Freebase and High VG blends of e-liquids.
These fruity and menthol-inspired disposable flavours are provided in a mix of 70/30 VG/PG, all suitable and recommended for use with our sub-ohm Vape Kits and Pod Vape Kits.
Vape UK's Bar Flavours shortfills are supplied in a 120 ml bottle with 100 ml of flavour, leaving enough space for two optional 10 ml nicotine shots to be added, achieving a total nicotine strength of approximately 3 mg.
Shortfill e-liquids are most commonly created with a blend of 70+ VG, making them thicker than a typical 50 VG blend, which increases cloud production and flavour when vaped at a higher wattage.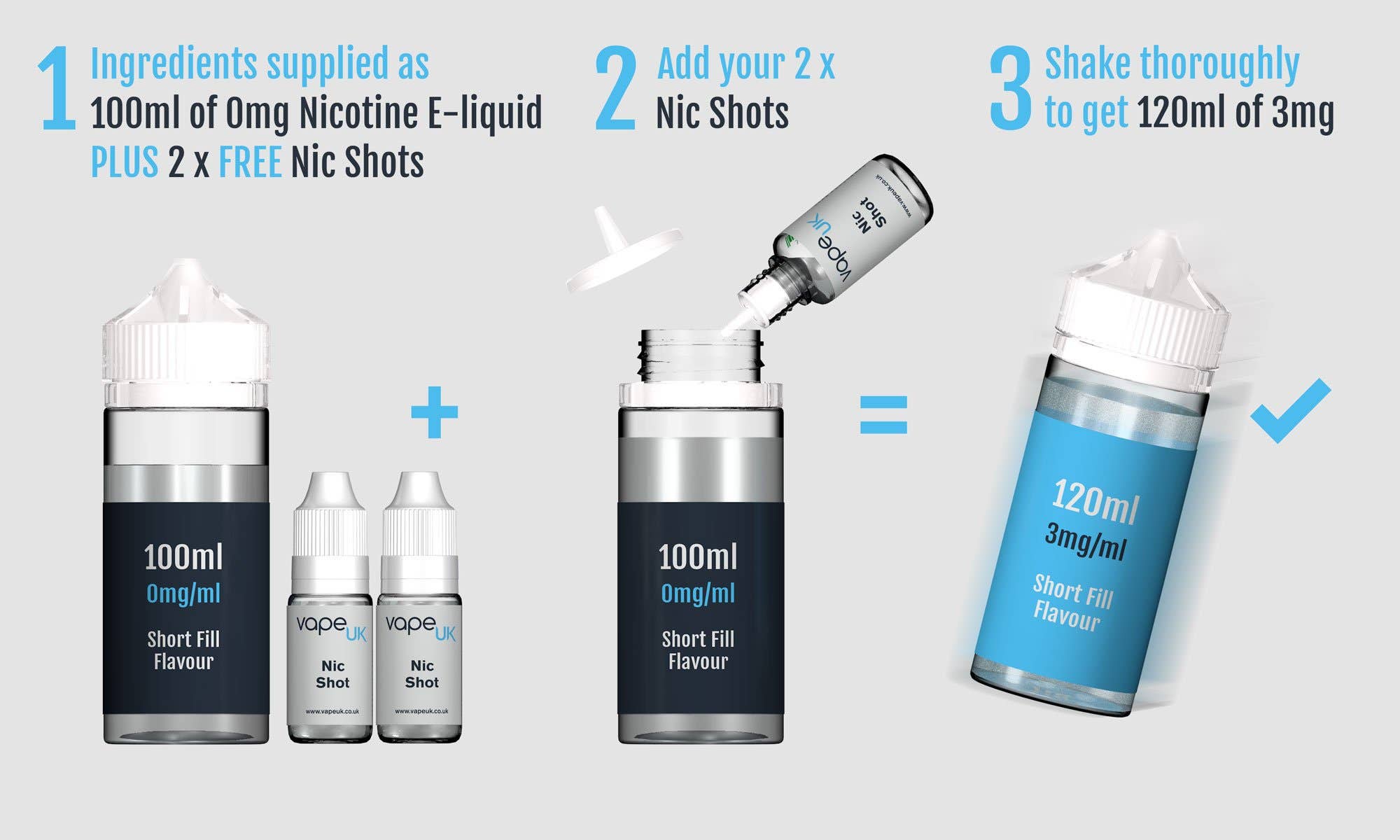 Customer Reviews