SMOK NORD 5 POD VAPE KIT
The Smok Nord 5 Pod Vape Kit is a dedicated direct-to-lung (DTL) vaping device with a built-in 2000 mAh capacity battery, making use of the 0.15Ω and 0.23Ω DTL Smok RPM 3 coils within a unique coil locking pod design.
The kit offers dual-side airflow control, enabling fuller and more balanced heat dissipation for smoother and greater flavour.

Features
2000 mAh built-in battery
Stepless Airflow Control
Coil Lock Design
RPM 3 Coil compatibility
Maximum 80w power
Available in 12 Colours
The Smok Nord 5 Pod Kit is available in 8 different coloured 'dart' pattern designs and 4 leather embossed versions.


Specifications
The Smok Nord 5 Pod Vape Kit is available in two series of finishes, regular and leather, which slightly differ in specification.
Size: 105 mm x 32.5 mm x 23.74 mm (Regular Series) - 106 mm x 32.5 mm x 24.8 mm (Leather Series)
Weight: 107g (Regular) - 118.5g (Leather)
Battery Capacity: 2000 mAh
Power Range: 5 - 80w
Input Voltage: 3.3v - 4.2v ~ Output Voltage: 0.5v - 4.0v
Standby Current >50uA ~ Charging Voltage: 5v+0.2v ~ Charging Current: Max 1.2A
Resistance Range: 0.15Ω - 2.5Ω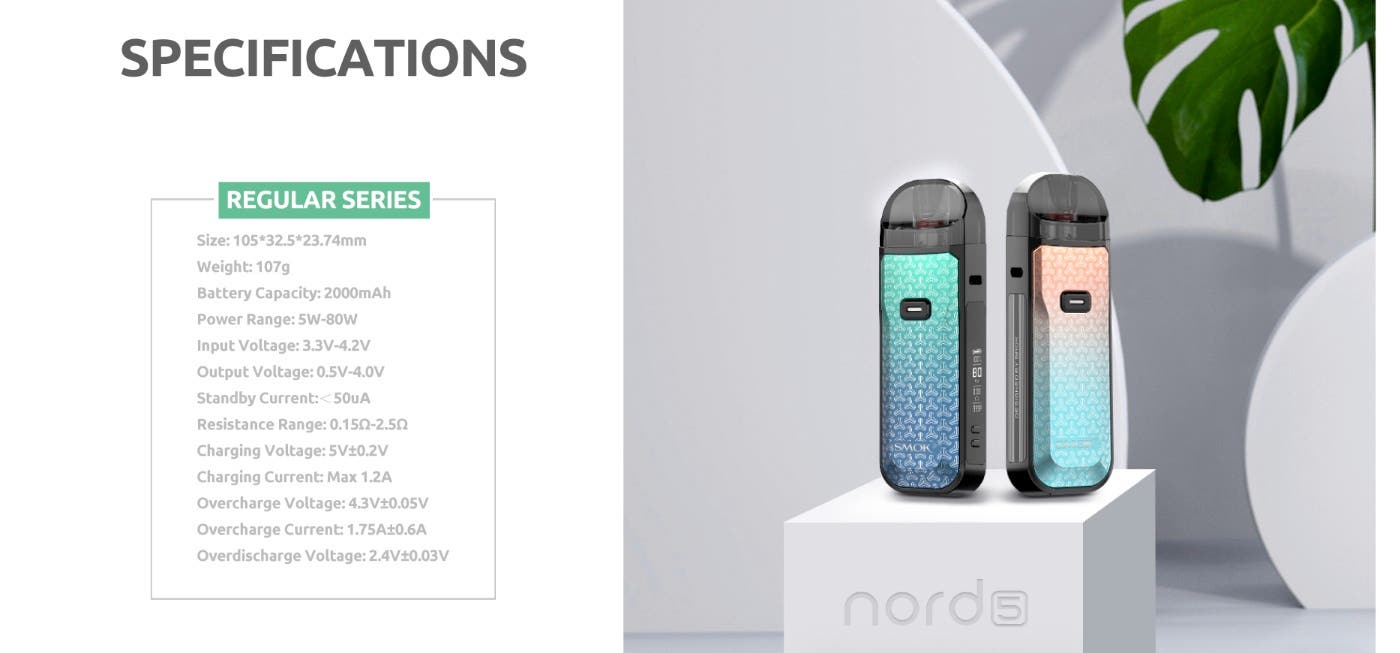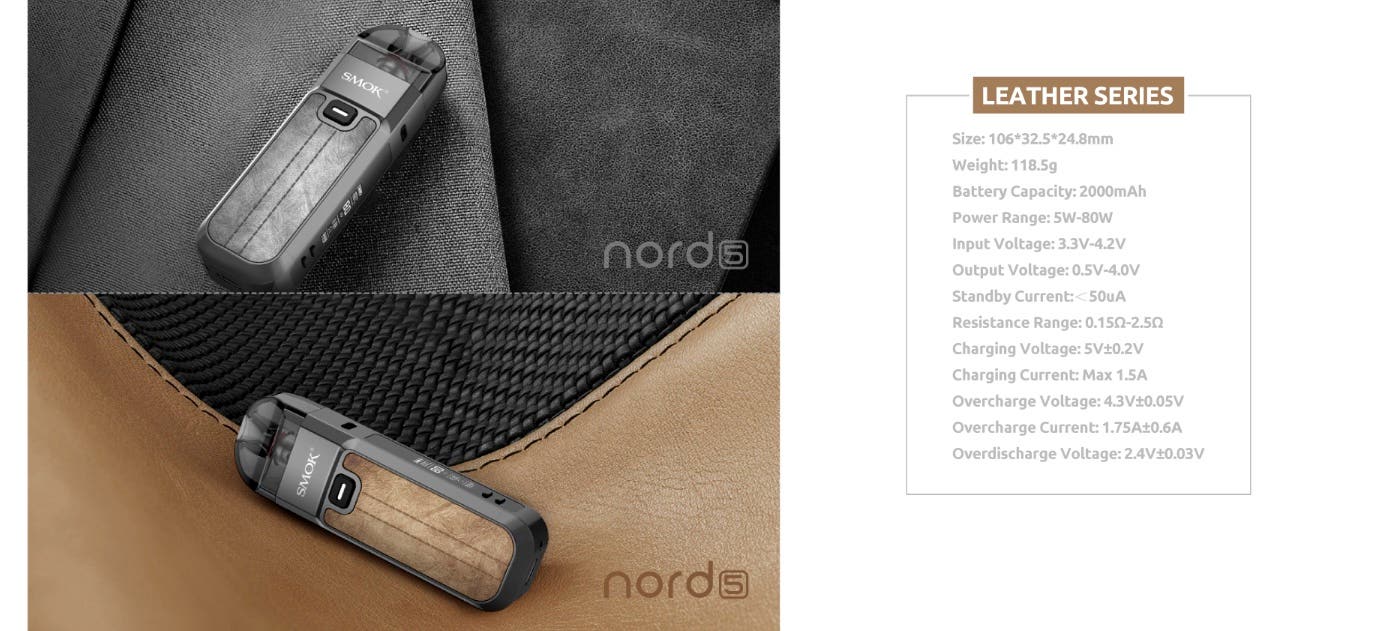 What's Included
The Smok Nord 5 Pod Vape Kit comes with a 2000 mAh capacity battery, a Nord 5 Pod, one each of the 0.15Ω and 0.23Ω RPM 3 Meshed coils and a Type-C USB charging lead.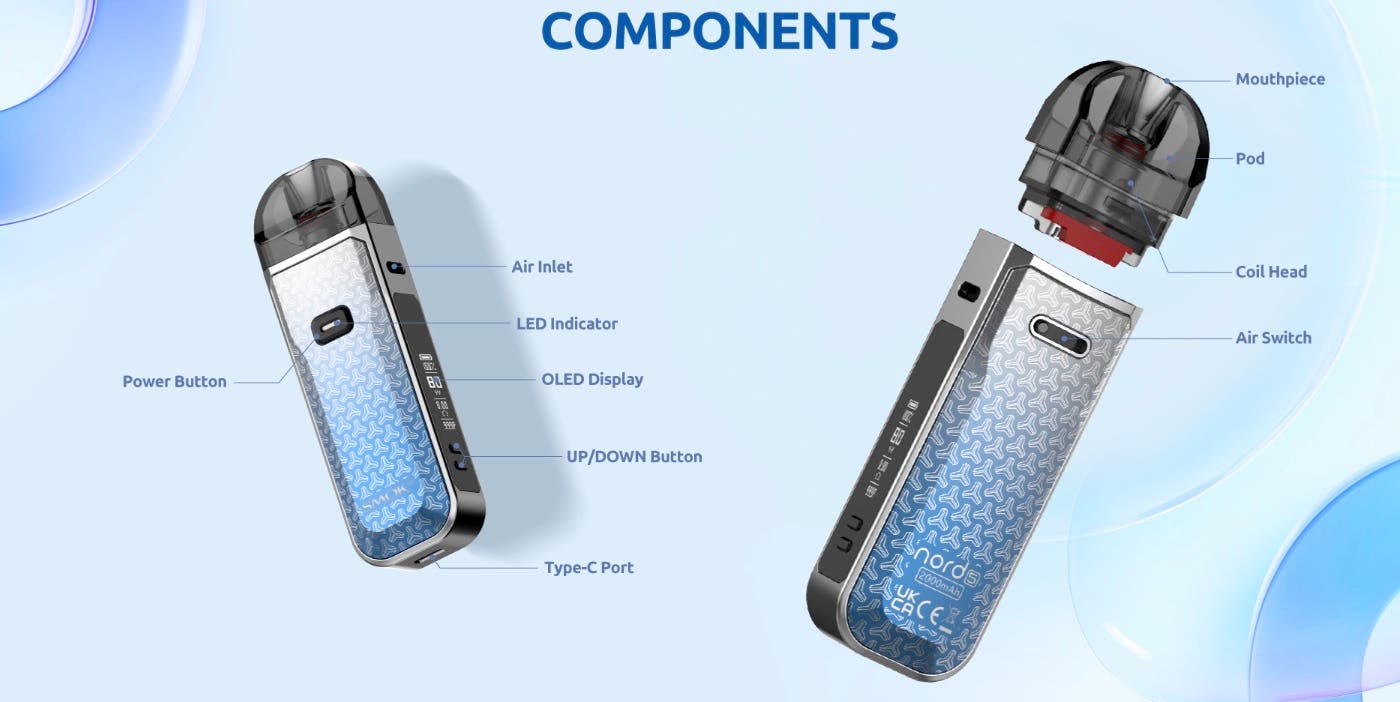 Functionality and Power
Using an OLED display screen, the Smok Nord 5 Pod Vape Kit has a variable power output of up to 80w.
Includes multiple security features such as low-voltage and short circuit protection, an 8-second cut-off safety feature and automatic pod detection.
The battery device has a maximum of 1.5A Type-C charging on its Leather Series (1.2A Regular Series), which can recharge from a low battery within an hour and forty minutes.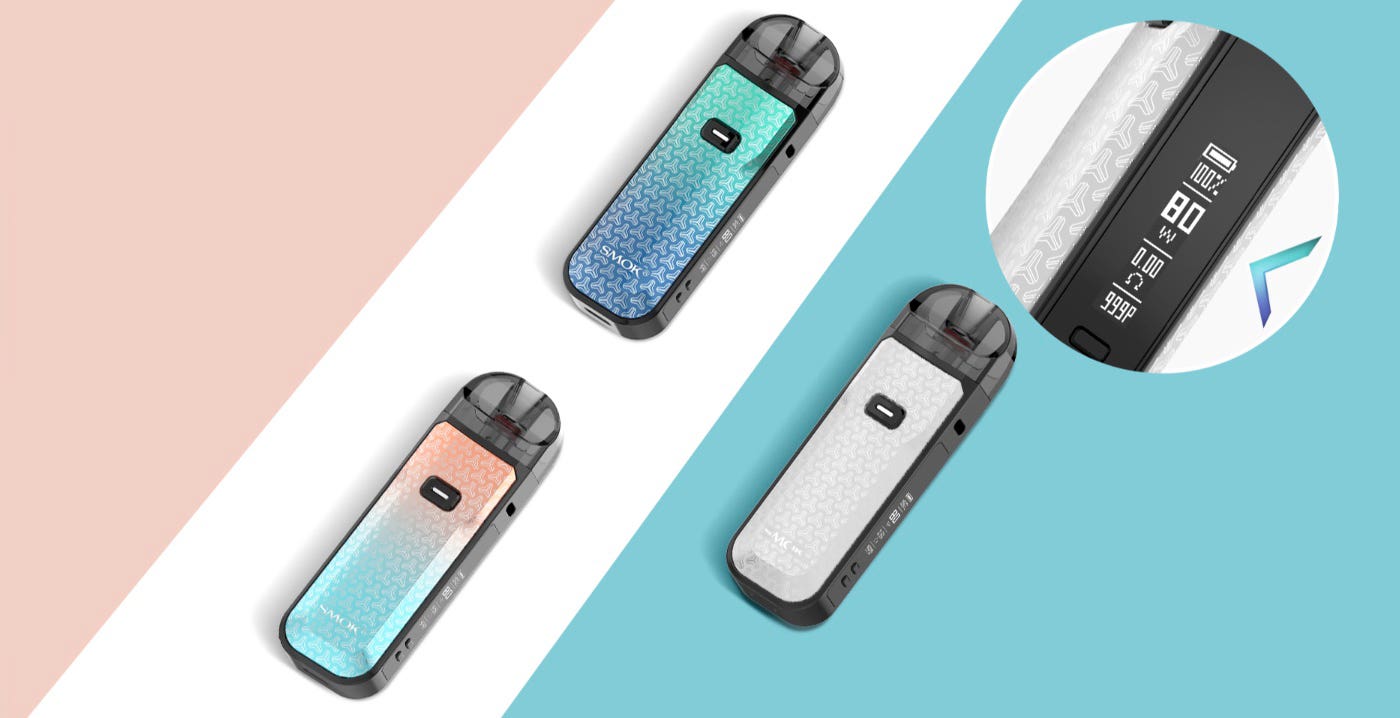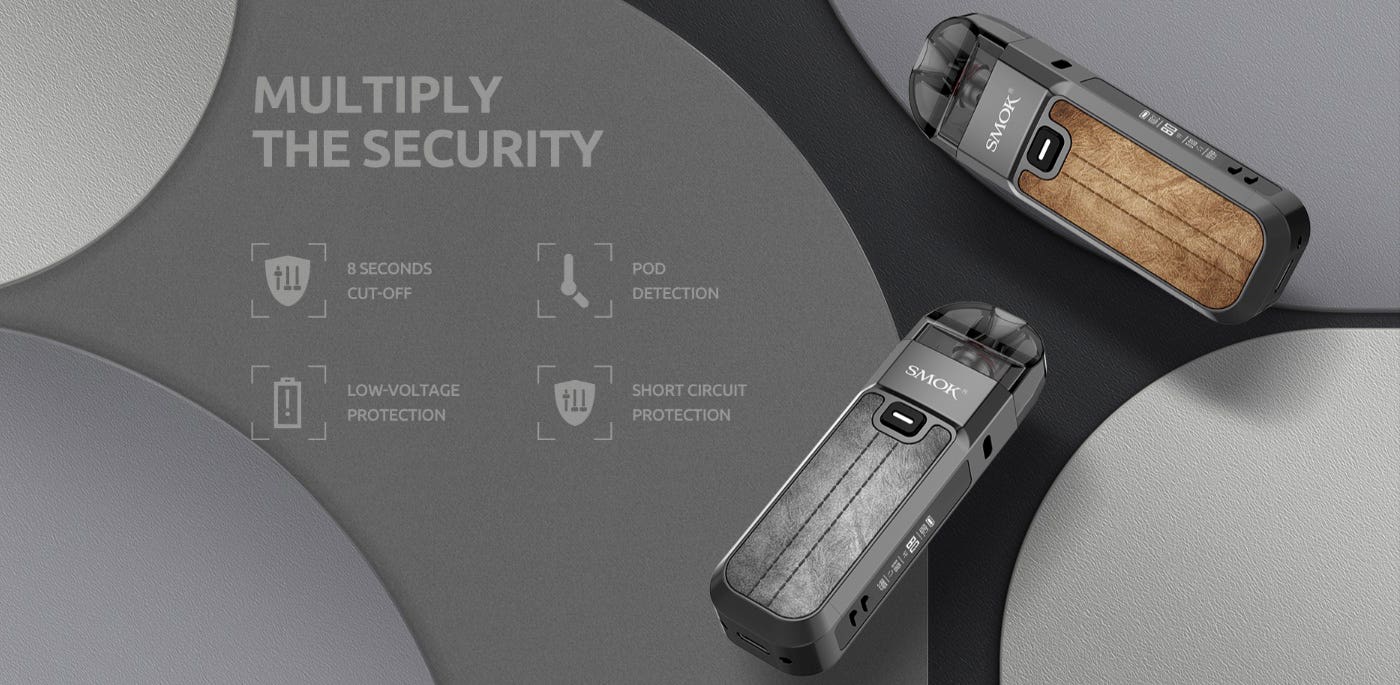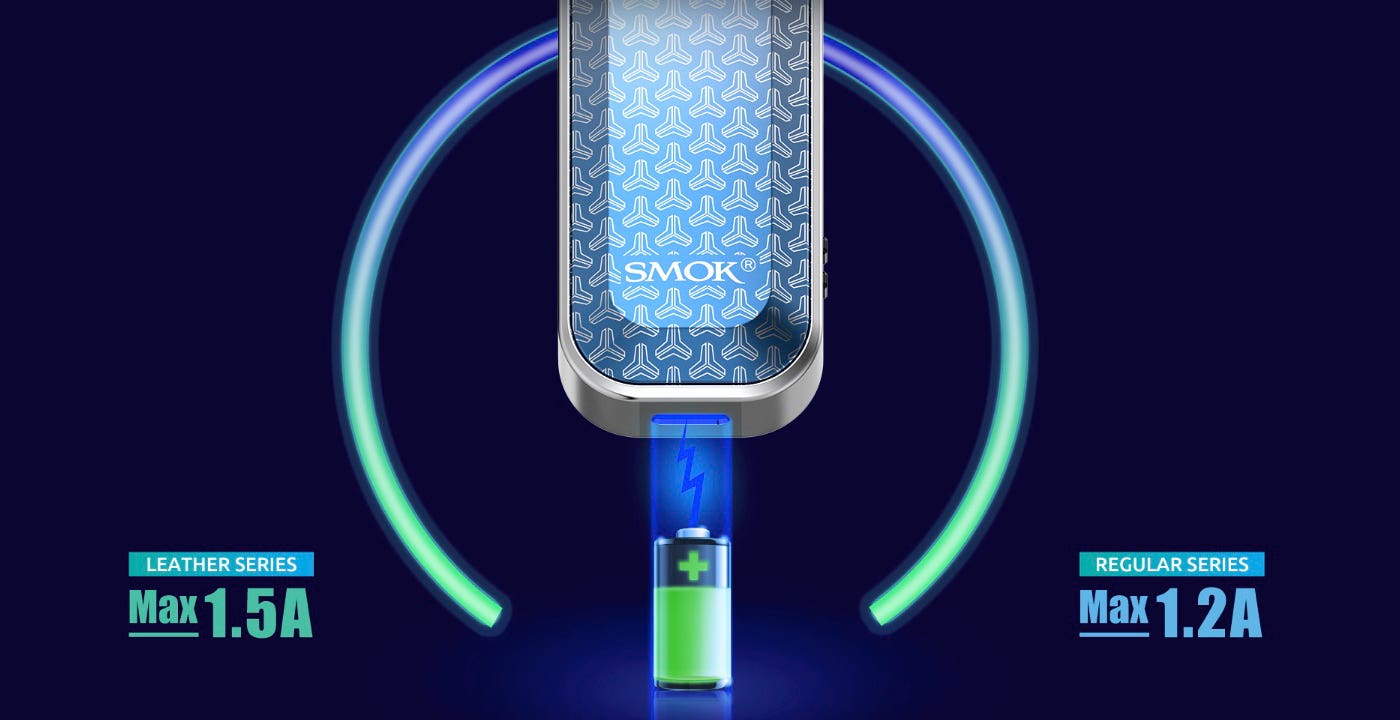 Stepless Airflow Control
The Smok Nord 5 Pod battery device has a built-in airflow slider with a dual-side air inlet enabling fuller, balanced heat dissipation and smooth flavour production.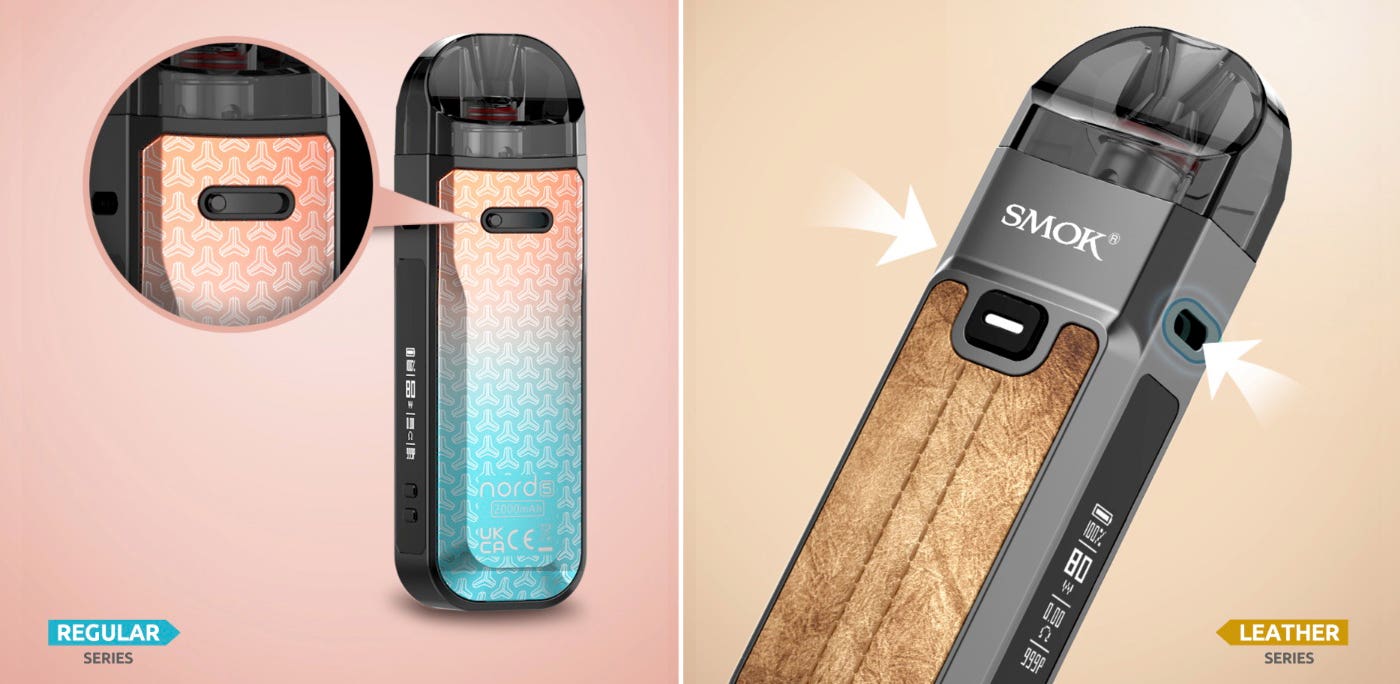 Pods and Coils
The Smok Nord 5 Pod features an ingenious lock that enhances child safety and reduces leakage of e-liquid when the coil head is removed.
The RPM 3 coils are compatible with the Smok Nord 5 Pod Kit, including the following options:
Meshed 0.15Ω (40 - 80w)
Meshed 0.23Ω (20 - 45w)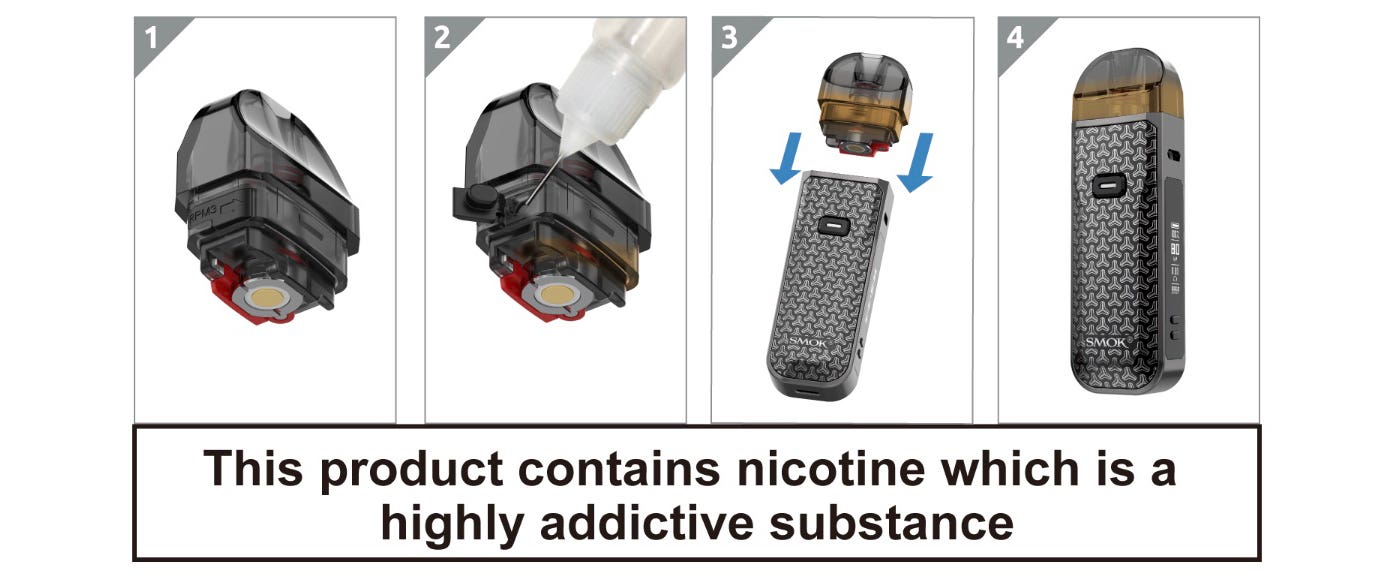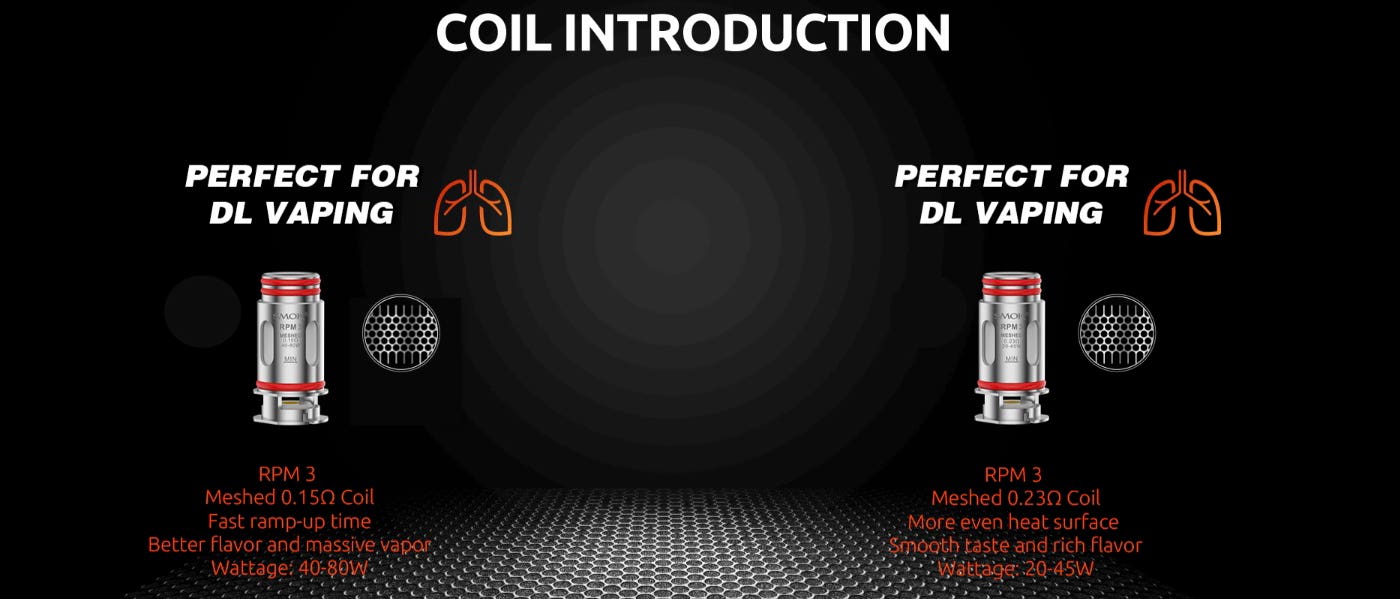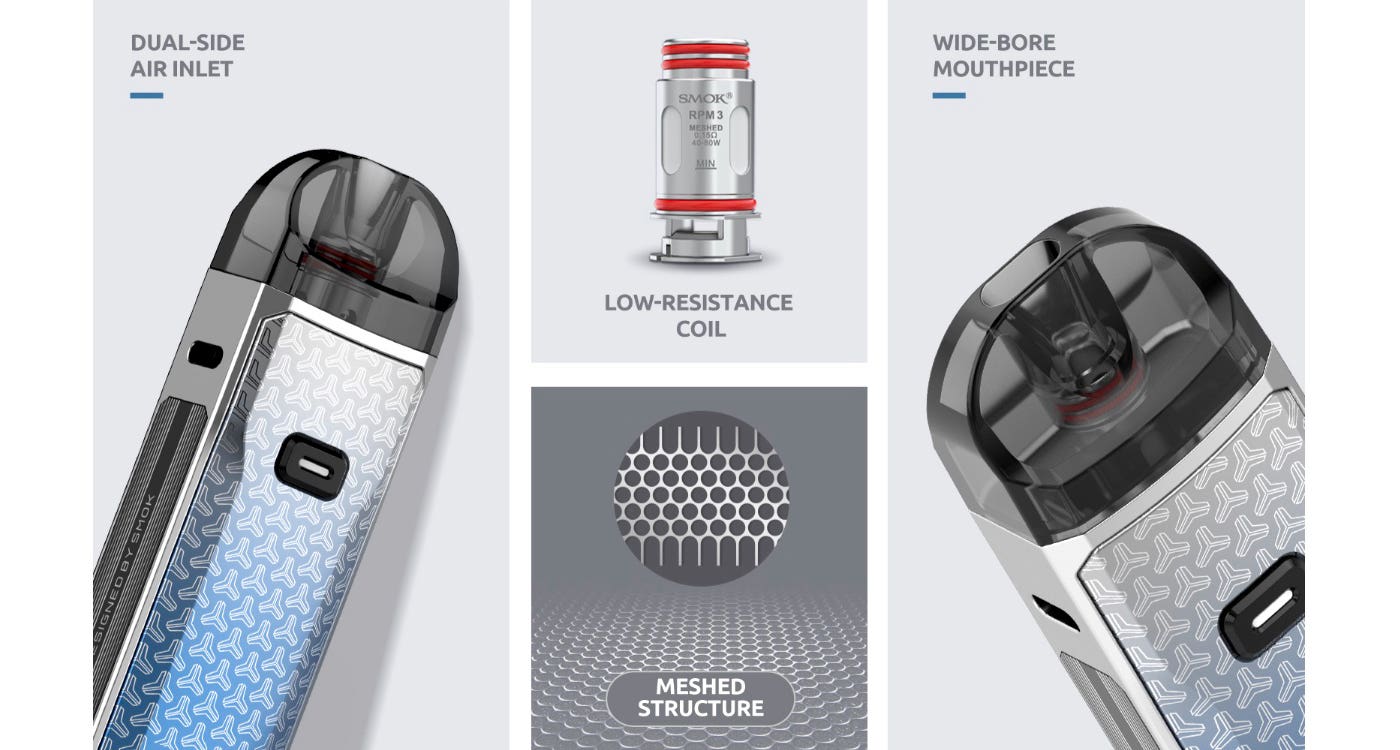 Kit Contents:
Nord 5 2000 mAh battery device
1 x Nord 5 Pod refillable 2 ml capacity pod
1 x RPM 3 Meshed 0.15Ω coil
1 x RPM 3 Meshed 0.23Ω coil
1 x Type-C USB charging cable
User manual/warranty card
The Smok Nord 5 Pod Kit is a powerful sub-ohm, direct-to-lung vaping kit recommended for use with High VG 70+ e-liquids.

Our guide on vaping styles, explains the differences between mouth-to-lung vaping and direct-to-lung vaping. To avoid premature coil failure, be sure to follow our coil priming guide.
Compatible items for this kit
We found other products you might like!
Customer Reviews