SKE CRYSTAL BAR KIT
The SKE Crystal Bar is a convenient draw-activated disposable vape, available in 42 different flavours with 2ml of 20mg (2%) nicotine salt e-liquid. It features a 500mAh built-in battery and is ready to enjoy straight from the packet.
SKE Crystal Bars can also be enjoyed in 0mg (0%) nicotine strength, available in 17 flavours.
SKE has also launched the new SKE Strip Bar with 16 unique flavours as an alternative to the original Crystal Bar.
Please note: To order multiple flavours, select each desired flavour and quantity, add that flavour to the cart and then repeat for each additional flavour.
If you have a favourite flavour, we offer the SKE Crystal Bar 20mg strength in 10 x Multipacks of the same flavour on a multibuy offer of £38.99.
Features and Highlights
Draw activated
The pod contains 2ml of vape juice
Available in 20 mg and 0 mg of nicotine salt e-liquid
Up to 600 puffs
500mAh built-in battery
How long do Crystal Bar vapes last?
Whilst SKE Crystal bars can provide up to 600 puffs, puff counts are approximate and dependent on the length of draws on each use. Significantly lower puff counts are found if longer draws are taken.
Disposable vape devices aren't made to be recharged so if the battery runs flat, it's ready to be replaced. You also can't fill them with e-liquid. If you're looking for a device you can reuse repeatedly, a refillable pod starter kit might be best.
How does the Crystal Bar vape kit work?
They're inhale-activated and as easy as it gets. Simply draw in and the Crystal vape will heat the juice in the coil to produce a flavoursome vape hit. You don't need to worry about charging them either as they're ready to start vaping straight out of the box.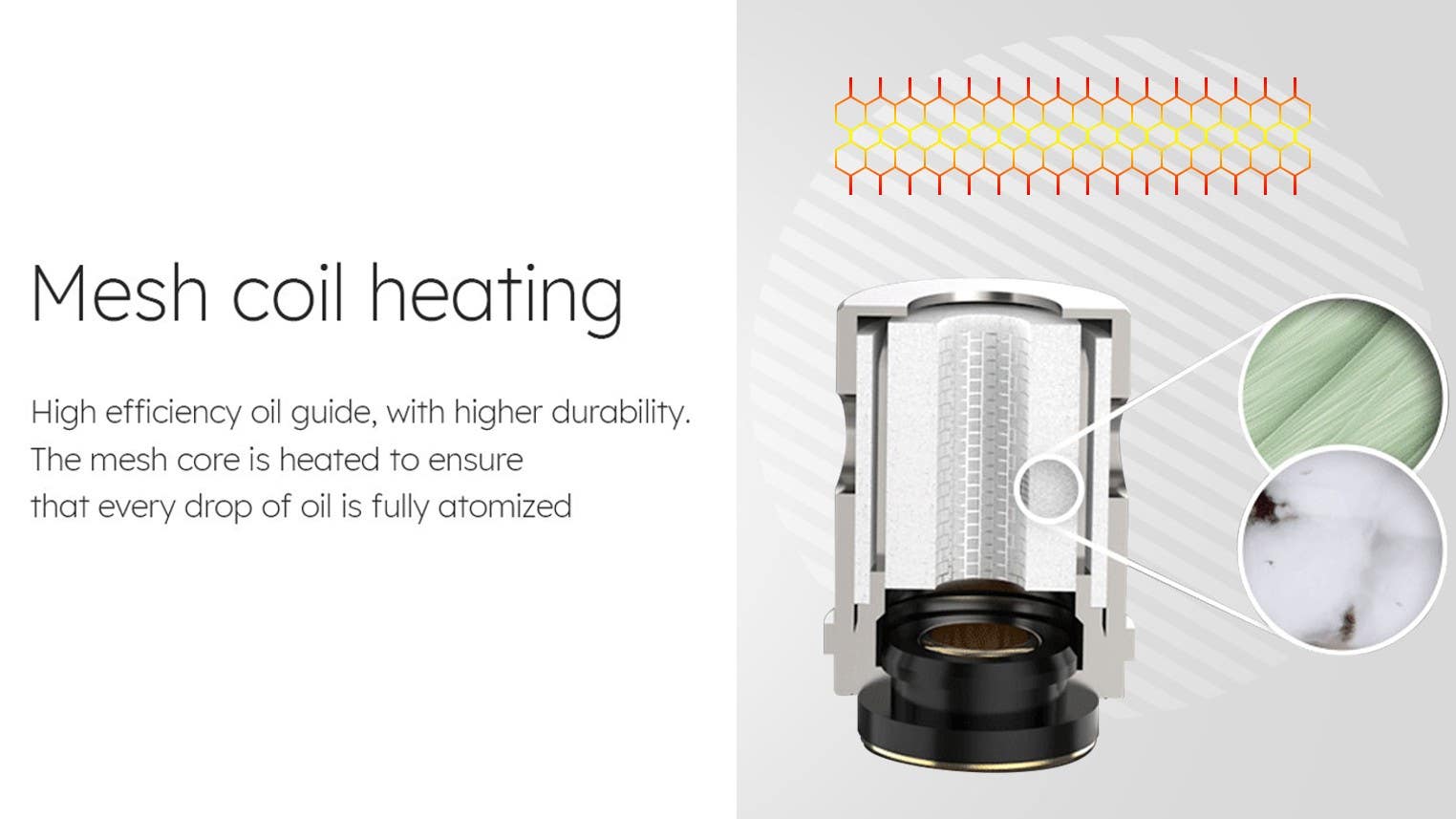 Why choose Vape UK?
We always try our best to provide a simple and convenient experience for our customers, and we think our 15,000+ 5-star reviews speak for themselves!
Delivery and Shipping
You also get free fully tracked delivery on orders over £20, which are dispatched the same day on orders placed before 4:30 p.m. on weekdays or before 11:30 a.m. on Saturdays.
Need your order quicker? No trouble - our DPD speeding shipping services guarantee next-day delivery on orders before 9 p.m. (excluding bank holidays). They're fully tracked and have a 1-hour delivery window to ensure you can accept delivery. All orders come in discreet packaging, too!
Wide Range of Flavours
20 mg (2%) Nicotine Strength - 42 Flavours
Apple Peach
Banana Ice
Berry Ice
Blue Fusion
Blueberry Cherry Cranberry
Blueberry Raspberries
Blueberry Peach Ice
Blueberry Sour Raspberry
Blue Razz Lemonade
Bull Ice
Cherry Ice
Cola Ice
Cotton Candy Ice (now named Cotton Ice)
Fire Brew
Fizzy Cherry
Fresh Menthol Mojito
Green Grape
Gummy Bear (now named Fruit Gum)
Honey Melon
Kiwi Passion Fruit Guava
Lemon & Lime
Lemon Peach Passion Fruit
Mango Ice
Menthol
Peach Ice
Pineapple Peach Mango
Pink Lemonade
Skittles
Sour Apple
Sour Apple Blueberry
Sour Blueberries
Sour Pineapple Ice
Strawberry Banana
Strawberry Blast
Strawberry Burst
Strawberry Kiwi
Strawberry Ice Cream
Tiger Blood
Tobacco
Vimbull Ice (now named VMT Ice)
Watermelon Ice
Watermelon Strawberry Bubblegum (now named Watermelon Strawberry)
0 mg (0%) Nicotine Strength - 17 Flavours
Blue Razz Lemonade
Blueberry Raspberries
Bull Ice
Cherry Ice
Green Grape
Kiwi Passionfruit Guava
Lemon & Lime
Mango Ice
Peach Ice
Sour Apple
Sour Apple Blueberry
Sour Blueberries
Sour Pineapple Ice
Strawberry Burst
Strawberry Ice Cream
Tobacco
Vimbull Ice (now named VMT Ice)
Watermelon Ice
Unsure if a Crystal Bar Disposable Kit is right for you?
Disposable vape pens have their benefits, but they also have their drawbacks. In the interest of balance, we have outlined the pros and cons in our guide to disposables which will help you make an informed decision.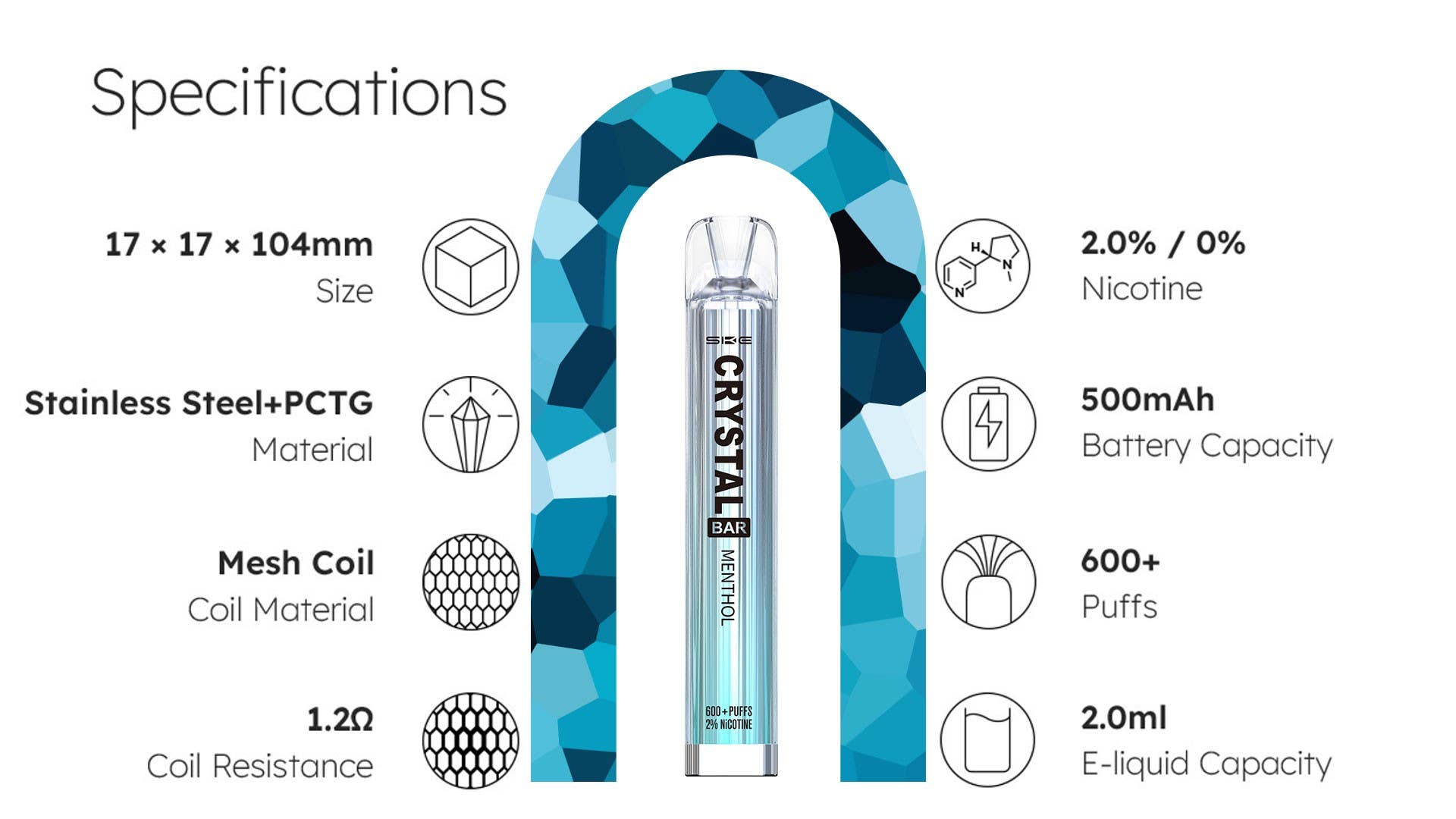 Customer Reviews