HAYATI PRO MINI DISPOSABLE KIT
The Hayati Pro Mini immerses vapers in a world of luxury with a 1.1Ω mesh coil, producing exceptional flavour through an internal 500 mAh pure cobalt battery in up to 24 premium nicotine salt e-liquid flavours provided in 20 mg (2%) nicotine strengths.
A Hayati Pro Mini disposable kit can provide up to approximately 600 puffs. Puff counts are approximate and dependent on the length of draws on each use. Significantly lower puff counts can be found if longer draws are taken.
Please note: To order multiple flavours, do so by selecting each desired flavour and quantity, and adding that flavour to the cart, then repeating for each additional flavour.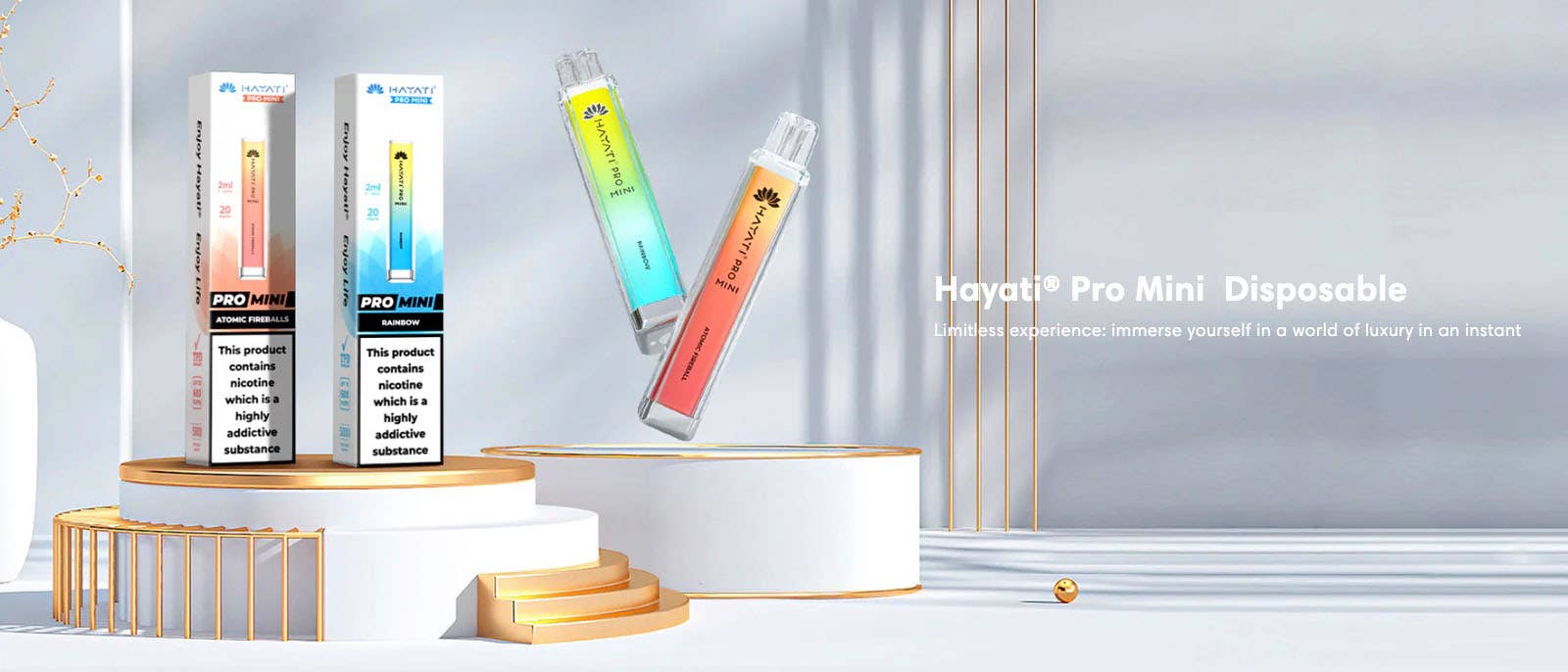 Mesh
The Hayati Pro Mini incorporates a 1.1Ω mesh constructed coil, a technology renowned for its superior flavour production amongst vaping systems. With a larger surface area provided by a mesh structure, the nicotine salt e-liquid is consistently vaporised to produce a rich and dense flavour from the first to the last puff.
Together with the use of mesh coil technology and premium manufacturing techniques, the Pro Mini provides a leak-proof design.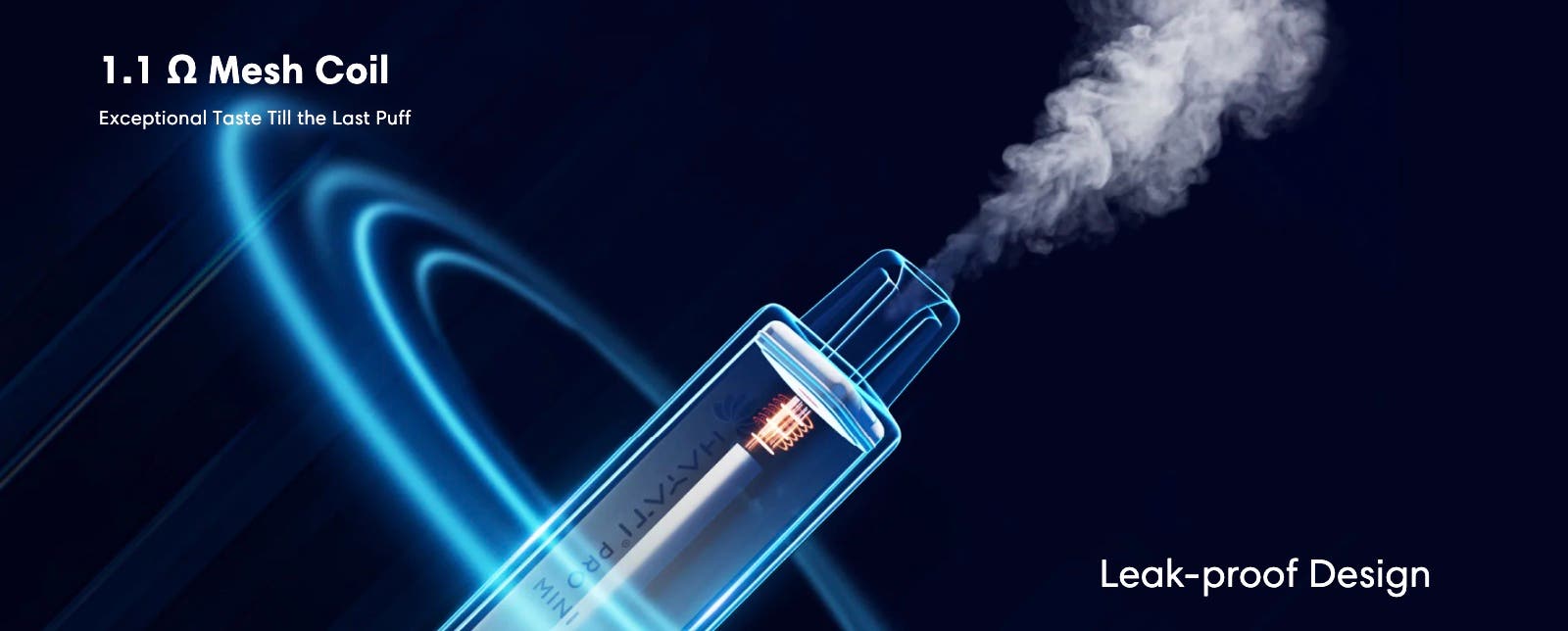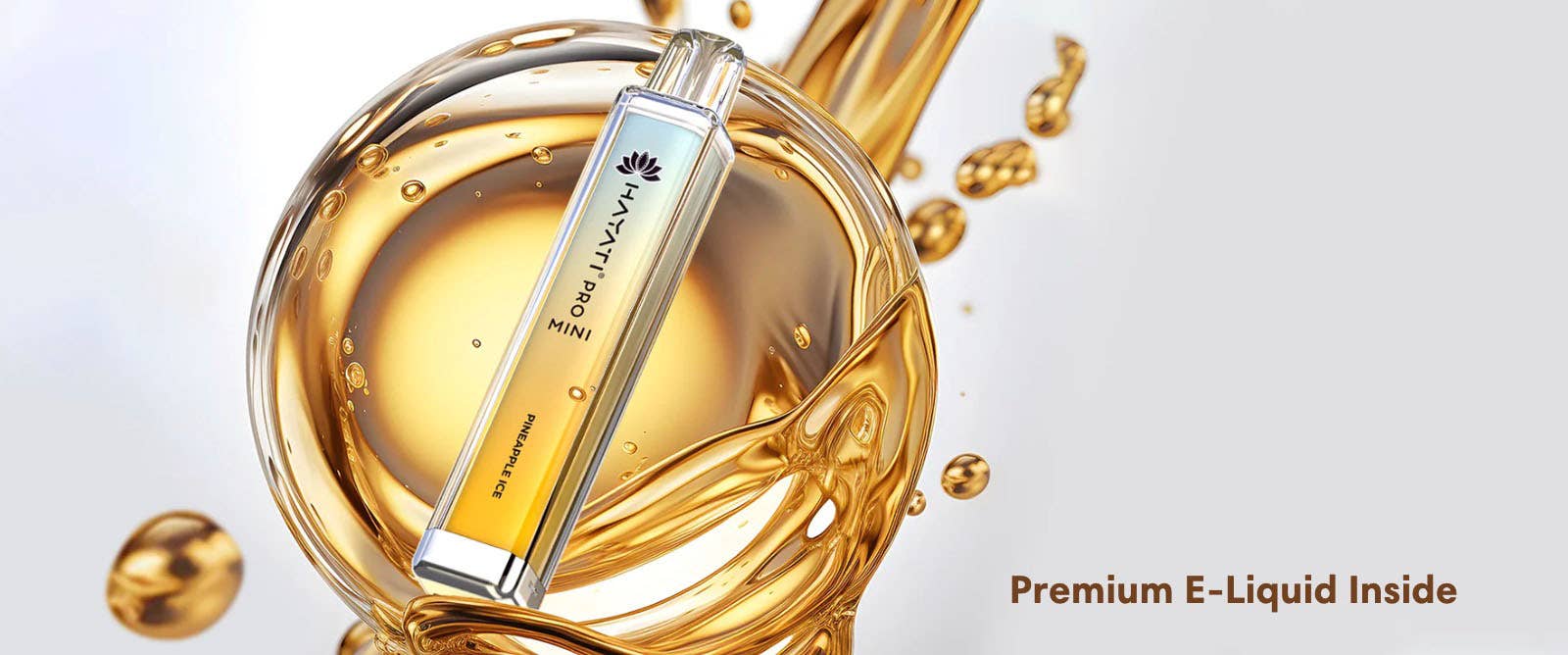 Flavours
Atomic Fireball
Embrace the fiery and intense cinnamon flavour reminiscent of the iconic spicy candy, delivering a bold and refreshing vape.
Berry Lemonade
A harmonious marriage of tangy lemons and mixed berries results in a sweet and tart lemonade concoction that's both thirst-quenching and flavourful.
Blue Razz Cherry
The boldness of blue raspberry meets the rich depth of ripe cherries, offering a burst of contrasting flavours that intrigue your taste buds.
Blue Sour Raspberry
Ripe blueberries meet the tantalizing sourness of raspberries, striking a perfect balance between sweet and tangy.

Blueberry Cherry Cranberry
Venture into a fruity tapestry as plump blueberries, ripe cherries, and tart cranberries intertwine, creating a symphony of tastes that harmonize in every puff.
Blueberry Raspberry
Succulent blueberries and luscious raspberries combine for a mouthwatering duet, showcasing the best of both berry worlds.
Cherry Cola
Recreate the classic soda experience with the nostalgic pairing of sweet cherries and bubbly cola, perfect for those seeking a fizzy twist.
Double Menthol
A chilling blast of menthol doubled in intensity, creating an Arctic-like sensation perfect for menthol enthusiasts.

Fizzy Cherry
With each draw, a cascade of tingling sensations, as fizzy cherries tickle your palate and leave you with a delightful fizziness that lingers.
Gummy Bear
Relive the nostalgia of chewy gummy candies with each puff, as the flavour transports you to a world of childhood sweetness and joy.
Hubba Bubba
Capture the essence of childhood nostalgia with a sweet and bubblegum-flavoured vape reminiscent of your favourite chewing gum.
Juicy Peach
Immerse yourself in the succulent sweetness of ripe peaches, capturing the essence of a perfectly juicy and fragrant summer fruit.

Kiwi Passionfruit Guava
A blend of kiwi, passion fruit, and guava flavours combined create an exotic escape that's as vivid and lush as paradise.
Lemon & Lime
Zesty lemon and zingy lime dance together in a zesty symphony, creating a citrusy explosion that's both revitalizing and tangy.
Mad Blue
A frenzy of blueberry goodness that evokes a sense of excitement, offering a bold and intense blueberry flavour that's hard to resist.
Mr Blue
Unveil the enigma of Mr. Blue, an intricate blend of fruits and undertones that beckons curiosity and intrigue with every puff.

Pineapple Ice
Tropical pineapple takes centre stage, enhanced by a frosty menthol finish that transforms each inhale into a brisk paradise.
Ice Pop
An icy twist on a classic ice pop, combining various fruit flavours with a blast of refreshing menthol, delivering a nostalgic and cooling sensation.
Rainbow
Bask in the radiant glory of a rainbow of flavours, each inhale revealing a new hue of fruity delight that paints a vivid picture of enjoyment.
Ribbery Lemonade
A Bright lemonade with a hint of riberry magic, a burst of fruity delight.

Strawberry Mojito
Experience the sophistication of a strawberry-infused mojito, blending sweet strawberries with the refreshing zest of mint and lime.
Strawberry Raspberry Ice
A harmonious blend of sun-kissed strawberries and tangy raspberries, accompanied by a frosty chill that transforms each puff into a vibrant and cooling symphony.
Summer Dream
Transport yourself to a serene summer paradise with a blend of tropical fruits, creating a dreamy and soothing vaping experience.
Watermelon Ice
A refreshing fusion of juicy watermelon with a subtle icy exhale, providing a cool and satisfying vaping experience.

Parameters
Size: 19 x 19 105.95 mm
500 mAh internal cobalt battery
1.1Ω Mesh coil
2 ml Nicotine salt e-liquid
20 mg (2%) Nicotine strength
24 Delicious flavours
Up to 600 puffs

Travel
The Hayati Pro Mini device is easily transportable and can be carried anywhere discreetly with its slimline and sleek design.

Disposables have their benefits, but they also have their drawbacks. In the interest of balance, we have outlined the pros and cons of disposables in this guide to help you make an informed decision.
Useful Reading
Check out our guide on nicotine salts vs freebase nicotine to learn about the difference between the nicotine types and how that affects your vaping experience.
Customer Reviews