Elf Bar Tacja Nicotine Pouches
ELF BAR TACJA NICOTINE POUCHES
The Tacja Nicotine Pouch has been crafted by Elf Bar to deliver a long-lasting, satisfyingly smooth flavour and nicotine hit. These small, soft pouches are 100% tobacco-free and manufactured in Sweden from gum and plant-based ingredients, offering a great alternative to vaping.
Tacja nicotine pouches come in nicotine strengths of 12 mg/g (Regular - 6mg/pouch), 18 mg/g (Medium - 9mg/pouch) or 20 mg/g (Strong - 11mg/pouch) and are available in eight different flavours.
Place a pouch between the lip and gum, where you will experience a fresh, tingly sensation for around fifteen minutes, and the nicotine absorption will last up to thirty minutes.
Tacja nicotine pouches offer a discreet alternative choice to vaping or smoking with a stain-free, odourless and vapourless experience.
Sold in packs of 20.

Key Features
Flavour profiles crafted by world-renowned vape brand ELF BAR
100% Tobacco-free
Long-lasting rich flavour for up to 30 minutes
Various delectable flavours to choose from

Nicotine
The Tacja Slim pouches are available in 12 mg/g (Regular), 18 mg/g (Medium) or 20 mg/g (Strong) nicotine strengths.
Each pouch weighs approximately 0.55g, equating to the following nicotine strength per pouch:
12 Regular = 6 mg
18 Medium = 9 mg
20 Strong = 11 mg

Flavours
The Elf Bar Tacja nicotine pouches are created within two flavour profile categories, offering eight unique and distinctive flavours.
Choose from a Mellow Taste, delivering a soft and gentle flavour sensation, or their Frozen Taste, which offers an exhilarating and intense flavour rush.
Mellow Taste
Blueberry Sour Raspberry
Lemon Mango
Cherry Ice
Watermelon Ice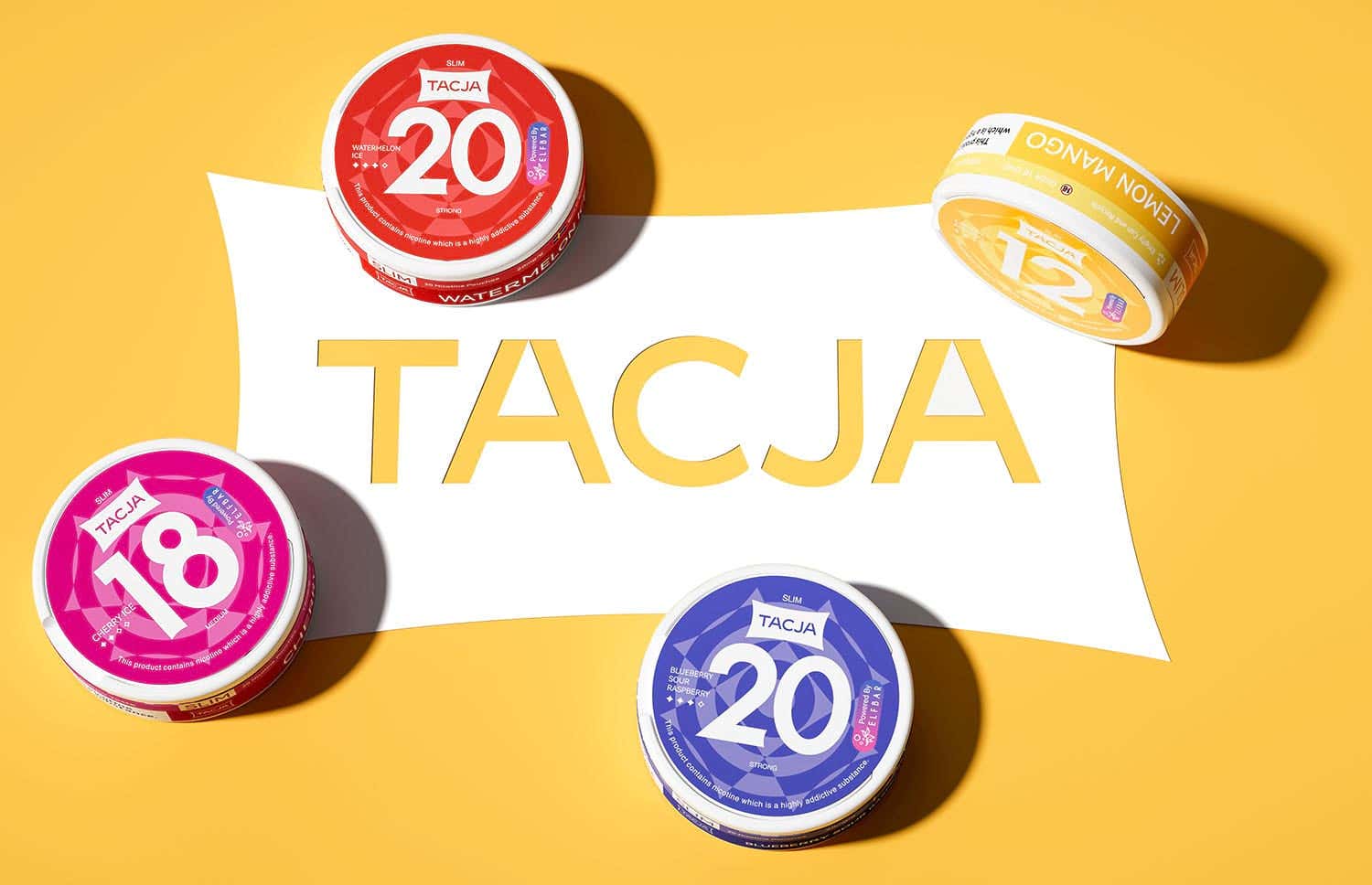 Frozen Taste
Mint
Freezing Ice
Spearmint
Menthol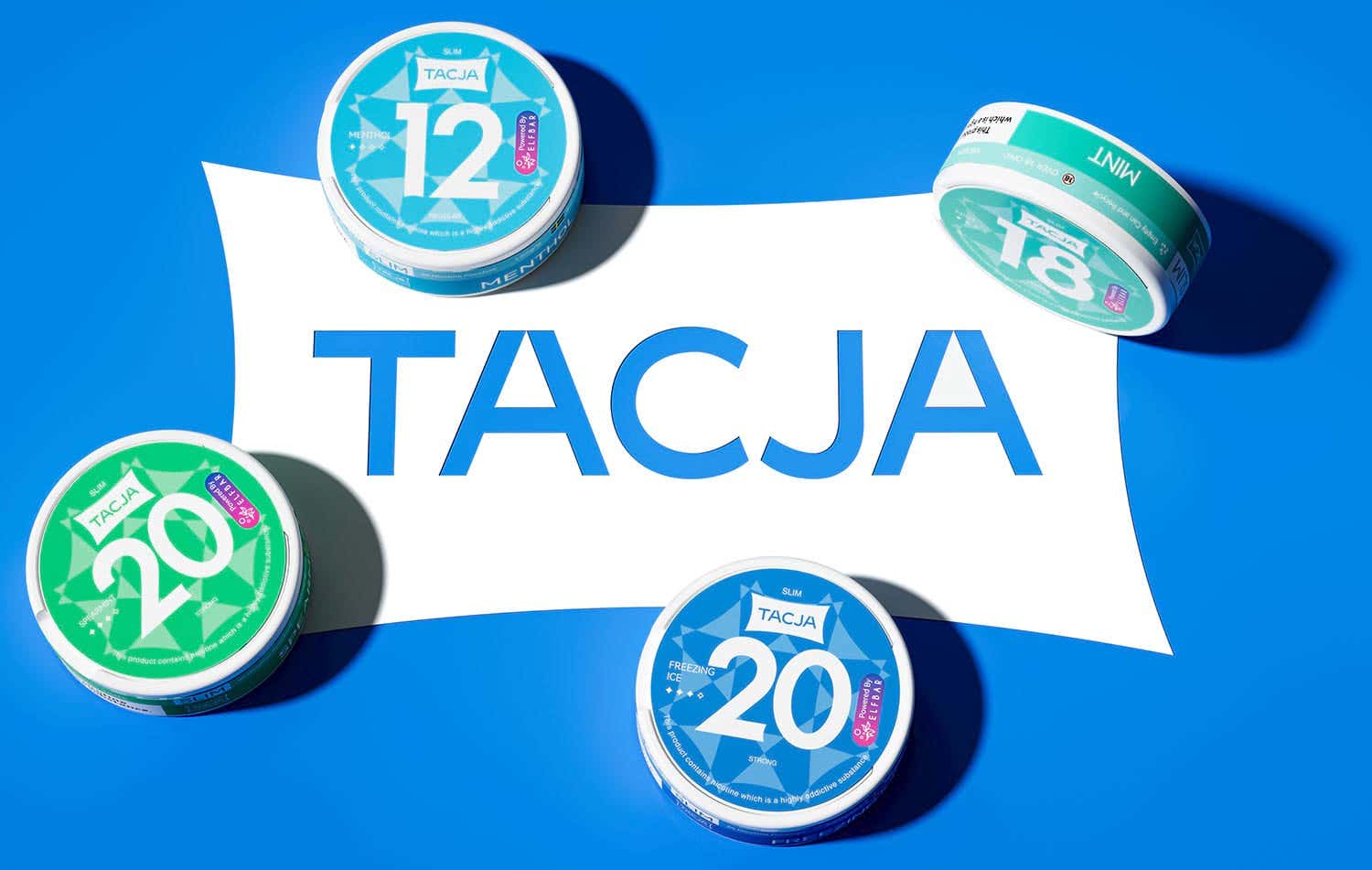 How To Use
Step 01 - Tuck between the upper lip and gum.
Step 02 - Start to feel a tingling sensation.
Step 03 - Enjoy for up to 30 minutes.
Step 04 - Put a used pouch in the top lid compartment or responsibly dispose of it.

Parameters
Nicotine strengths: 12mg/g, 18mg/g, 20mg/g
Number of nicotine pouches per can: 20 pouches
Size of container: 24 x 70 mm

Important Safety Information
This product contains nicotine, which is a highly addictive substance.
TACJA nicotine pouches are designed for adult smokers and adult users of nicotine products. TACJA nicotine pouches are not intended for:
People under the age of 18;
People who are allergic/sensitive to nicotine;
Pregnant or breast-feeding women;
People who should avoid tobacco or nicotine products for medical reasons;
People with an unstable heart condition, severe hypertension or diabetes.
Warning: The product may contain traces of nuts.
Immediately stop use of this product and seek medical advice if you experience any of the following: development of an irregular heartbeat, allergic reaction such as rash, itching or swelling of the tongue, mouth or throat; feeling faint, nausea, headache or any other unusual or adverse effect.
Keep TACJA products out of reach of children and pets.
Customer Reviews