ELF BAR 600 DISPOSABLE VAPE KIT
The Elf Bar 600 Disposable Vape Kit features a convenient, pocket-friendly body, including a large, built-in 360 mAh battery, despite its small size. The prefilled 2 ml e-liquid pod contains nicotine salt e-liquid, with options for either 20 mg or 10 mg nicotine strengths. Elf Bar also has 12 of their most popular flavours in 10 mg.
Nicotine-Free Elf Bars
Check out our listing for nicotine-free Elf Bar 600 kits Shop Nicotine-Free →
Get 5 for £20 on our Multibuy Deal
Mix and match 5 for £20 with other disposable kits Shop 5 for £20 →
This disposable kit can provide up to 600 puffs or the equivalent of approximately 45 cigarettes. Puff counts are approximate and dependent on the length of draws on each use. Significantly lower puff counts can be found if longer draws are taken.
Please note: To order multiple flavours, select each desired flavour and quantity, add that flavour to the cart, and then repeat for each additional flavour.
Elf Bar Flavours
The Elfbar 600 provides fruity and menthol-based flavour profiles across two nicotine salt-based strengths of nicotine. There are over 41 flavours to choose from!
20mg (2%)
Apple Peach
Banana Ice
Benson Tobacco
Blue Razz Lemonade
Blueberry Raspberry
Blueberry Sour Raspberry
Blueberry
Blueberry Cranberry Cherry
Cherry Cola
Cherry
Coconut Melon
Cola
Cotton Candy Ice - P&B Cloudd
Cream Tobacco - Snoow Tobacco
Energy Ice - Elfbull Ice - Elfturbo Ice
Elfsuka
Ginger Cola
Grape
Gray Tobacco
Green Gummy Bear
Ice Blast
Kiwi Passion Fruit Guava
Mad Blue
Mango
Menthol
Peach Ice
Pineapple Peach Mango
Pink Grapefruit
Pink Lemonade
Spearmint
Strawberry Banana
Strawberry Ice Cream - Strawberry Snoow
Strawberry Ice
Strawberry Kiwi
Strawberry Raspberry Cherry Ice
Tobacco
USA Mix
Virginia Tobacco
Watermelon
Watermelon Bubblegum - Watermelon BG
Watermelon Pomegranate
10mg (1%)
Apple Peach
Blue Razz Lemonade
Blueberry Sour Raspberry
Blueberry
Cola
Cotton Candy Ice - P&B Cloudd
Energy Ice - Elfbull Ice - Elfturbo Ice
Grape
Kiwi Passion Fruit Guava
Pink Lemonade
Strawberry Ice
Watermelon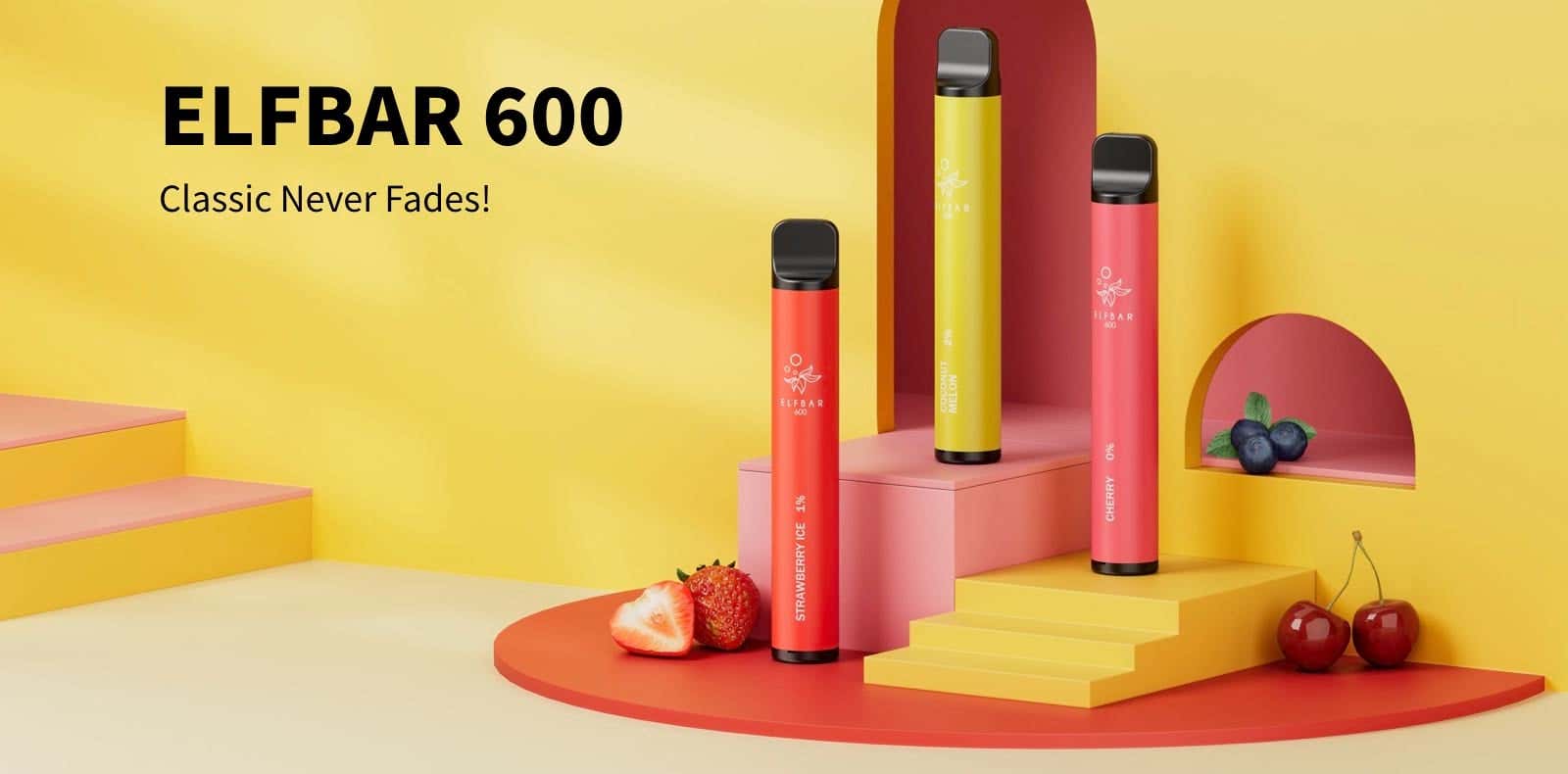 Elfbar are dedicated to offering healthier, less addicting vape options to smokers. Depending on your stage of quitting, you can select from Elfbar 600 vape kit, which are available in three nicotine strengths.
In order to help you lead a better life, Elfbar have gradually developed a nicotine-free product that offers the same fantastic vaping experience while keeping the throat hit.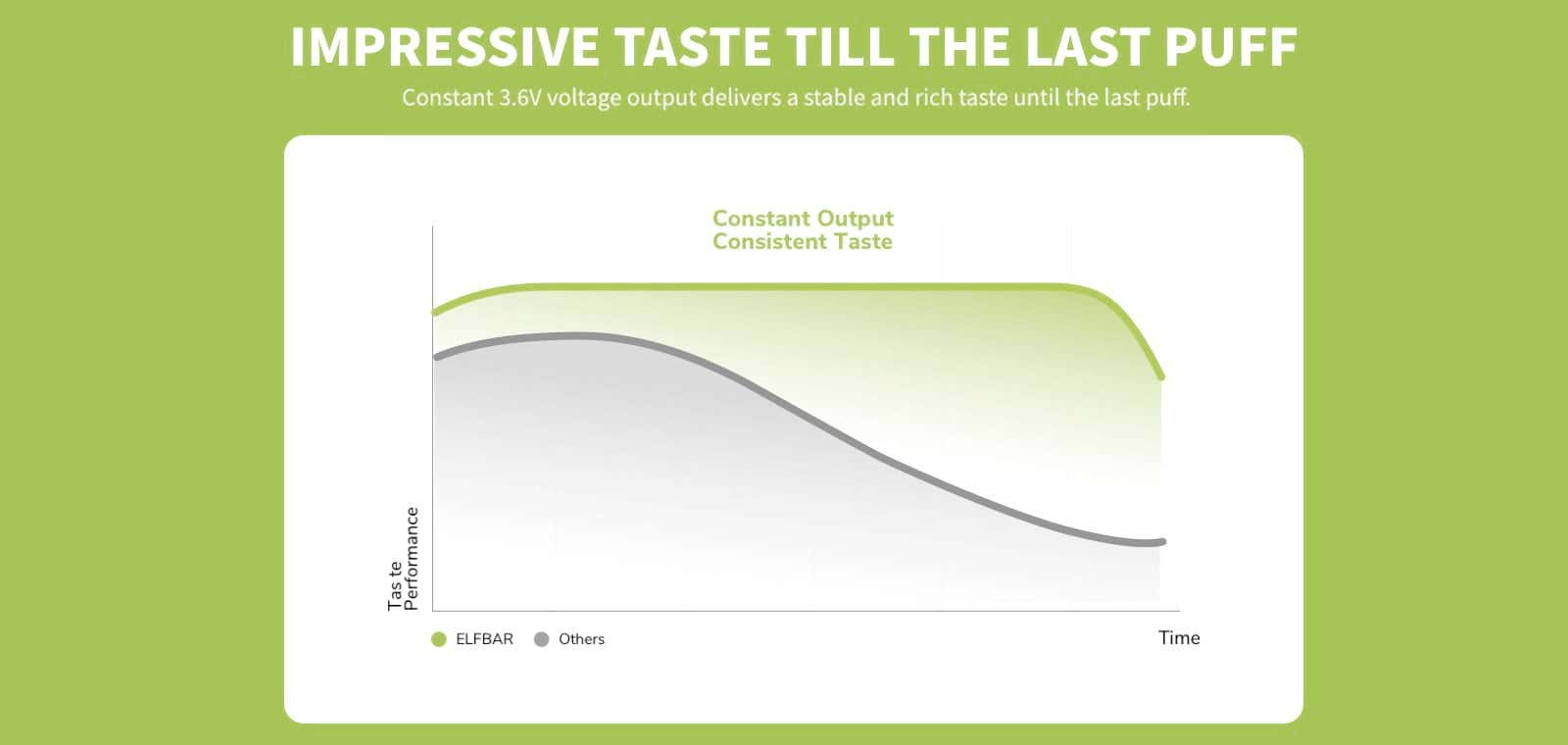 Product Highlights
The Elfbar 600 is produced to the finest standards, offering a reassuring leakproof device and flavour experience throughout its complete use.
Compact and portable.
Pre-filled with 2 ml of 20 mg or 10 mg nicotine salt e-liquid.
360 mAh battery.
Wide range of 41 delicious flavours.
The vape is ready to use without the need to charge, just take a draw from the mouthpiece and the battery will automatically activate, heating the coil up to vaporise the tasty e-liquid. The device is not rechargeable, so once you've vaped the prefilled e-liquid the device will stop activating, which is at around 600 puffs.
Specifications
Product name:
Elf Bar 600 Disposable Vape Kit
Size:
Height: 104 mm
Diameter: 16 mm
Battery Capacity:
360 mAh
Pod:
Pre-filled with 2 ml of 10 (1%) or 20 (2%) mg e-liquid
Puffs:
Up to 600 puffs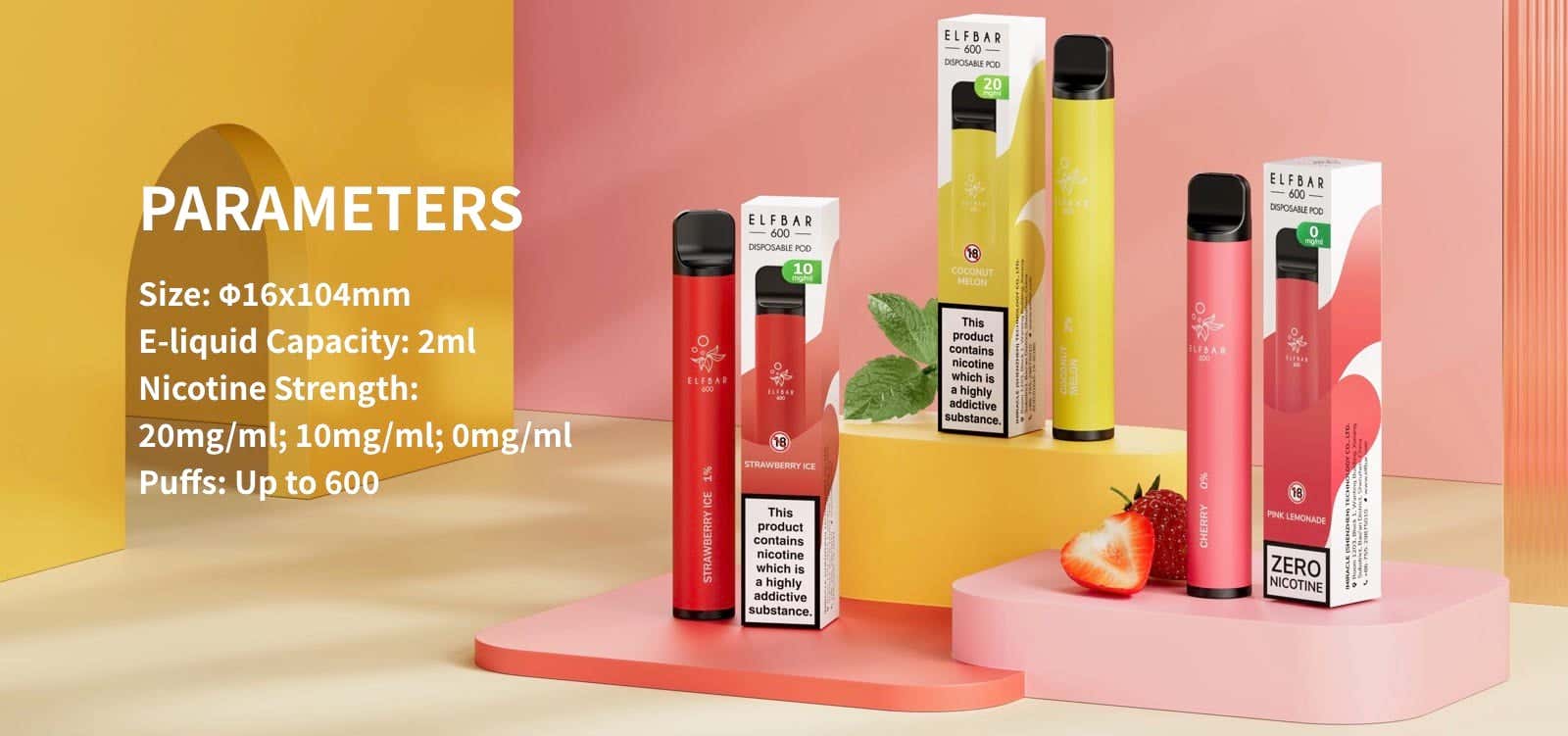 Questions and Answers
---
How many puffs are in an Elf Bar?
Each Elfbar device can provide up to 600 puffs.
How many cigarettes are in an Elf Bar?
Elf Bars are equivalent to approximately 45 cigarettes.
How long do Elf Bars last?
Each Elf Bar provides a similar vaping time to 45 cigarettes.
What is in an Elf bar?
One Elf vape contains 2 ml of 20 mg or 10 mg nicotine salt e-liquid. The device also contains a 360 mAh battery, designed to last long enough for the 2 ml of nic salt vape juice to be vaped.
What nicotine strength are Elf Bars available in?
Elf Bars come in 20 mg, 10 mg and 0 mg nicotine strengths. The following shows the number of flavours available for each nicotine strength:
20 mg Nicotine Salt

41 flavours

10 mg Nicotine Salt

12 flavours

0 mg Nicotine-Free

8 flavours
Is an Elf Bar Disposable Kit right for me?
Disposable vapes definitely have their benefits, but they also have their drawbacks. In the interest of balance, we have outlined the pros and cons in our disposables guide, to help you make an informed decision.
Useful Reading
Check out our guide on nicotine salts vs freebase nicotine to learn about the difference between the nicotine types, and how that affects your vaping experience.
Customer Reviews