ASPIRE POCKEX VAPE KIT
The Aspire PockeX is one of the best beginner-friendly, mouth-to-lung (MTL) vape starter kits. This all-in-one (AIO), refillable kit is the perfect go-to for quitting smoking.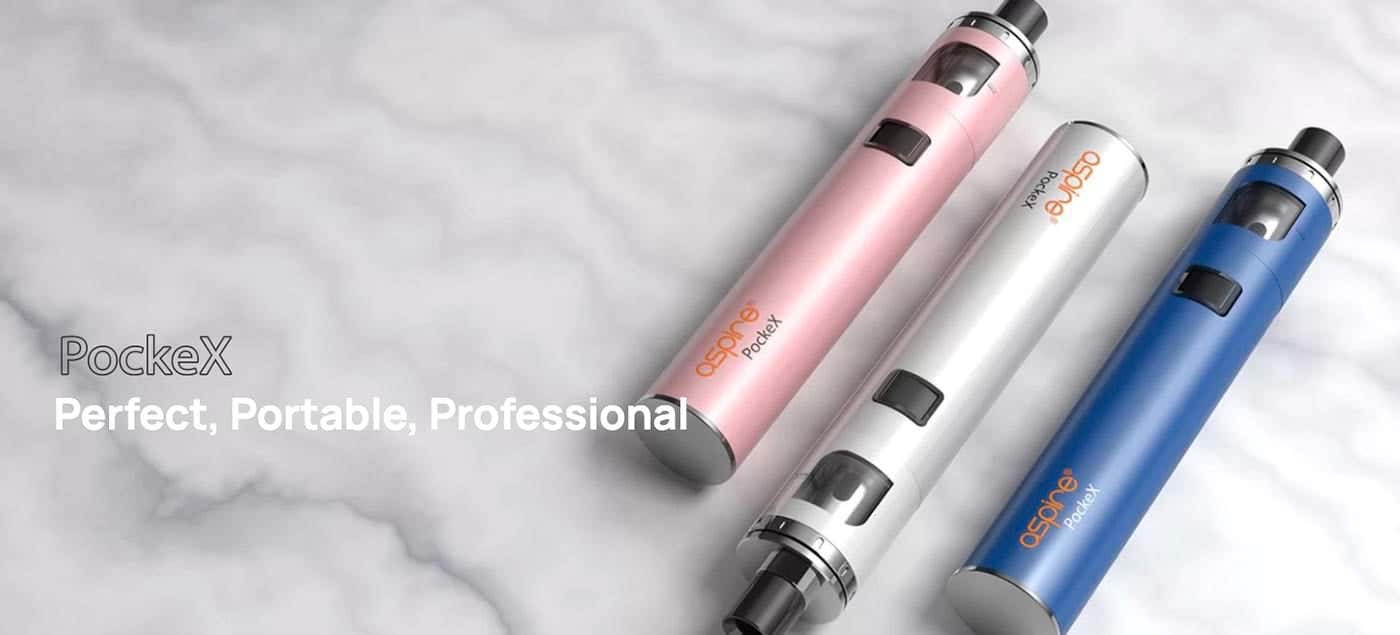 The Device
The kit is powered by a mighty 1500 mAh battery, which is enclosed in a sleek stainless steel body. The PockeX tank is built-in to the main battery component and comprises of a Replaceable Glass Tube, which is TPD compliant, holding 2ml of e-liquid and housing the coil.
The PockeX Replacement Coils have the patented U-tech coil technology, ensuring even heating and efficient vaporisation. These coils deliver an amazing RDL and MTL experience with the 0.6Ω and 1.2Ω options, respectively.
The fire button activates the vape and indicates if the battery runs low on charge. It does this by flashing red when the device detects a low battery, meaning it's time to use the micro-USB port to get back to full charge.

Colours
The kit comes in eleven stunning colours to match your style. The simple yet elegant design is a top-selling point for users. The stainless steel body is durable and compact, making it pocket-friendly in any situation.
Black White Gradient
Blue
Gold Gradient
Grey Gradient
Matte Black
Pink Gradient
Rainbow
Red Gradient
Rose Gold
Stainless Steel
White

U-Tech
Aspire's U-Tech coil technology is specifically designed for the Aspire Pockex kit to ensure a better vaping experience.
Available in two different resistances, a free drawing 0.6Ω coil and 1.2Ω tighter mouth-to-lung coil, both included with the kit.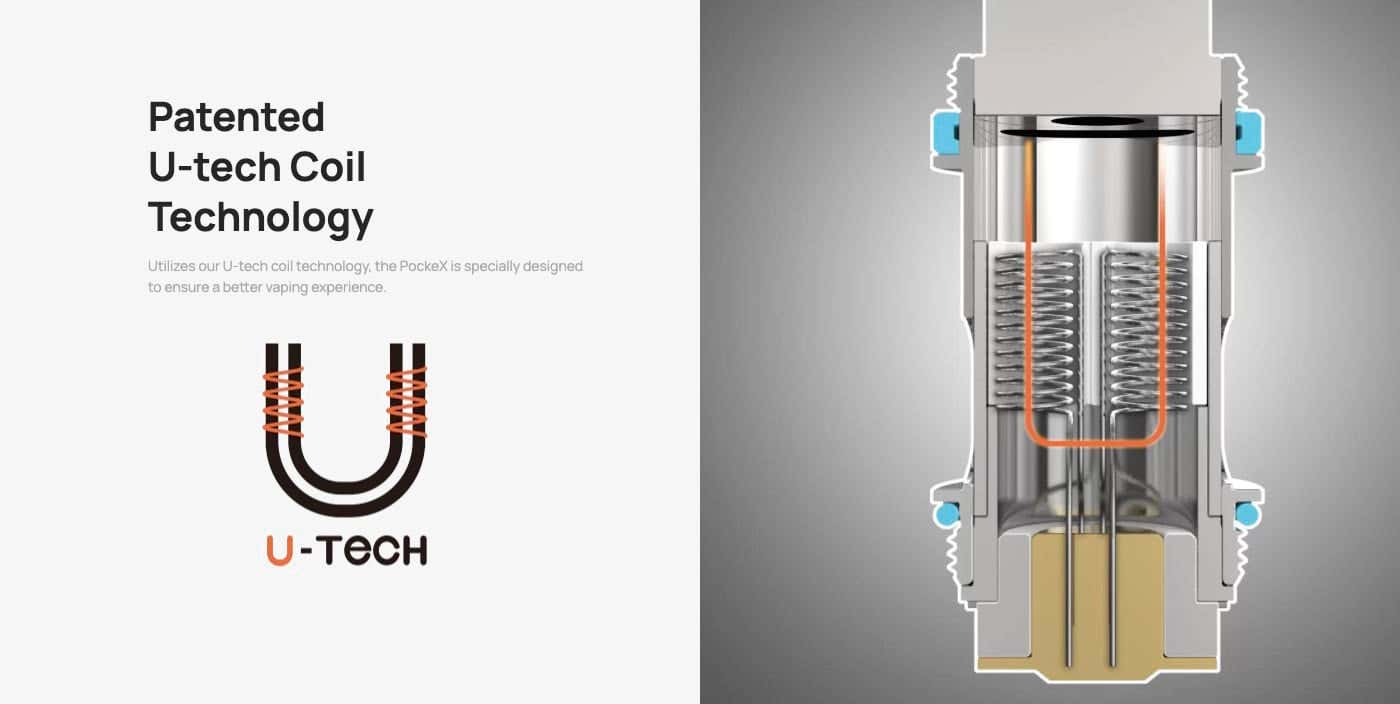 Get Started with the PockeX
Getting started is very easy with this kit. It's made to be simple to use and replace parts.
Upon opening the package, you'll see it has a pre-fit 0.6Ω coil ready to go. If that doesn't suit your needs, a 1.2Ω coil is waiting as a spare option.
Twist the top cap of the tank and reveal the attached coil. You can twist the coil off and replace it with a new one if needed.
Squirt your e-liquid in the empty tank, making sure not to exceed the maximum limit. Now, twist the top cap back and prime the coil.
Press the fire button five times to turn on the device and then again to fire the vape. For safety reasons, the device will stop firing after a 10-second period to prevent accidental presses and overheating.
The wattage can't be manually adjusted, but the device will detect which coil is installed in the tank and will adjust the wattage accordingly. To turn the device off, just press the button five times again, and it will switch off.

Visibility
The transparent glass tube allows you to check your e-liquid anytime, anywhere, leaving you without doubt when to refill and, importantly, avoiding dry hits or premature coil burn-out.

Informative
The Aspire Pockex features a dual indicator light, alerting you to the battery life.
Blue: More than 30% power remaining
Red: Less than 30% power remaining

Specifications
Button activated
Tank Capacity: 2ml
Battery: 1500 mAh
Charging Port: Micro-USB
Vaping Style: MTL & RDL
Replacement Coils: PockeX Coils (5 Pack)
Parameters
Size: 117.7 mm x ⌀19.77 mm
Weight: 86g
Capacity: 2 ml
Filling: Top-filling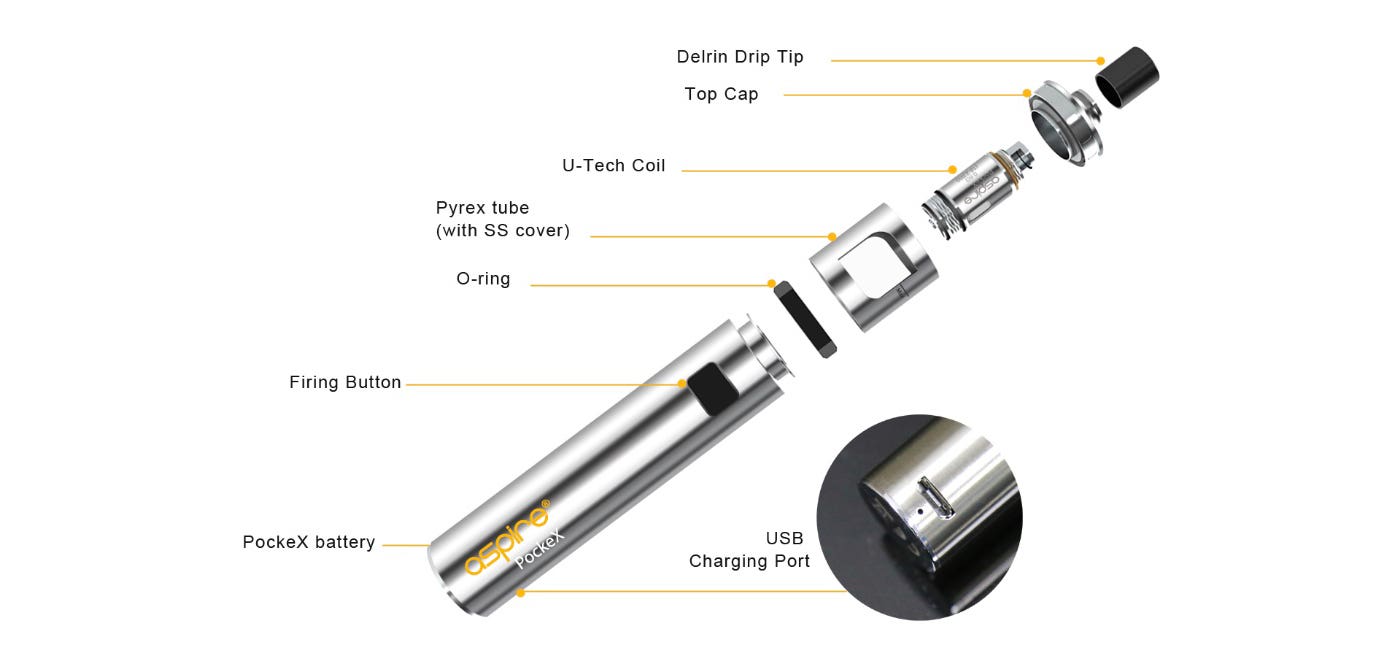 What's in the box?
1 x PockeX AIO kit
1 x PockeX 0.6Ω coil (18-20w)
1 x PockeX 1.2Ω coil (10-12w)
1 x Micro-USB charging cable
1 x User manual / Warranty card

Aspire PockeX FAQs
What e-liquid do I use with the Aspire PockeX?
You can use Nic Salts or Freebase Nicotine E-Liquids with the Aspire PockeX.
For RDL vaping, use the 0.6Ω coil with Nic Salts or Freebase Nicotine.
For MTL vaping, you can use the 1.2Ω coil with Nic Salts or Freebase Nicotine e-liquids as well.
If you've already got Shortfill E-Liquids, the Aspire PockeX may struggle to vaporise the thicker juice efficiently. It's best to use juices with a more even VG/PG ratio, such as 50/50 or 60/40 VG/PG.
How long do the Aspire PockeX Coils last?
Like with any other Starter Kit, the Aspire PockeX coils should last around ten days if used properly.
Using the correct e-liquid and looking after your device is key if you want your coils to reach their maximum output before needing replacement. Follow the included coil priming guide or the Coil Priming Guide website to avoid premature coil failure.
Depending on how many cigarettes you smoke, we recommend the following strength e-liquids with the Aspire Pockex kit.
Not sure what Nic Salts are? See our guide here.
To avoid premature coil failure, be sure to follow our coil priming guide.
Compatible items for this kit
We found other products you might like!
Customer Reviews