ASPIRE ATLANTIS GT TANK
The Aspire Atlantis GT Tank is an innovative customisable DTL sub-ohm tank, designed by leading vaper Taifun and manufactured with high-quality workmanship and craftsmanship, making it the ideal choice for direct-to-lung vapers.
The side-filling Atlantis GT tank includes two powerful Atlantis SE meshed coils, 0.18Ω and 0.3Ω options, and two replaceable inventive replacement air intake bases that allow you to dial into the perfect airflow. Also included is a replacement glass tube, which is easily replaced, and when necessary, additional Atlantis GT tank tubes can be purchased separately.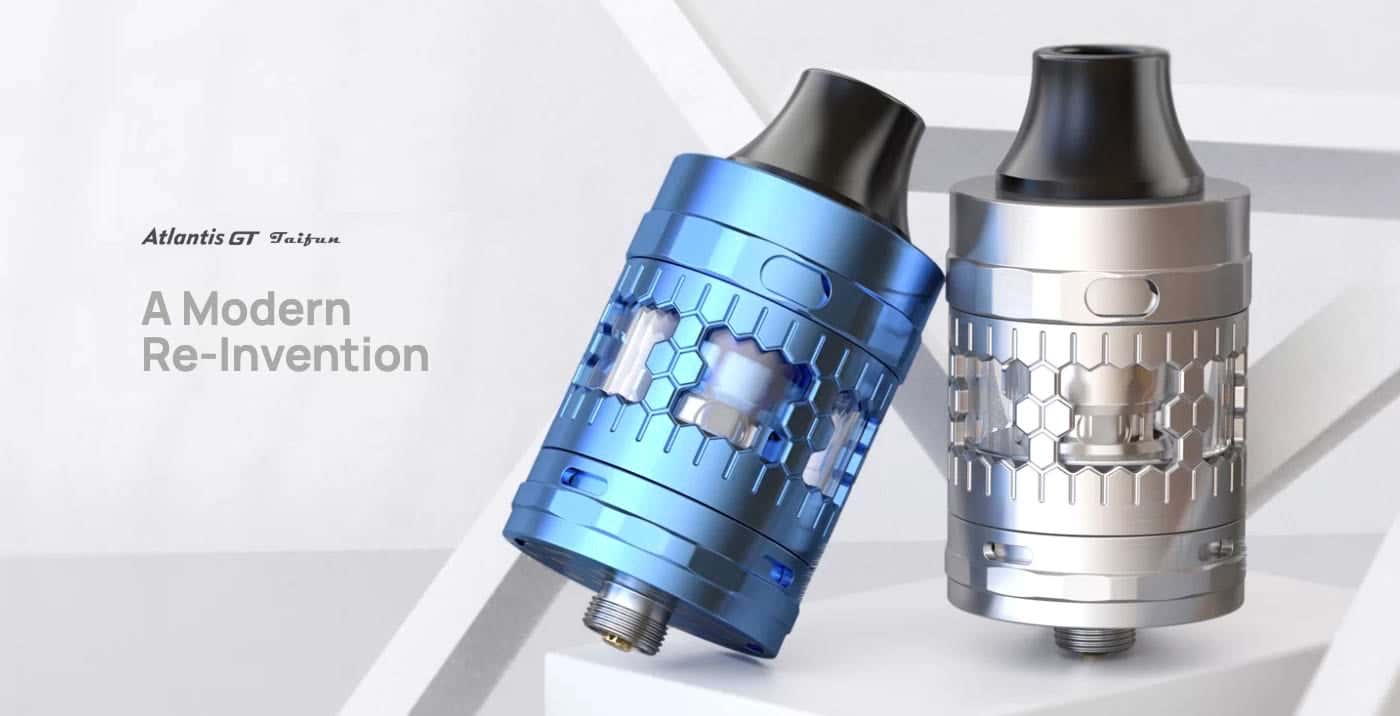 Legend
One of the original founding members of the sub-ohm vaping community was the Aspire Atlantis tank, an innovative and ground-breaking DTL tank providing excellent flavour and cloud production.
The Atlantis GT tank is designed by legendary vaper Taifun and manufactured by Aspire, where a combination of innovative design and top-quality craftsmanship come together perfectly to produce a robust, customisable flavour-producing legend of its own.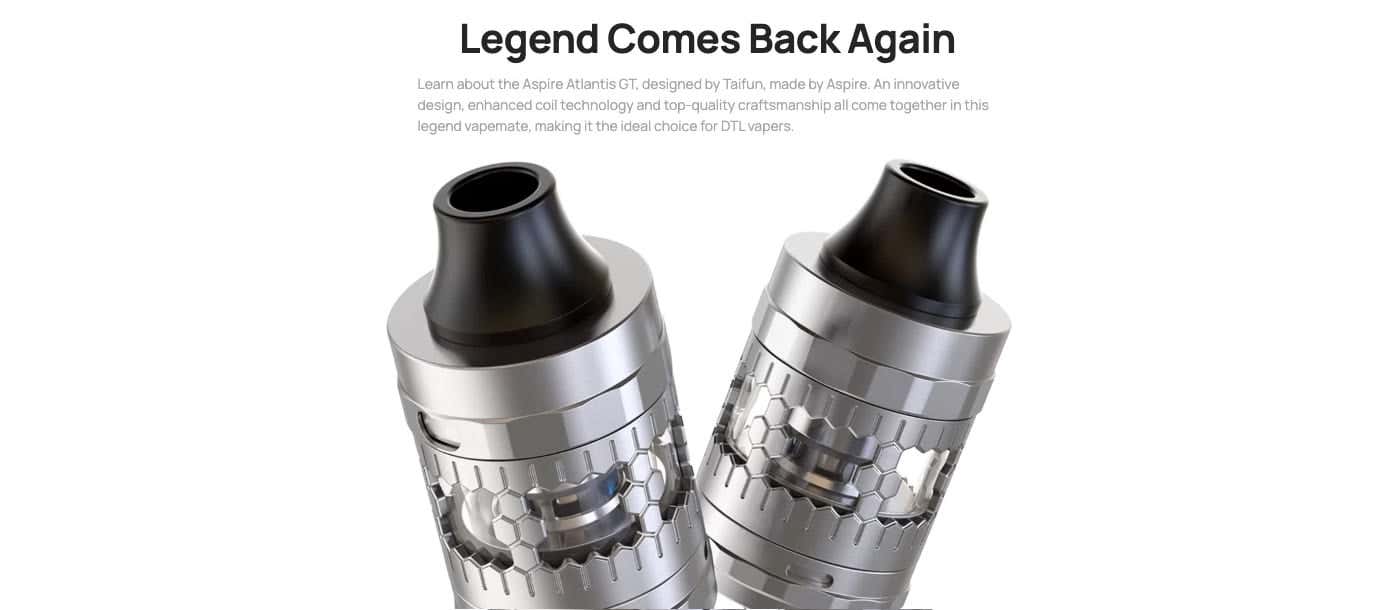 Protective
The Atlantis GT tank is produced from high-quality, premium materials and features a metal protective cover to effectively protect the glass tube from being damaged.
The tank comes supplied and installed with an acrylic tube, which can be replaced with the included spare glass tube, depending on your preference.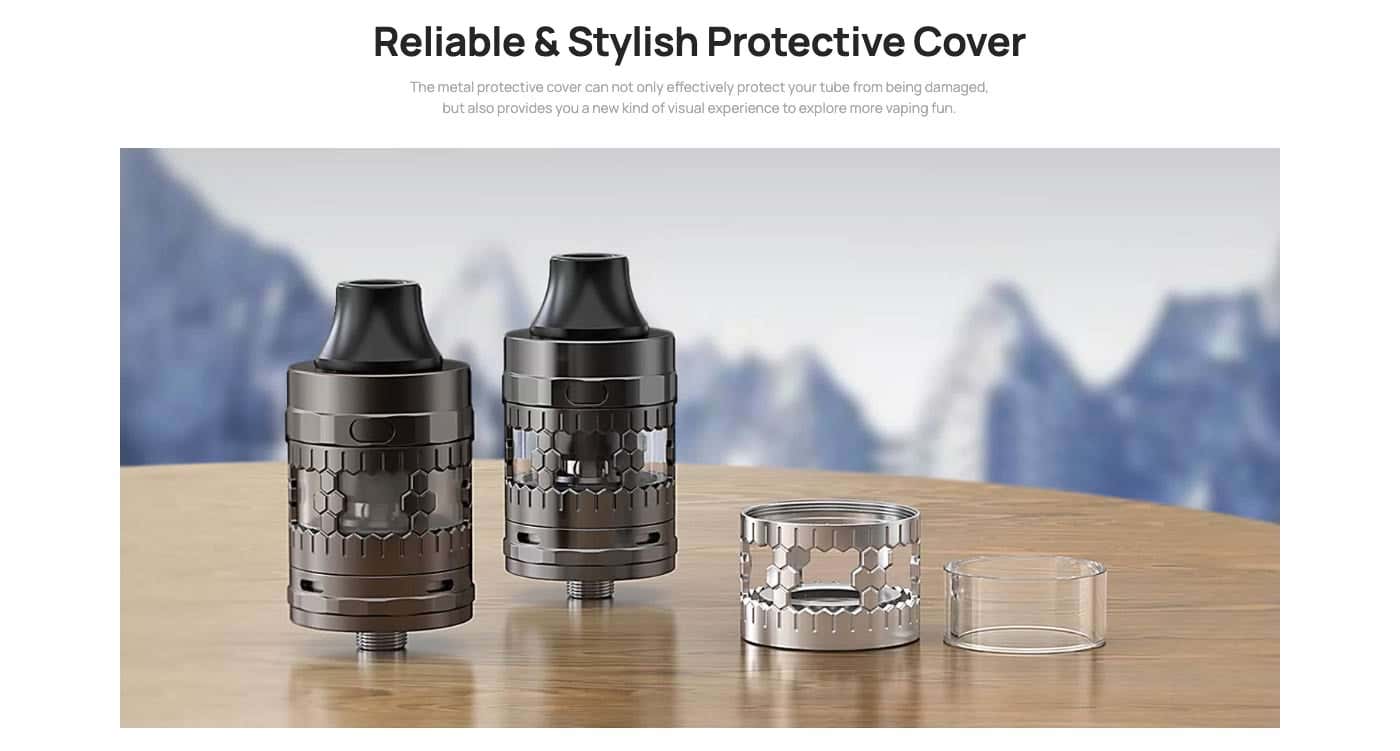 Colours
Atlantis GT tank is available in four classic Aspire colours manufactured and machined to a premium quality finish.
Black
Blue
Gunmetal
Stainless Steel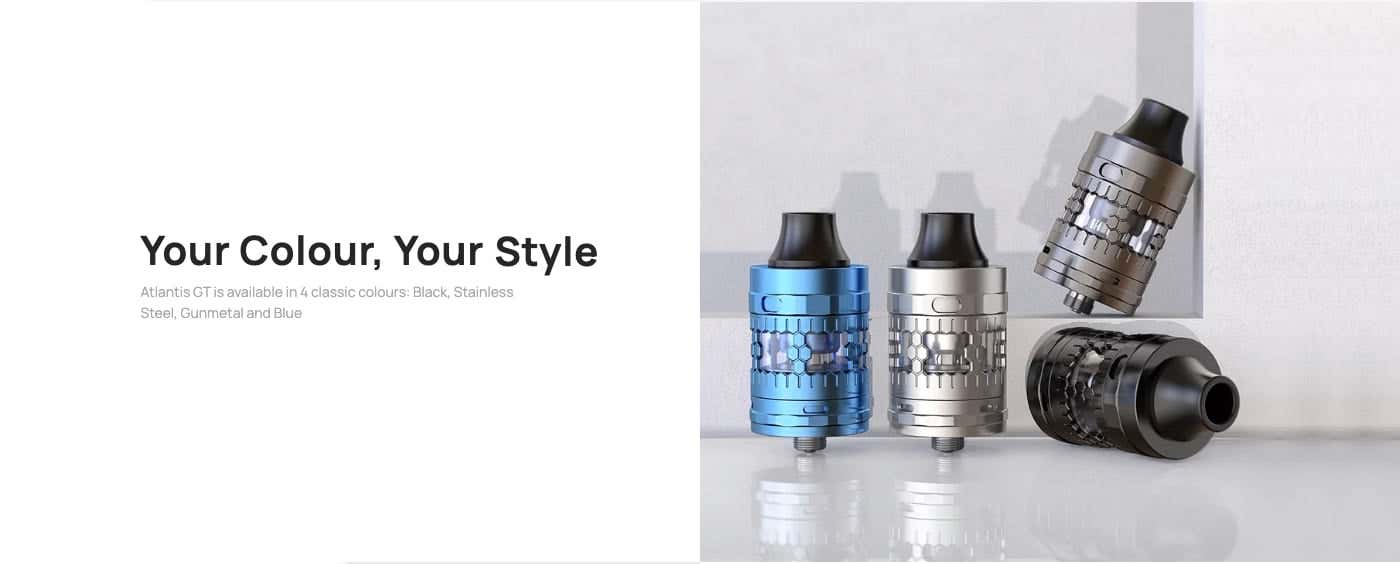 Refill
Aspire's Atlantis GT sub tank is refillable by lifting and rotating the top cap, revealing the filling hole for easy access and sufficient room to pop your e-liquid bottle's spout into.
The tank design ensures that when filling occurs, the chimney seals off and prevents the e-liquid from entering and potentially flooding the coil. Once filling has been successfully and sufficiently achieved, rotate the top cap back into its closed position.
Balance
The Atlantis SE coil series inherits the core performance of the Atlantis coil platform, delivering huge clouds and a satisfyingly rich and dense flavour production.
These coils are available in three different resistances of mesh-constructed nichrome push-fit coils and are the ideal choice for DTL vapers.
0.18Ω Meshed - Output Power: 45-60w
0.3Ω Meshed - Output Power: 30-40w
0.35Ω Meshed - Output Power: 20-30w

Air intake
The Aspire Atlantis GT tank and the desired airflow are customisable through a unique set of interchangeable air intake bases.
Available in three different-sized inlet holes, the air intake bases are a push-fit design, held within the main base of the tank and are adjustable through the turning of the bottom-located airflow control ring.
Φ1.0 mm Air intake base
Φ1.2 mm Air intake base (preinstalled with tank)
Φ1.5 mm Air intake base (supplied with tank)
Depending on the diameter of the air intake holes, the DTL vaping experience can be tailored to suit your vaping needs, with the Φ1.0 mm intake offering a slightly more restrictive inhale than the larger Φ1.5 mm intake, which brings notably more flavour and cloud production.

How to?
The innovative air intake bases can be replaced by simply unscrewing the metal tube protective cover, pulling the air intake component free of the ground and removing the installed coil.
Once the air intake base has been successfully removed, reinstall the coil into the new base and push-fit the two components into its place, completing the process by screwing the metal protective cover back into place.
Unscrew the metal tube protective cover.
Unplug the installed air intake base and push the coil out
Install coil into new air intake base and push-fit into the main tank base
Screw the metal tube protective cover back into place

What's in the box?
1 x Atlantis GT tank (2ml) with preinstalled acrylic tube and Φ1.2 mm air inlet base
1 x Atlantis SE 0.3Ω (30 - 40w) coil (Preinstalled)
1 x Atlantis SE 0.18Ω (45 - 60w) coil (Spare)
1 x Spare Φ1.5 mm air inlet base
1 x Spare glass tube
O-rings / User Manual
Specifications
Φ25.5 x 50.3 mm
Weight: 74.5g
Capacity: 2ml TPD compliant
Drip-tip: 510
Adjustable airflow: Bottom
Filling: Side-filling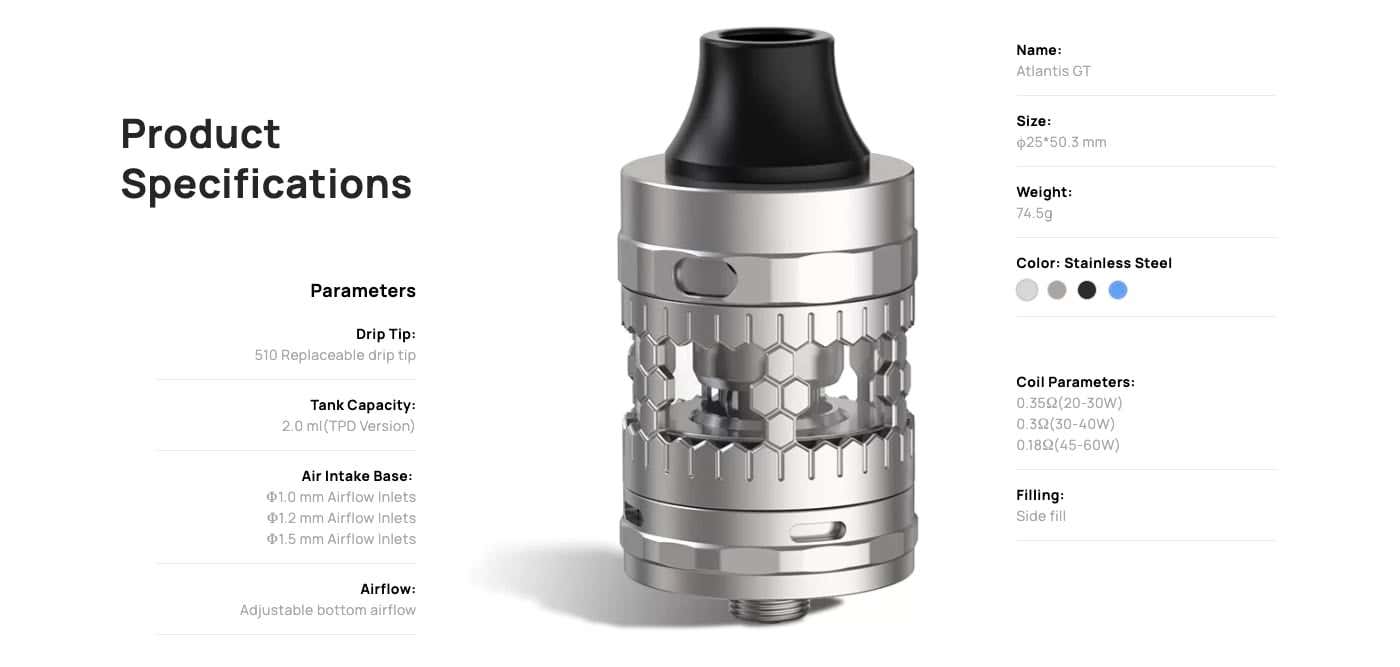 The Aspire Atlantis GT Tank is a powerful dedicated sub-ohm, Direct to Lung Vaping Tank recommended for use with High VG 70+ e-liquids.
Our guide on vaping styles explains the differences between mouth-to-lung vaping and direct-to-lung vaping.
To avoid premature coil failure, follow our coil priming guide.
Compatible items for this tank
We found other products you might like!
Customer Reviews