VOOPOO DRAG S PRO KIT
The VooPoo Drag S Pro Pod Vape Kit is VooPoo's all-around vaping master, capable of both mouth-to-lung (MTL) and direct-to-lung (DTL) vaping, with a built-in 3000 mAh battery providing a maximum adjustable power of up to 80 watts. The Drag S Pro has auto or manual modes, a boost mode of 8.5V and is entirely operated by a one-button switch and powered by Voopoo's GENE.FAN 3.0 chipset.
The Drag S Pro kit comes supplied with Voopoo's TPP X pod and two TPP-DM coils, including 0.15Ω DM1 and 0.3Ω DM4 coils, perfect for DTL vaping with high VG e-liquids.
This diverse and widely customisable pod vaping kit can also use the full range of coils within the PnP coil platform, including DTL, RDTL and MTL coil options (optional PnP Pod required).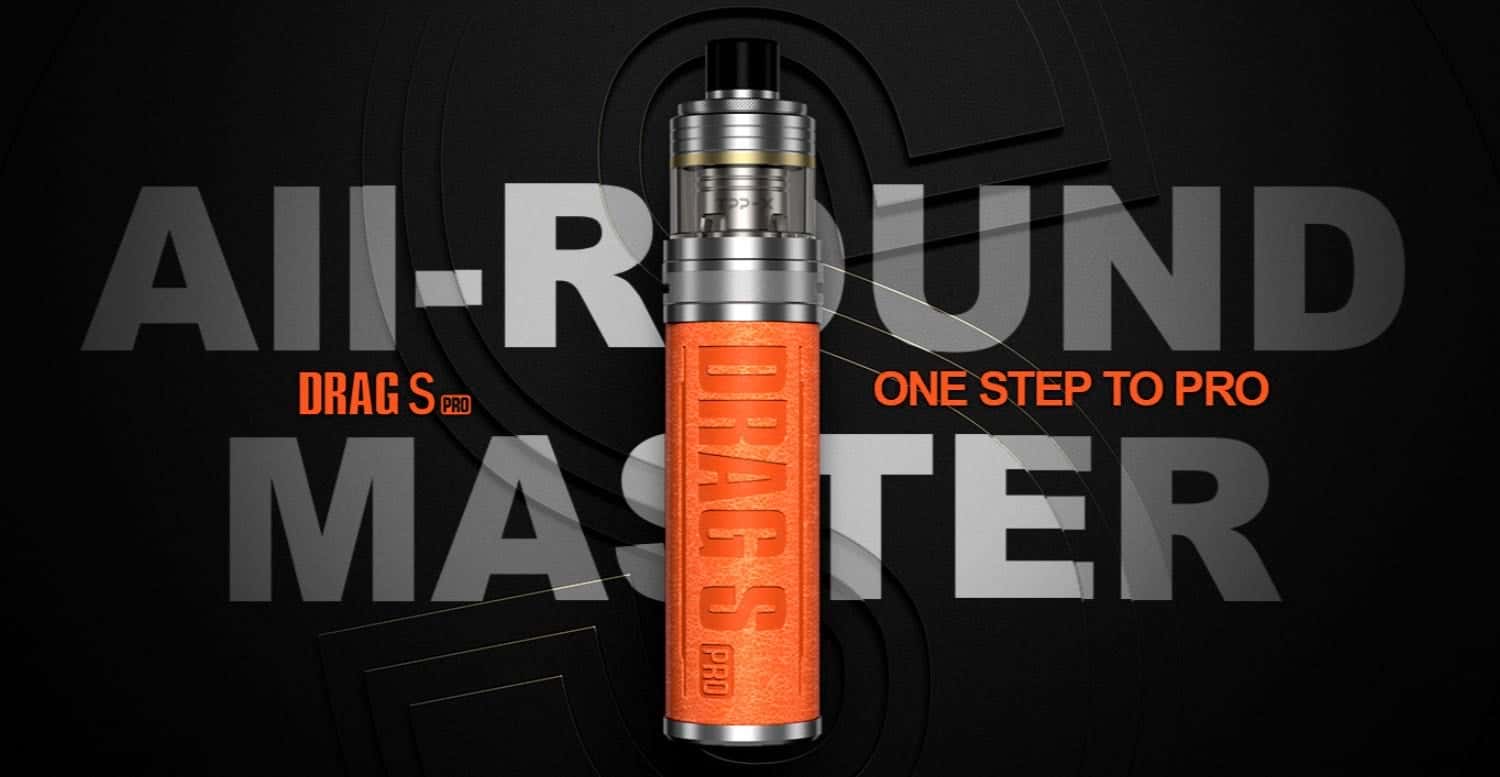 Key features
One button switch
360 degree infinite airflow system
Boost mode of 8.5V
Gene.Fan 3.0 Chipset
TPP X Pod
Auto and manual modes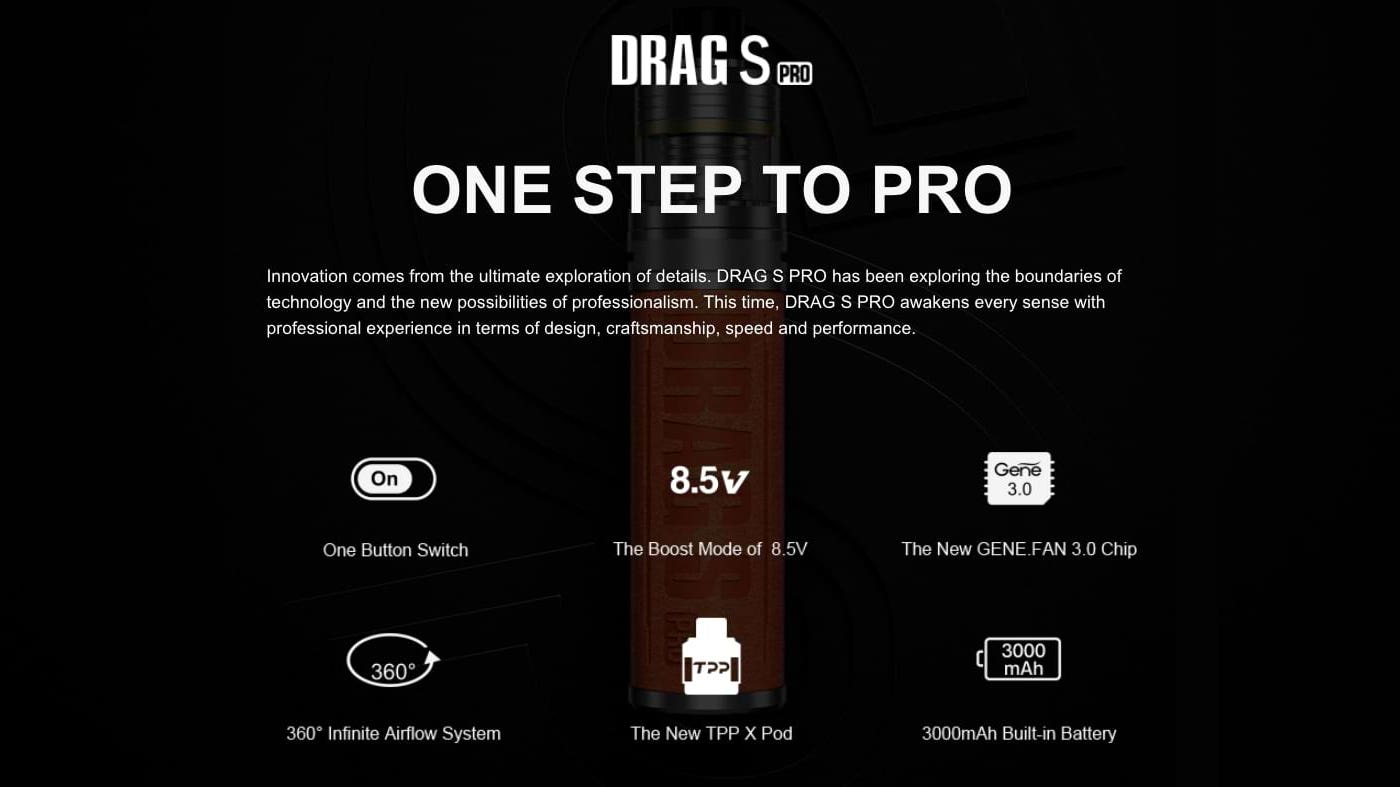 Comfortable Design
The Drag S Pro continues the premium feel of metal and leather, using an ergonomic, rounded design that fits perfectly in your hand.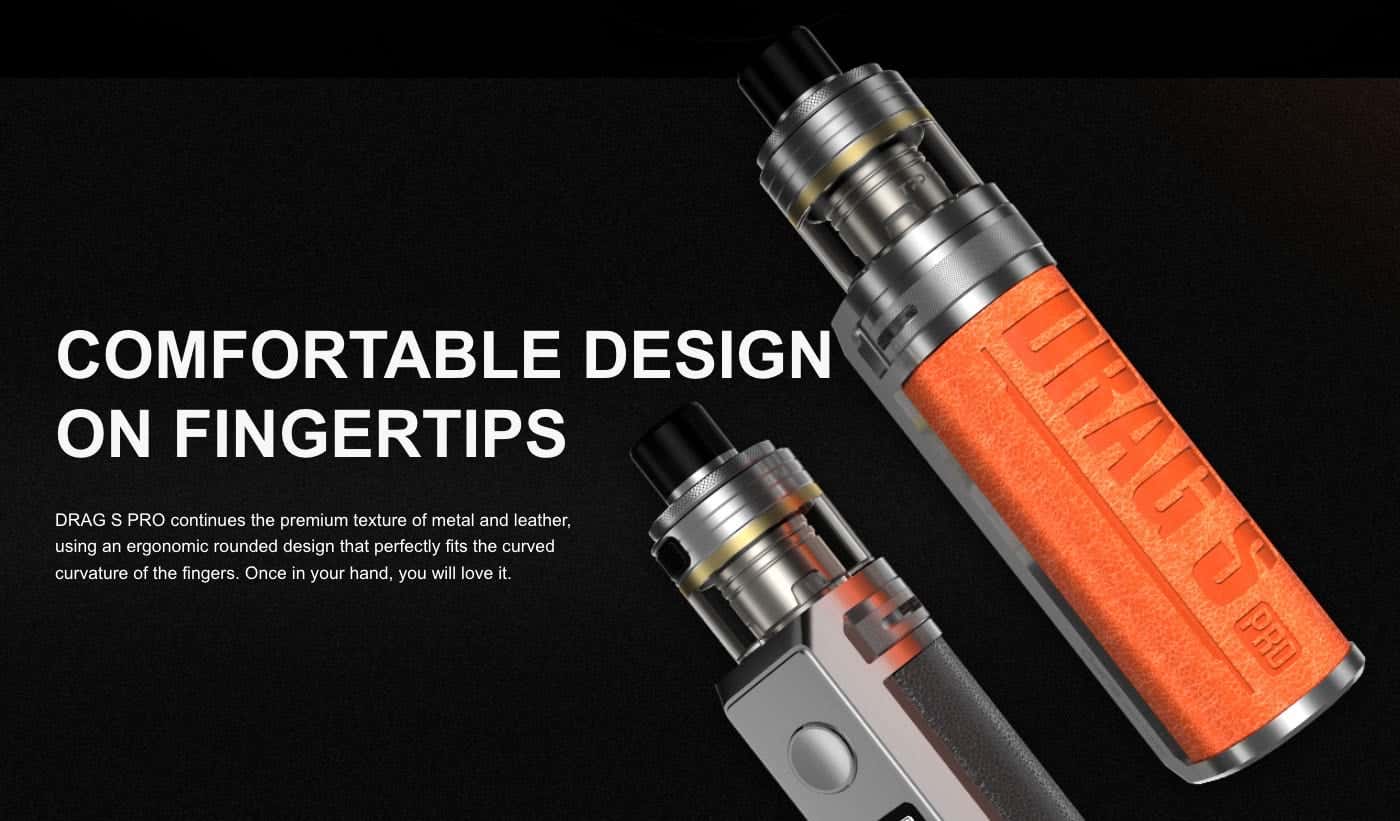 Available in Seven Stunning Colours
Mystic Red
Classic Black
Basalt Grey
California Orange
Garda Blue
Sapphire Blue
Sahara Brown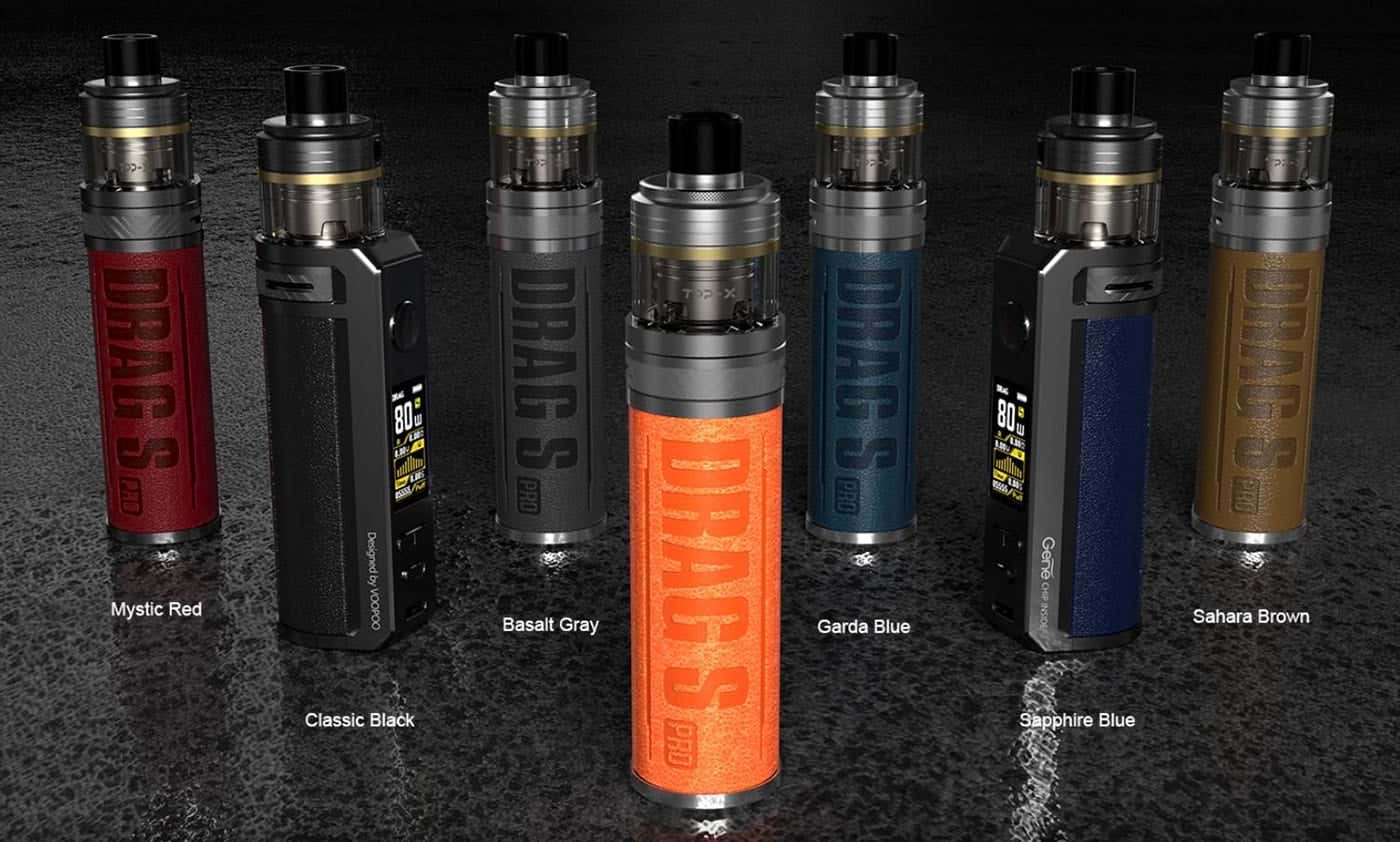 High-Quality Design and 0.96" TFT Screen
The subtleties show the quality of the Drag S Pro. From the appearance to the structure, the atomiser to the one-button switch, all the details are changed to achieve the new Drag S Pro.
Adding a 0.96" TFT screen completes the aesthetic look of the Drag S.

Unlock the Top Performance
A toggle switch to turn the device on and off is a new addition to the VooPoo Drag series. The Drag S Pro also retains the traditional function of pressing the fire key five times, turning the device on and off.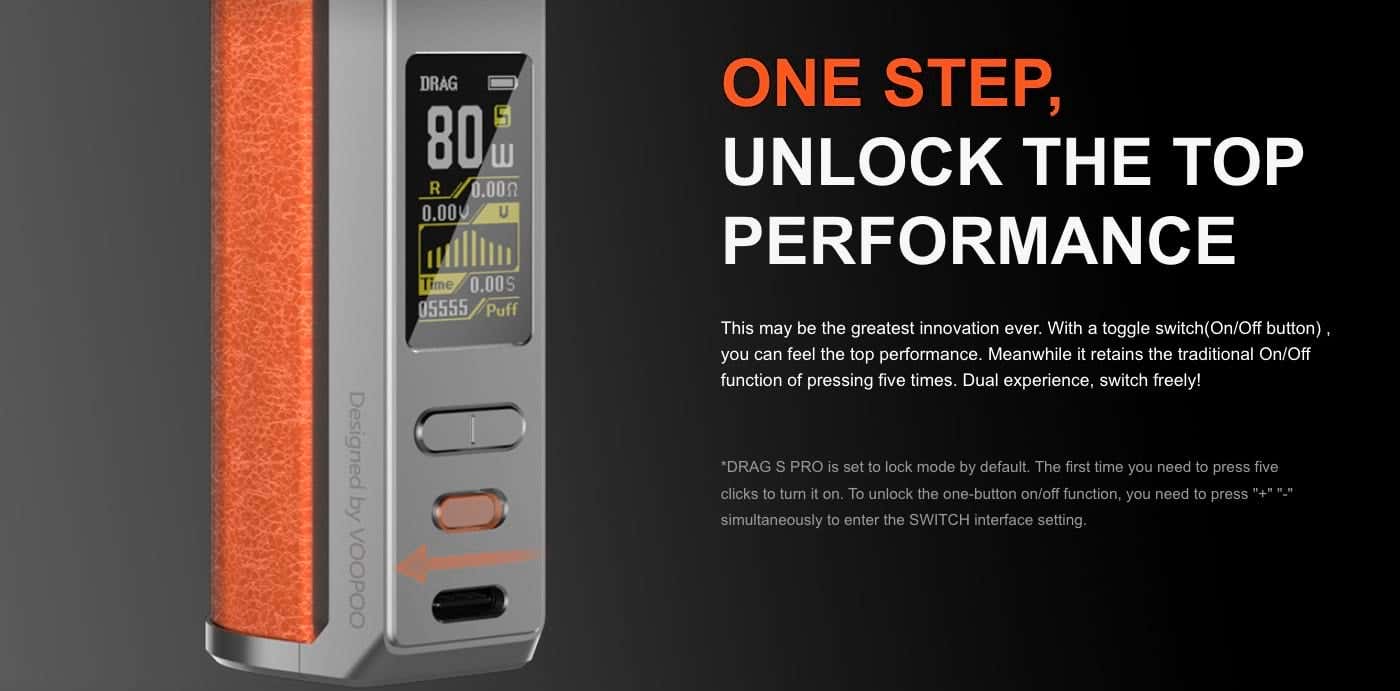 The TPP X Pod
The TPP X Pod is adapted to the most powerful coil of the TPP platform, bringing you a powerful and professional experience.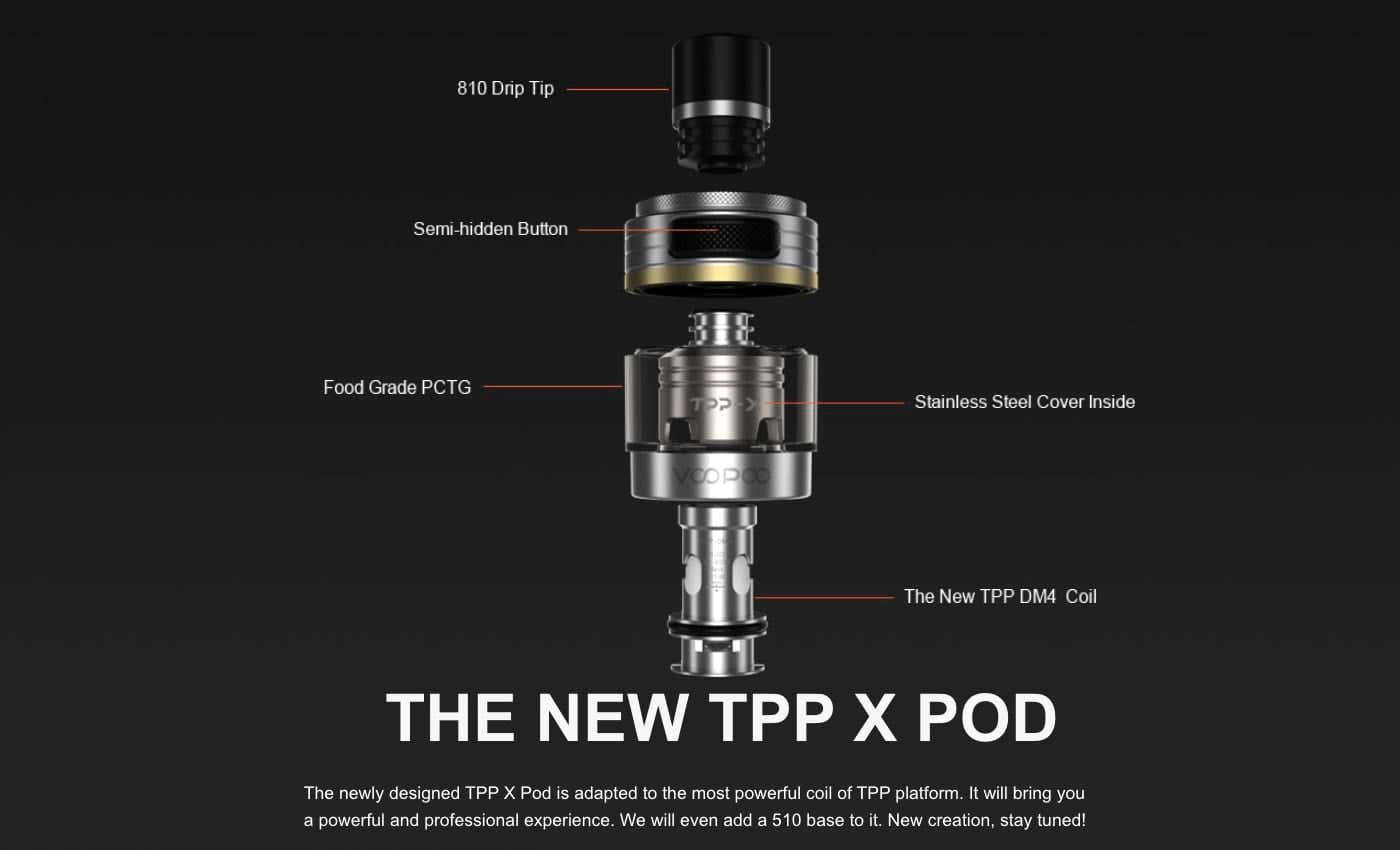 Upgraded TPP-DM4 Coil
More comfortable in the mouth
More puffs available
Better leakage prevention
Balanced flavour and strong clouds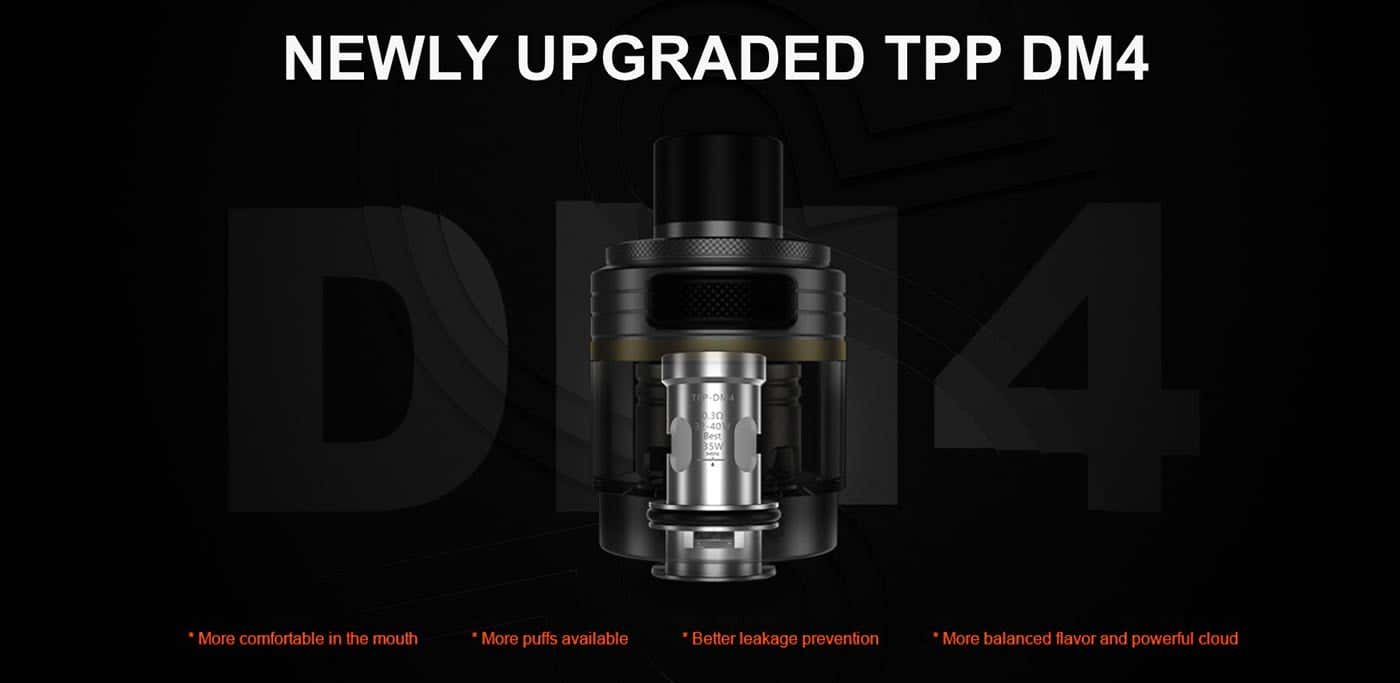 Filling
Press the semi-hidden button and rotate to the left.
Pull out the silicone plug for filling.
Close the silicone plug and rotate to the right to finish.

The Innovation of a 360° Infinite Airflow System
Combining a 360° infinite airflow system and bottom airflow brings more precise airflow control and denser clouds. The airflow holes are specially designed for a rich and smooth MTL experience.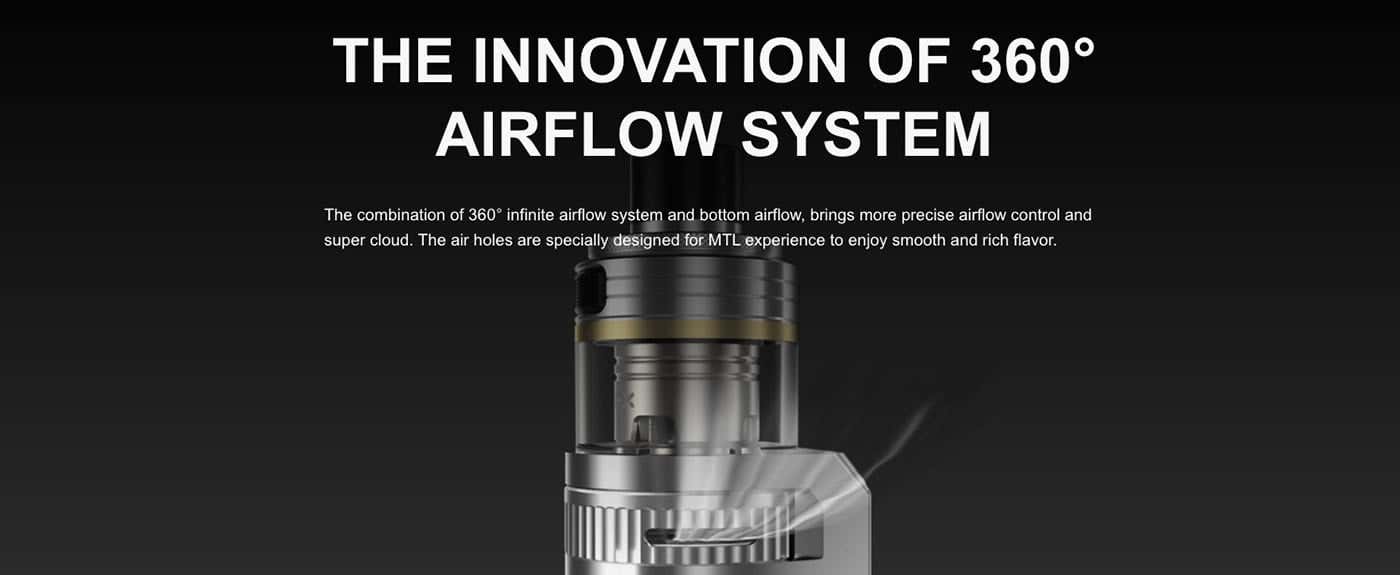 More Power, More Flavour
The Drag S Pro increases the output voltage to 8.5 volts, optimising the output and bringing more stable flavour, even when the battery is running low.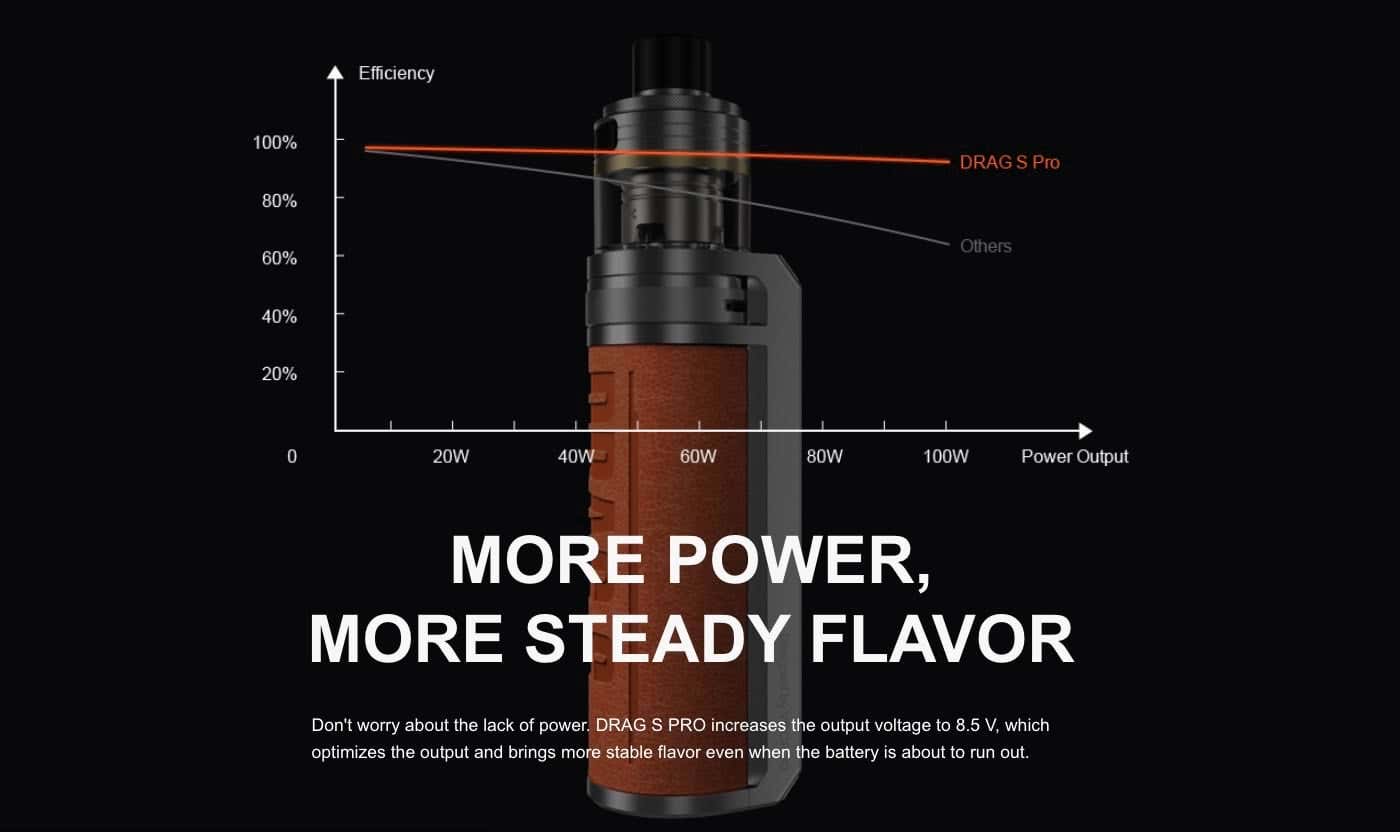 GENE.FAN 3.0 Chip
The newly designed GENE.FAN 3.0 chip is built into the Drag S Pro, bringing a 20% increase in performance, more cloud and flavour.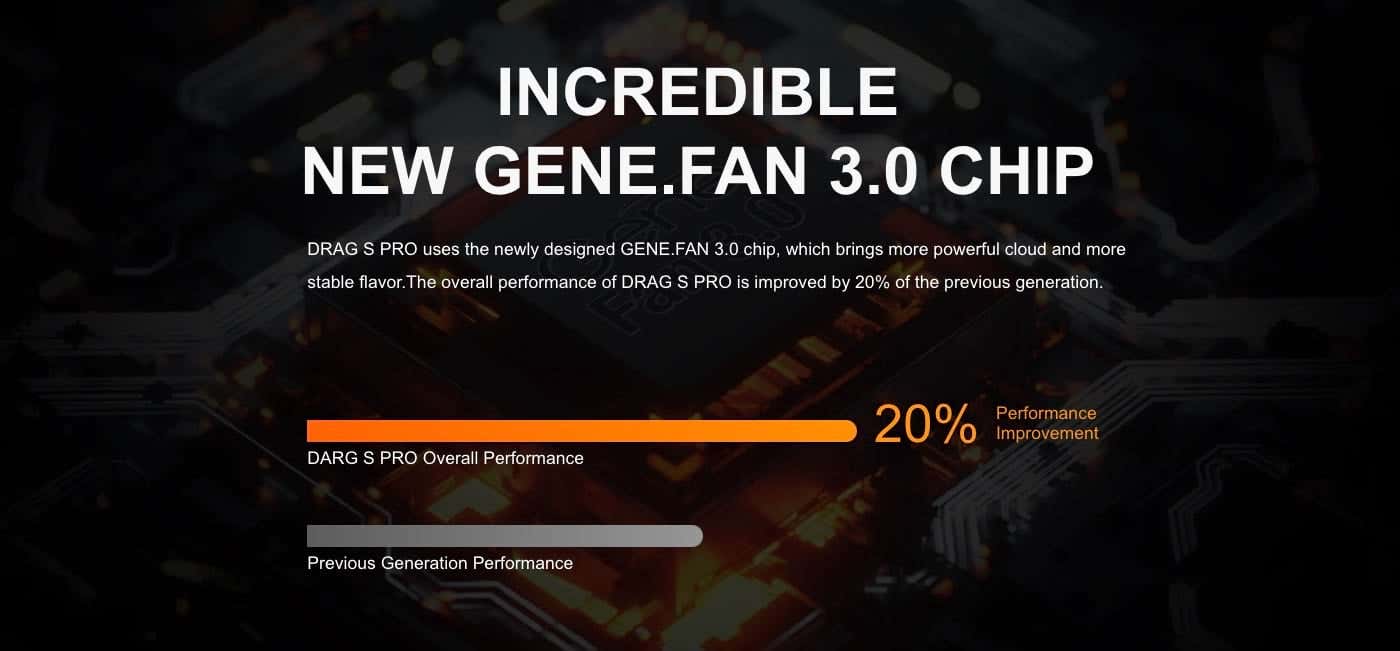 Feel the Speed
Feel the energy from the 5 – 80 watt adjustable power, even with the small size of the Drag S Pro.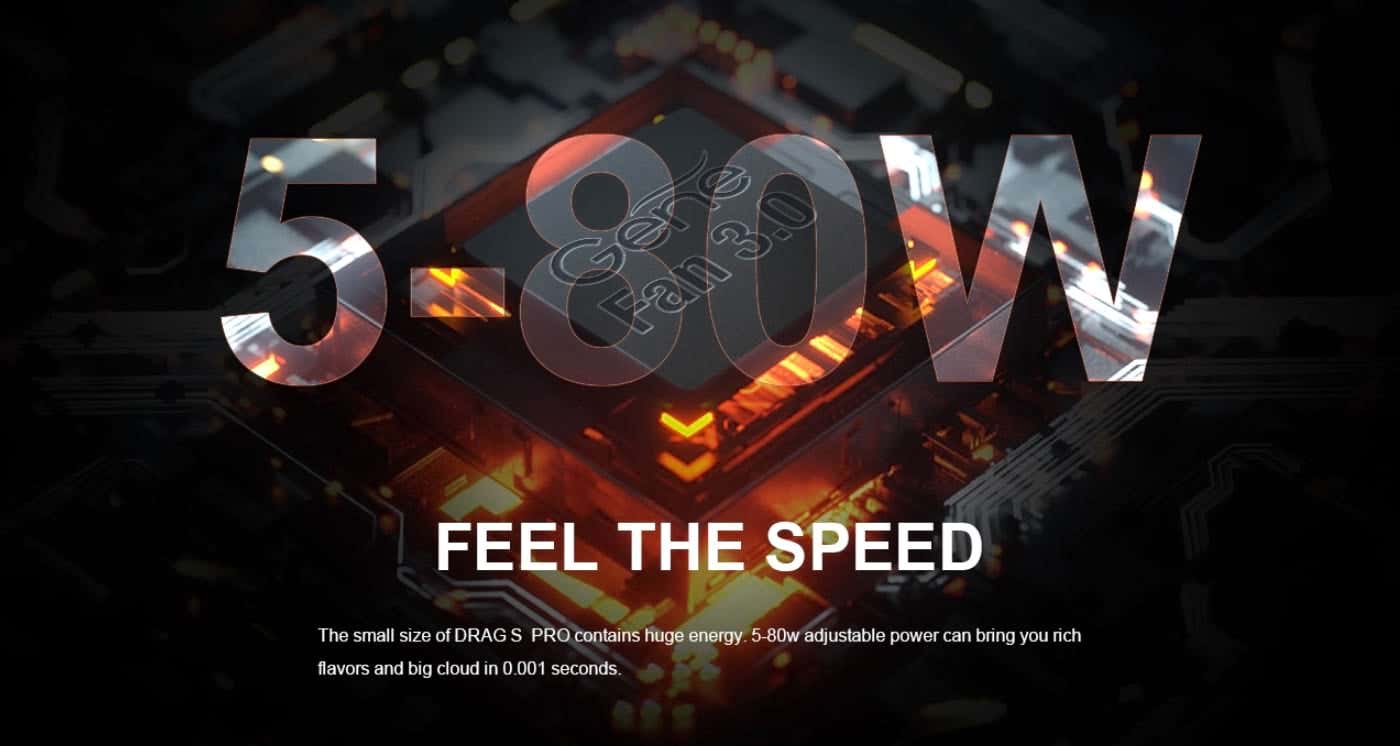 Smart Mode — RBA Mode — TC Mode
With the support of the easy-to-use SMART mode, the power-free RBA mode and TC mode, you can enjoy the Drag S Pro however you want.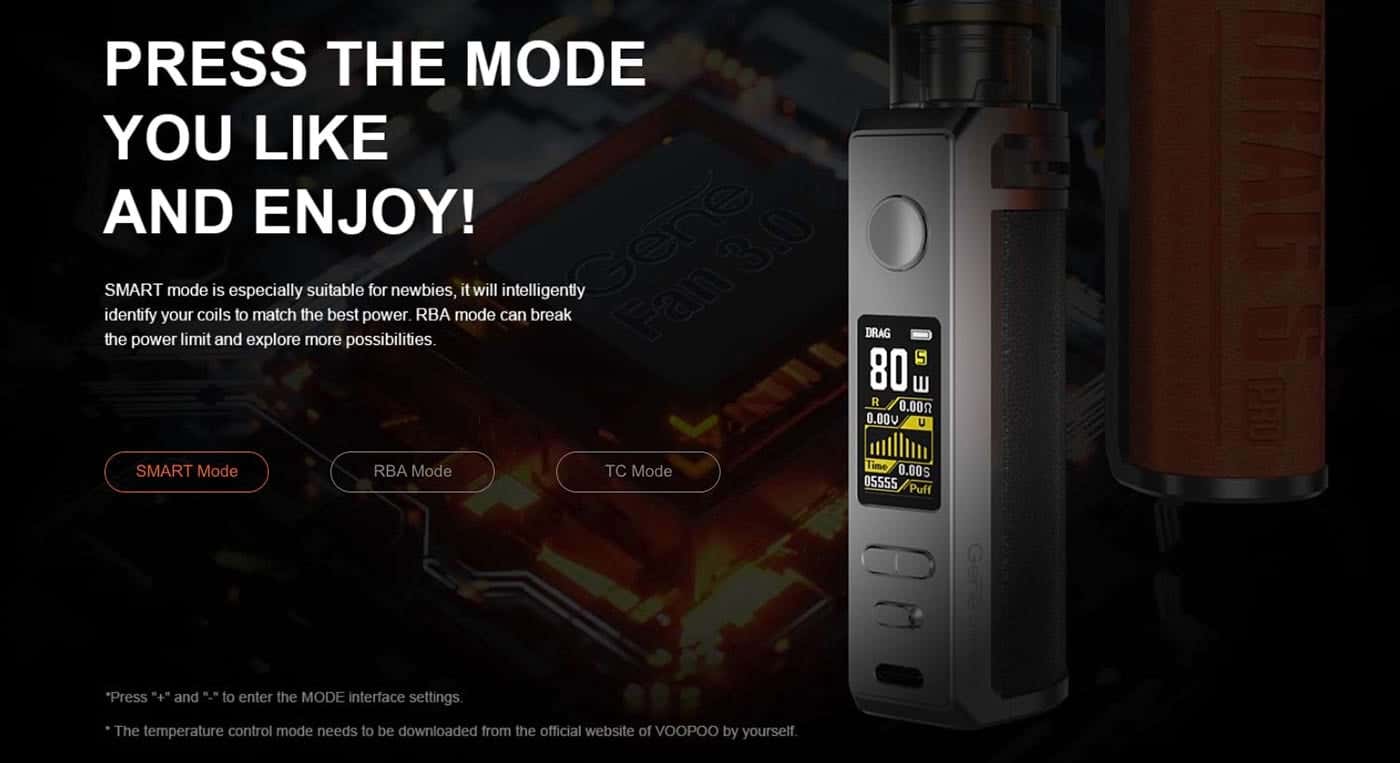 Small Details, Big Differences
The new airway layout is designed to avoid direct contact with e-liquid, making auto-vaping smoother.
Enjoy All Day Long
The Drag S Pro features a 3000 mAh built-in battery with 5V / 2.5A fast charging.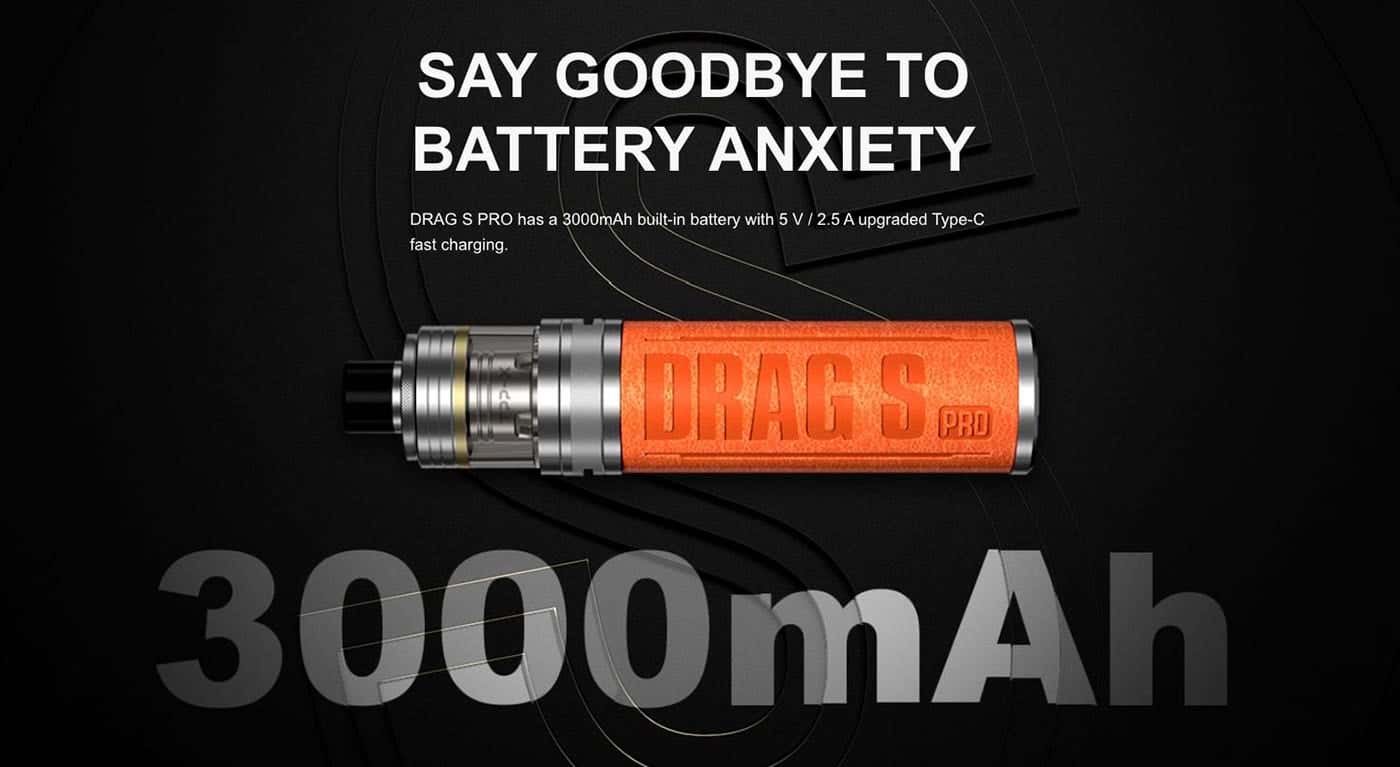 TPP Coils
The Voopoo Drag X Pro pod kit comes with two mesh-constructed TPP coils, delivering a robust and flavoursome direct-to-lung vaping experience.
TPP-DM2 0.2Ω (40-60w; Best 50-55w)
TPP-DM4 0.3Ω (32-40w; Best 35w)
There are a further two coils available within the TPP coil series, as follows:
TPP-DM1 0.15Ω (60-80w; Best 65-75w)
TPP-DM3 0.15Ω (80-100w; Best 85-95w)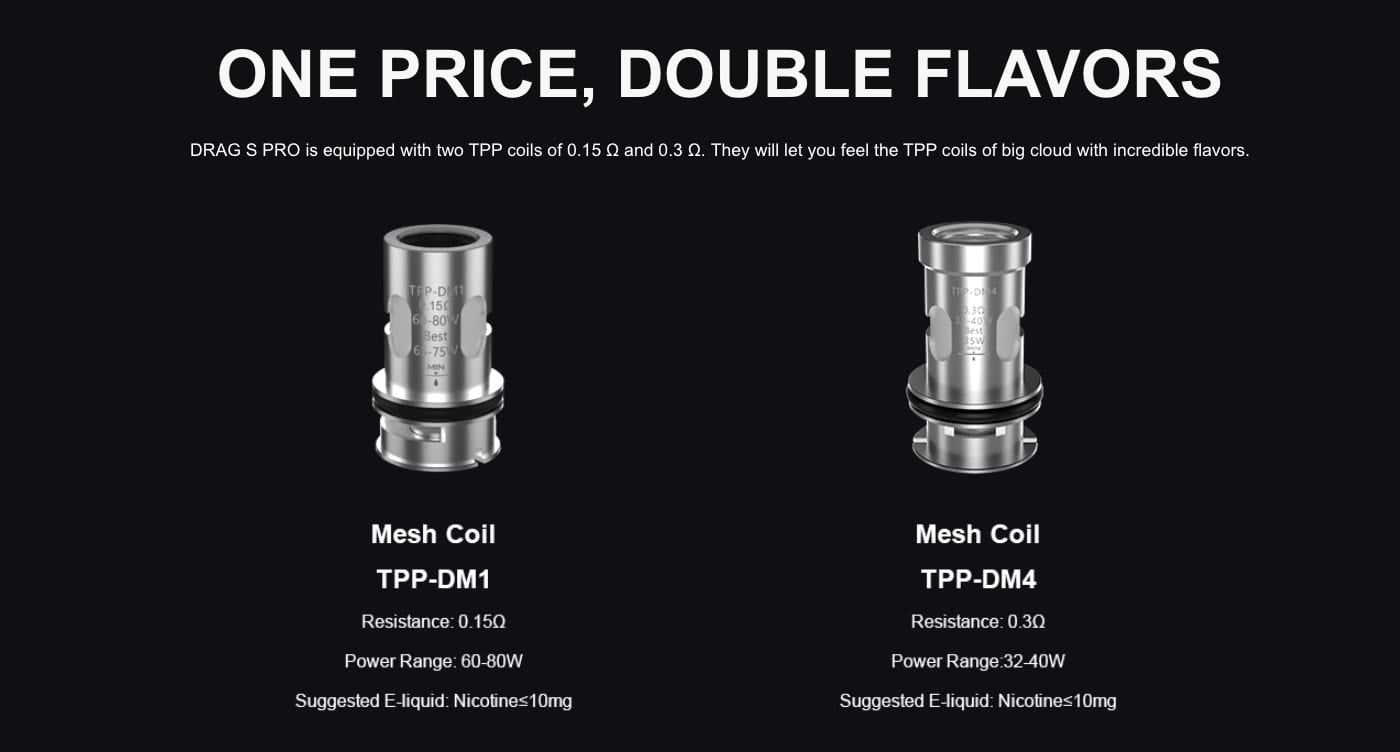 Compatibility
The Drag S Pro can use the complete PnP coil platform using an optional Voopoo PnP Pod.
PnP-VM Series
Unless otherwise stated, the PnP-VM coil range is designed for use with high-VG e-liquids.
PnP-TW Series
The PnP-TW coil range is designed for use with high-VG e-liquids.
PnP-TW15 Mesh 0.15Ω - 55-70w DTL
PnP-TW20 Mesh 0.2Ω - 40-55w DTL
PnP-TW30 Mesh 0.3Ω - 28-36w RDTL
PnP-TM/TR Series
The PnP-TM coil range is a dedicated series of mouth-to-lung coils designed for low-wattage vaping when using Freebase or Nic Salt e-liquids.
PnP-TM1 Mesh 0.6Ω - 20-25w MTL
PnP-TM2 Mesh 0.8Ω - 12-18w MTL
PnP-TR1 Mesh 1.2Ω - 10-15w MTL
PnP-R Series
The PnP-R coils are a regular coil build, offering low-power mouth-to-lung vaping and an overall tighter inhale and vaping experience.
These coils are perfect for use with Freebase and Nic Salt e-liquids.
PnP-M Series
The PnP-M range of coils is designed for restricted direct-to-lung vaping.
PnP-M2 Single Mesh 0.6Ω - 20-28w RDTL
PnP-C Series
The PnP-C coil is a ceramic core constructed coil designed for tight MTL vaping and, due to its material constraints, offers extended coil longevity.
These coils are perfect for use with Freebase and Nic Salt e-liquids.
PnP-C1 Ceramic 1.2Ω - 10-15w MTL
PnP-DW Series
Newly launched with the Vinci 3 Pod Vape Kit, these coils deliver a loose drawing MTL vaping experience for Nic Salt and Freebase e-liquids.
PnP-DW60 Mesh 0.6Ω - 18-25w MTL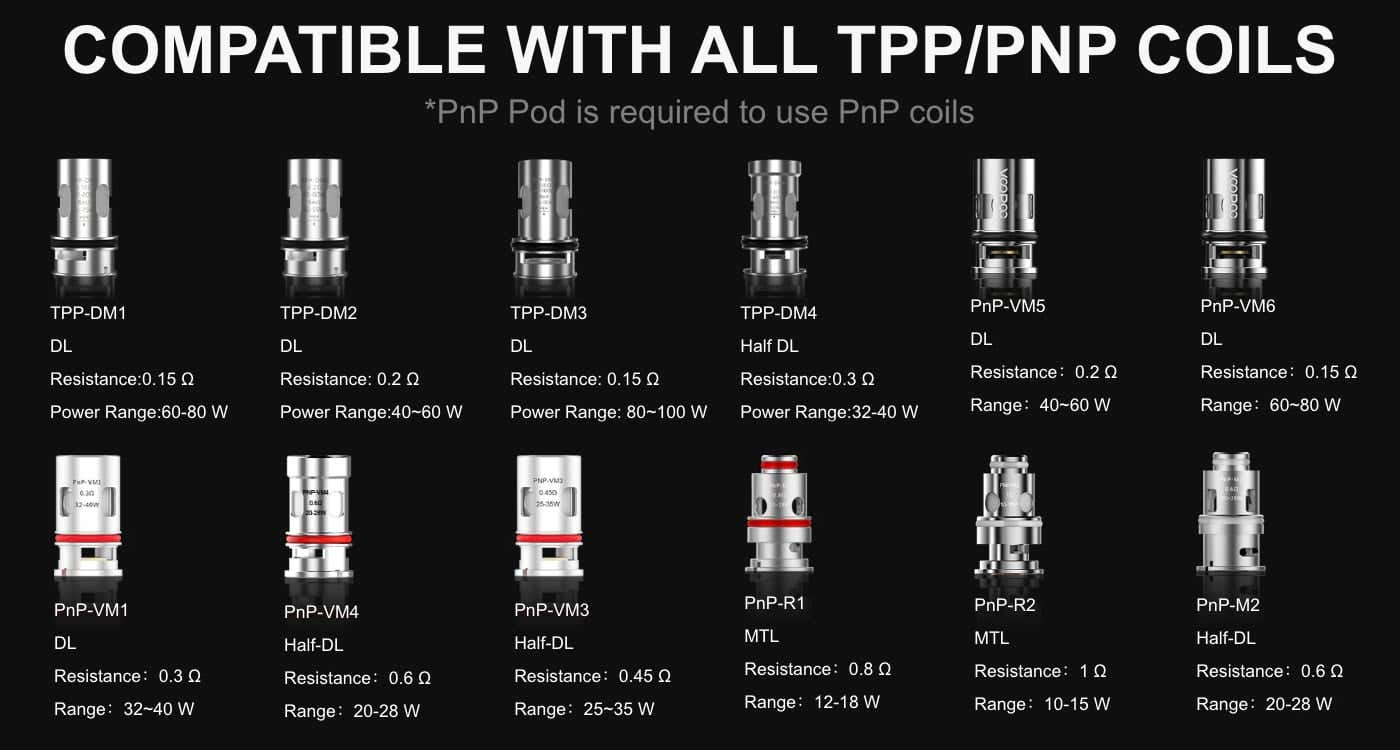 Specifications
The Drag S Pro measures an overall height of 125.5 mm by 28.8 mm by 34.5 mm.
Pod
Capacity: 2 ml
Pod material: PCTG
Compatible coil: TPP
Mod
Material: Alloy and leather
Output power: 5-80w
Output voltage: 0-8.5V
Resistance range: 0.1-3.0Ω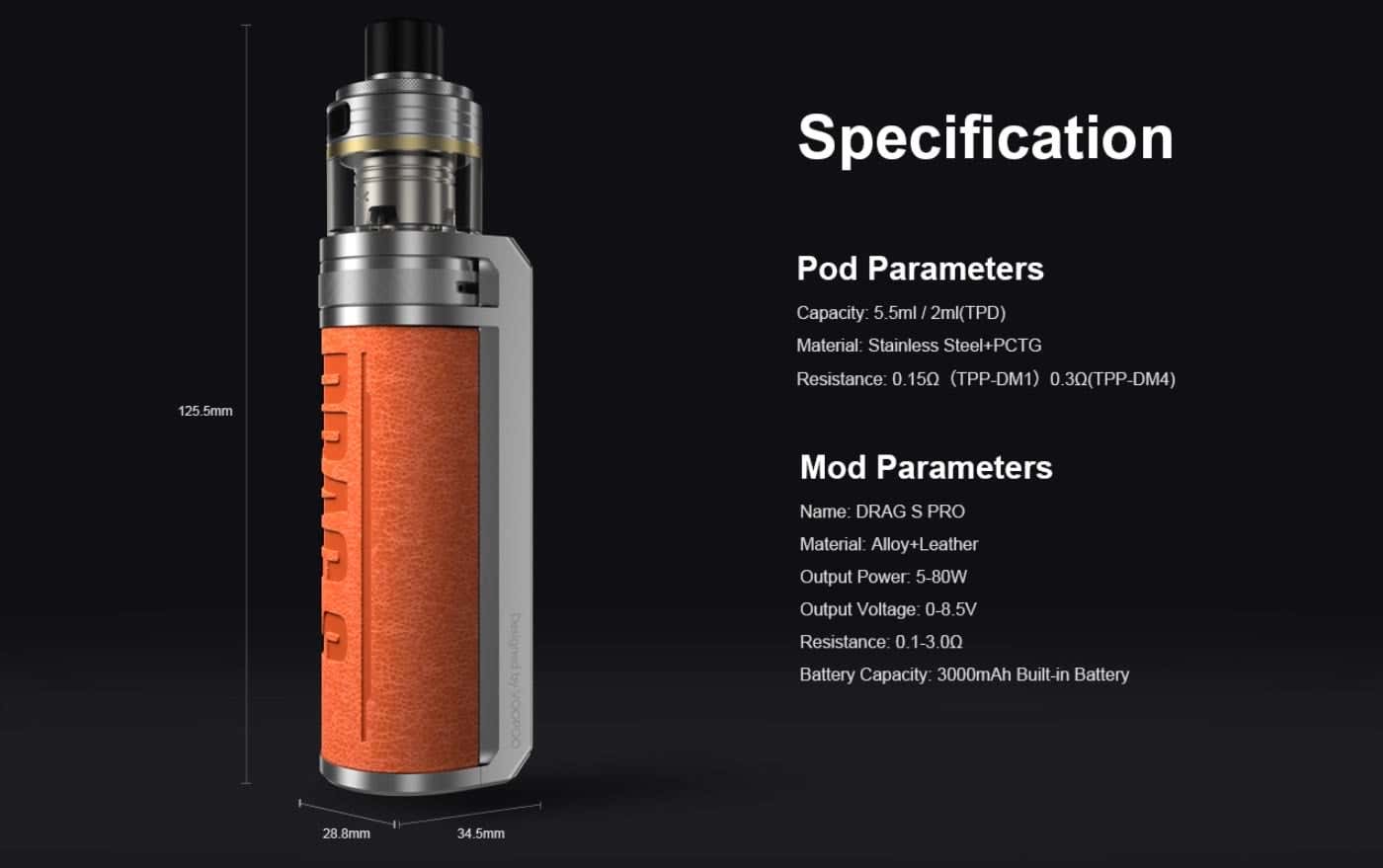 What's in the box?
1 x Drag S Pro device
1 x TPP X Pod
1 x TPP-DM1 0.15Ω Coil
1 x TPP-DM4 0.3Ω Coil
1 x Type-C USB Cable
1 x User manual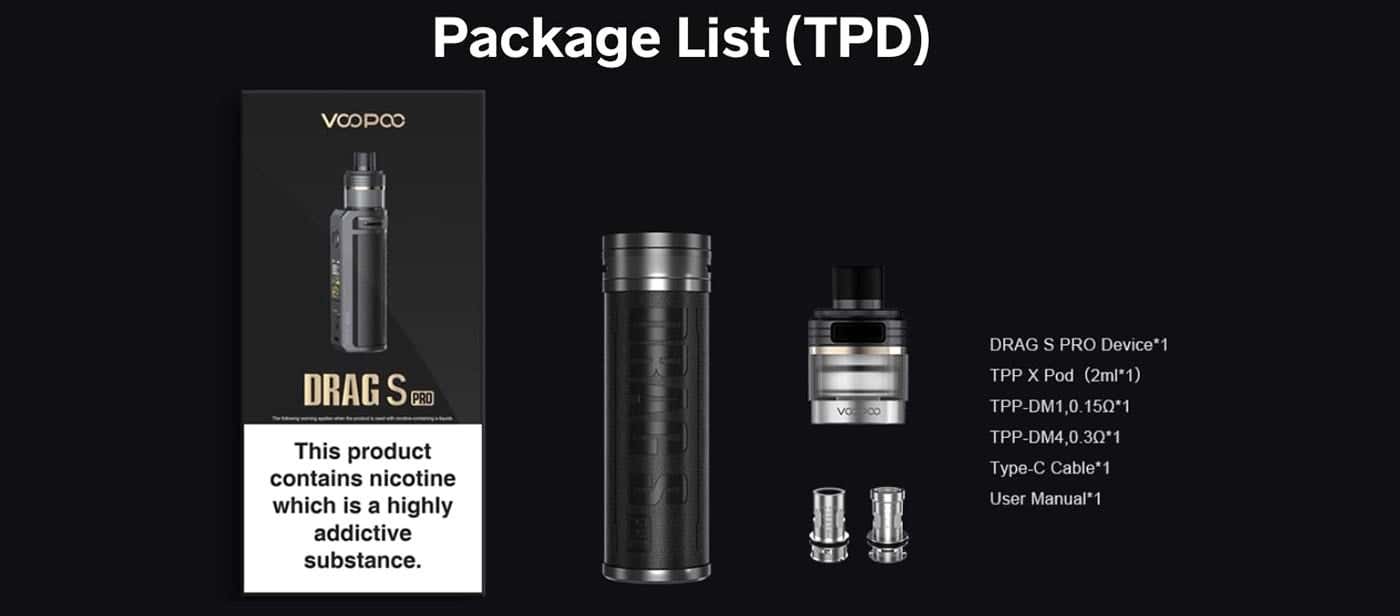 We found other products you might like!
Customer Reviews