Uwell Caliburn Koko Pod Kit
Caliburn Koko Pod Kit
Uwell hit the market with their hugely succesful, original Caliburn Pod System, the first pod vape kit from Uwell. The Caliburn Koko is their latest addition to the Caliburn range, featuring a more pocket shaped design. Caliburn Koko still has a 520mAh built-in battery and draw-activated system and a pod cartridge with 2ml capacity and top filling system to prevent leakage. This pod vaping kit is a perfect start for beginner vapers.

Caliburn Koko Parameters

Size: 67mm x 43mm x 12mm
E-Liquid Capacity: 2ml
Battery Capacity: 520mAh
Pod Coil Resistance: 1.2ohm
Power Output: 11w


Caliburn Koko E-Liquid Pods

Each Uwell Caliburn Koko replacement pod has a 2ml capacity and is fitted with a 1.2ohm integrated coil. 
 
Kit Contents

1 x Uwell Caliburn Koko Kit / 1 x Replacement Caliburn Koko Pod Cartiridge / 1 x Micro USB Cable / 1 x User Manual / 1 x Necklace
To avoid premature coil failure, be sure to follow our

 

coil priming guide

 

before using this kit
Depending on how many cigarettes you smoke,

 using the 1.6ohm coil, 

we recommend using the following strength e-liquids with this kit:
Not sure what Nic Salts are? See our guide

 

here
Replacement items for this kit
Customer Reviews
Write a Review
Ask a Question
I recommend this product
Great, unobtrusive little vape
I wanted a vape that i can carry in any pocket, that's simple and good to go, with a decent battery. This lasts me a day if I'm not bored and vaping for the sake of it, and almost a day if I'm doing work etc. and vaping on my down time. The flavours it produces were impressive and somewhat warm. The automated actuation when you **** is quite sensitive which was impressive, and never seems to miss-fire. I'm giving it a 4/5 simply because i think it deserves to have a USB-C connection, and there is always room to improve.
I recommend this product
Vape UK & Uwell Koko's
Vape UK: Bought 2 Uwell Koko's, where one of them had a auto-burn failure after a couple of days. Wrote VapeUK and already some hours later got an answer. They needed a video and serial number. Quick respons again and a new was send! The replacement, has just arrived and the packaging is as tip top as the first 5 star arrival. Uwell Koko: I am also surprisingly pleased with the Koko's. Bought two, because of easy battery swapping. If I just could get their new teenager Pro, in a more adult CaliburnPod & C.KokoPod design. Where it seems easier to fill up and a bigger battery. (In general, still think that Uwell is still one of the few, that can make both function and design. Not just either function or design. My thoughts, with a short experience of Uwell Koko's and a previous Uwell tank. Been vaping for 7 years) The only downside I find with this product. Is that the battery consistency dies slowly, so I find myself charging, where 20%-40% is left. I use 2-3 charges a day. But all in all, it is still a great product! 4 Stars. Michael [DK]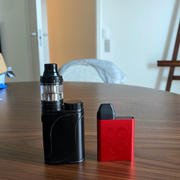 Great kit
So small yet works so well, very happy with my purchase