Vape UK RY6
Customer Reviews
Nice tobacco flavour
Although I've not tried many other tobacco substitute flavours, this is the most authentic and smooth taste so far. Decent amount of smoke, good throat hit... Not something I'd buy again, as I much prefer a fruity taste. For the product, the only reason I've not given it 5 stars is because the flavour and smell is incredibly persistent and very difficult to remove from the device when switching to another flavour.
16/03/2019
Ian D.
United Kingdom
Amber gold liquid from vape uk.
Well this tobacco flavour is so nice n little sweet the 50 vg blend is perfectly made to give this a great all day vape great price great company must say i took a gamble as i was so fed up looking for a nice melo vape and came and found this with a free bottle to try with my starter kit so thanks to vape uk thay made my days so happy with amber gold choice love it as so many tobacco liquids can be nasty.now im a happy customer thanks again vape uk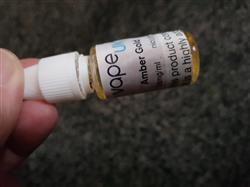 28/08/2018
Alex R.
United Kingdom
good,took a couple of days
good,took a couple of days to adjust managing fine now without baccy after 45 years
21/02/2018
D W.
United Kingdom
a good smoke
very good tobacco substitute. 12 mg
28/12/2017
D W.
United Kingdom
ry6
very good tobacco taste
Addicted to this!
I've been trying to find a really nice,rich caramel flavour and nothing quite hit the mark...until I tried this,as it was described as having a caramel flavour to it.The flavour is rich and smooth,the caramel balances perfectly with the smoky tobacco flavour.I have tried RY6 by other brands and it would have a burnt flavour to it.This however is silky smooth and seriously addictive.Definitely recommended!Thanks to all at Brighton Vape,delivery prompt as usual with updates too xx