Horny Flava Mango
Customer Reviews
14/07/2019
Louis W.
United Kingdom
great flavour worth the money.
great, gets a bit old but one to come back for sure.
10/09/2017
Pawlo S.
United Kingdom
Not bad at all
Wanted to try out a menthol juice so took a chance on ***** mango. Genuine mango creamy taste with menthol and a hint of mint. It's worth it and would buy again. Best in a tank very nice in a rda but can be a bit intense on the menthol. Overall good juice want to try the apple version next. Not a fan of menthol but this is good.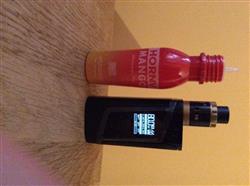 25/07/2017
Hannah M.
United Kingdom
Delicious!!
I work at Vape Store (Brighton) and James who comes in as a regular gave me this to try and I fell in love!! Will definitely be ordering some more from you guys! And will be getting some of Brighton rock too