Eleaf Rotor Tank
Eleaf Rotor
Inspired by the turbine engine, the small propeller within the HW-T2 0.2ohm coil creates turbulence and swirl within the airflow. The vapour is more consistently distributed, which in turn delivers better flavour than ever. The HW-T2 0.2ohm coil also provides an ultra pleasant vaping without any spit-back. Any vapour droplets that are not properly atomised, hit the propeller and are driven centrifugally back onto the mesh heater element to be atomised again.
HW-T2 Coil
Kit Contents
1 x Eleaf ROTOR tank

2 x HW-T2 coils (1 fitted)

1 x User manual

Spare parts
 Parameters
Diameter: 26mm (2ml version)
Height: 56mm (2ml version)
Weight: 51.5g (2ml version)
E-liquid capacity: 2ml
Colours: black, blue, silver, dazzling
To avoid premature coil failure, be sure to follow our coil priming guide before using this tank 
This tank is designed for direct lung inhale. 
Please see our guide to the differences between MTL and DTL vaping
Replacement items for this tank
Customer Reviews
Write a Review
Ask a Question
I recommend this product
Great tank one problem I had
So the gap for filling was the problem. Other tanks have air gaps while this one does not it's like a sealed top filler hole. Which means no air can get in and juice goes everywhere. My shortfill tip got stuck in the hole and I pulled it out and lost all my juice from my shortfill. What a mess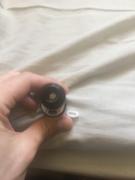 I recommend this product
Very good tank
Was having leaking problems with the original eleaf tank I had but this one is much better made.
I recommend this product
Eleaf Rotor
Bought this as I wasn't getting along with my smok tank - or more the coils. I've used eleaf ello duro before that, really liked it and still have plenty of spare coils so decided to get this. I like that they've now got a safety button so it can't get opened accidentally, however it seems collect e liquid between the mechanism that is exposed if you push down. It's not much buy any means so doesn't really bother me. I'm still on my first coil after a few weeks, it just keeps going. Coil tastes brill and you can hear the fan come to a stop after taking your mouth off. Not sure I'll buy the HW-T2 again as I've never had a problem with the HW-M2 coils (and they're cheaper)