Barista Brew Co Cinnamon Glazed Blueberry Scone
Customer Reviews
12/11/2019
Stuart
United Kingdom
I recommend this product
Amazing juice
Ive been struggling to find any juices better then some of the vampire vapes flavours, but now thanks to a friend I ordered some of this juice and is now one of my favourite flavours, plus brilliant it comes with a coffee cup included which is perfect for my morning Starbucks on the way to work! Great juice now just need to try some more from this range! Great service from vape uk as always
28/08/2019
Sam D.
United Kingdom
Beautiful ADV
After hearing so many good reviews on Barista Brew Co, I decided to take the plunge and give them a bash and I wasn't disappointed! This juice is superbly crafted with the perfect amount of sweetness and it has an incredible balance of punchy blueberry and a freshly baked scone dusted with cinnamon, the blueberry flavour is exactly as you would expect from a blueberry muffin/scone etc. This is present on the inhale, on the exhale you get the flavour base of a freshly baked cinnamon scone with overhanging blueberry notes! This is as close to eating the real thing as possible IMHO and BBC have nailed it! Apparently a lot more of there juices are like this! Making them a perfect ADV for the fellow vapinado! I have recently purchased there highly rated Salted Caramel Macchiato and will be reviewing this also!
Best
Sweet and delicious. The cinnamon is just right. A really buetifull all day vape. I love it!!!!!!
05/03/2019
Susan G.
United Kingdom
Tasty
Has a really nice taste to it, you will enjoy this if love blueberry muffins
09/09/2018
Jonathan C.
United Kingdom
Barista Brew
Cinnamon Glazed Blueberry Scone by Barista Brew has been my all day vape for quite some time now... their Salted Caramel Macchiato and Maple Bar Donut are also excellent (their brand new flavours don't disappoint either) but the Cinnamon Glazed Blueberry Scone stands out head and shoulders over any juice I've ever tried; period!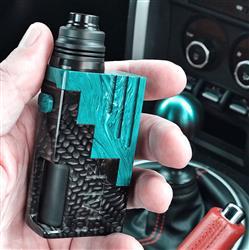 07/08/2018
Derrick T.
United Kingdom
Very Pleased
Great products and very good service