Aspire Rover 2 Starter Kit
Aspire Rover 2 Kit
 
The Aspire Rover 2 has a comfortable and ergonomic fit perfect for your hand whilst maintaining the amazing performance of the Nautilus XS. The fantastic performance that comes with the Nautilus XS is enhanced with the new NX40 mod with a giant battery of 2200mAh. The new Nautilus XS has an easy to use top-fill feature along with an adjustable top airflow for MTL or restricted DTL vaping. To prevent any heat building up on the mouth piece there are small fins implemented next to the mouth piece.

Specifications
Exploded View
 
Nautilus XS

Adjustable Top Airflow

Engineered for a smooth and consistent operation, the Nautilus XS features two large airflow holes, feeding air into the coil chamber from above the refillable tank section. These holes are easy to adjust and allow fast tuning for a wide variety of airflow.
 

Nautilus XS Filling
 NX40 Mod
Kit Contents

1 x Nautilus XS Tank (2 ml)
2 x Coils (1 x Nautilus XS 0.7Ω Mesh Coil + 1 x Nautilus X 1.8Ω U-Tech coil)
1 x NX40 Mod
1 x USB-C Lead
1 x User Manual
1 x Warranty Card
1 x Set Of O-rings
To avoid premature coil failure, be sure to follow our coil priming guide before using this kit
Depending on how many cigarettes you smoke,

 using the 1.8ohm coil, 

we recommend using the following strength e-liquids with this kit:
Not sure what Nic Salts are? See our guide

 

here

Replacement items for this kit
Customer Reviews
Write a Review
Ask a Question
12/07/2020
Steven B.
United Kingdom
I recommend this product
Aspire Rover 2 Kit works!!
Hi all. Just a quick review, mainly for people trying to quit smoking. So, it's been 15 days now and I owe it all to the NX40!! The first 48 hours were ****, and it wasn't helped by me being a novice vaper! However, get the W and V settings right, choose your flavours carefully (anything with vanilla works for me) and the machine works perfectly. I have tried vapes before and failed, mainly due to leakage and that disgusting taste in your mouth, but this kit is excellent. Highly recommended and good luck kicking the cigs!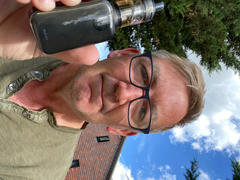 26/05/2020
Andrew
United Kingdom
I recommend this product
First time vaper - impressed
With the withdrawal of menthol cigarettes I changed to vaping. Very pleased with the Rover 2, it's well made, easy to use and you can set it to not produce the massive plumes of smoke you see with some (though that is an option if you want it). USB C makes it easy to charge and the display is nice and clear.
11/05/2020
Martin C.
United Kingdom
I recommend this product
Aspire Rover 2 Kit - High quality item
PRO's: Nice but of kit, good quality with a simple and coherent operating system. CONS: A bit of practice needed to get the correct amount of tightness on the coil and lid to avoid the coil detaching when removing the top for filling.
27/03/2020
Jordan W.
United Kingdom
I recommend this product
Unsealed....
This is a great vape. I broke my first one (my fault entirely), but I was so impressed by it I bought a 2nd one to replace it. My only concern is that it (second one) arrived unsealed and with fingerprints on the vape inside. This ordinarily wouldn't bother me too much, but with the corona virus it did. Nevertheless I was without my nicotine hit.... so gave in and used it anyway. ******. Just be wary of potential returns being re sold??