Aisu Cucumber
| Quantity | Price Each |
| --- | --- |
| 1 - 2 | £13.99 |
| 3 - or more | £11.00 |
Aisu E-Liquids by Zap! have the authenticity and clarity of flavour which recreates the classic Japanese experience of fresh fruits and a refreshing, cooling ice menthol hit. These wonderful e-juices will bring you a step closer to the Orient!
Free Nic Shot Included
70/30 VG/PG
Customer Reviews
Write a Review
Ask a Question
Aisu Cucumber
I have bought Aisu products before and was very satisfied, Aisu's Mango for instance is delicious. To me the Aisu cucumber is last too icy to the point that I think that something is wrong with the liquid, however the cucumber taste is very nice and realistic. If you like extremely iced flavors it could be you thing. If you quickly develop brain freeze do not buy this liquid.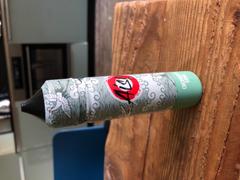 Perfect for summer
One of the best E-Liquids I've bought, very refreshing and the taste of cucumber is just like eating it. All the Aisu flavours have the ice effect, if you want a summer liquid to cool you down (yes, this can give you a brain freeze, but it's pleasant) then no better option than Aisu.