INNOKIN GO Z VAPE KIT
The Innokin Go Z Kit features the impressive Go-Z tank which uses the best-selling Innokin 1.6Ω Z-coils to give a wonderful, mouth-to-lung (MTL) vaping experience.

Slide to Open, Top-Fill Design
The Innokin Go Z tank is a refillable 2 ml tank, designed for flavour, convenience, and affordability. To refill the tank, simply push the top section to the side to expose the filling hole, and then fill it with your favourite e-liquid.

Find Your Perfect Draw
To adjust the airflow, simply turn the bottom airflow ring to fine-tune your perfect draw, and enjoy a truly great and flavourful experience.
By increasing the airflow, the inhale will be far looser than closing off the airflow, which creates a tight inhale.

Featuring Z-Coil
The Go Z kit includes the best-selling 1.6Ω Z-Coil renowned for its performance, flavour and quality.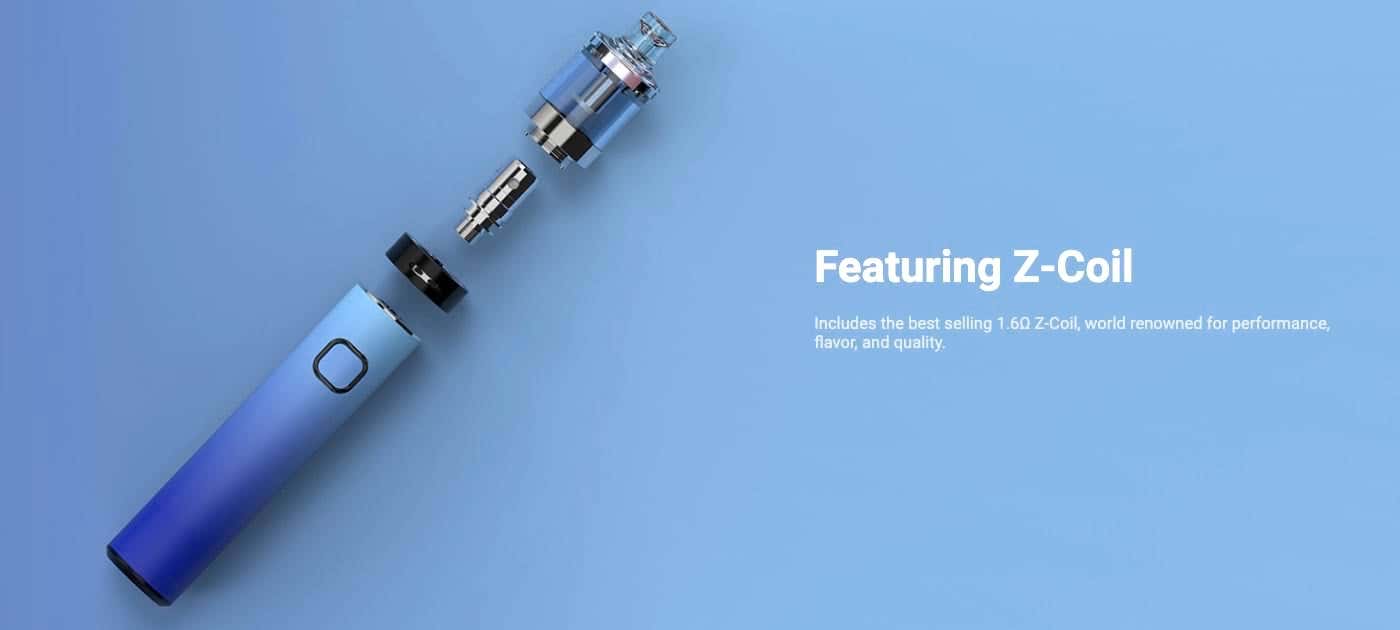 Lasts All Day — 1500 mAh Battery
With optimised output and a 1500 mAh battery, the Go Z kit can produce great flavours that last all day. Featuring a tricolour battery capacity indicator, and integrated protections to properly ensure battery safety.
The Go Z kit automatically adjusts the wattage output, depending on the coil used (1.6Ω: 13 watts).

Food Grade PCTG Plastic
The use of food grade PCTG plastic enhances the durability of the Innokin Go Z kit.

Specifications
Power: 13w constant output
Vaping cut-off time: 15 seconds
Maximum output current: 5.0A
Resistance range: 0.6 - 3.5Ω
Battery capacity: 1500 mAh
Tank capacity: 2ml
Coil resistance/material: 1.6Ω KAL Kanthal
What's in the box?
1 x Innokin Go Z battery device
1 x Innokin Go Z tank
1 x 1.6Ω coil (pre-installed)
1 x Micro-USB Charging cable
1 x Quick start guide / Warning booklet
Important: The Innokin Go-Z kit is not compatible with 0.3Ω Mesh, 0.48Ω Plex3D and 0.5Ω Plexus Z-Coils.
Depending on how many cigarettes you smoke, we recommend the following strength e-liquids with the Innokin Go Z kit.
Not sure what Nic Salts are? See our guide here.
To avoid premature coil failure, be sure to follow our coil priming guide.
Compatible items for this kit
We found other products you might like!
Customer Reviews