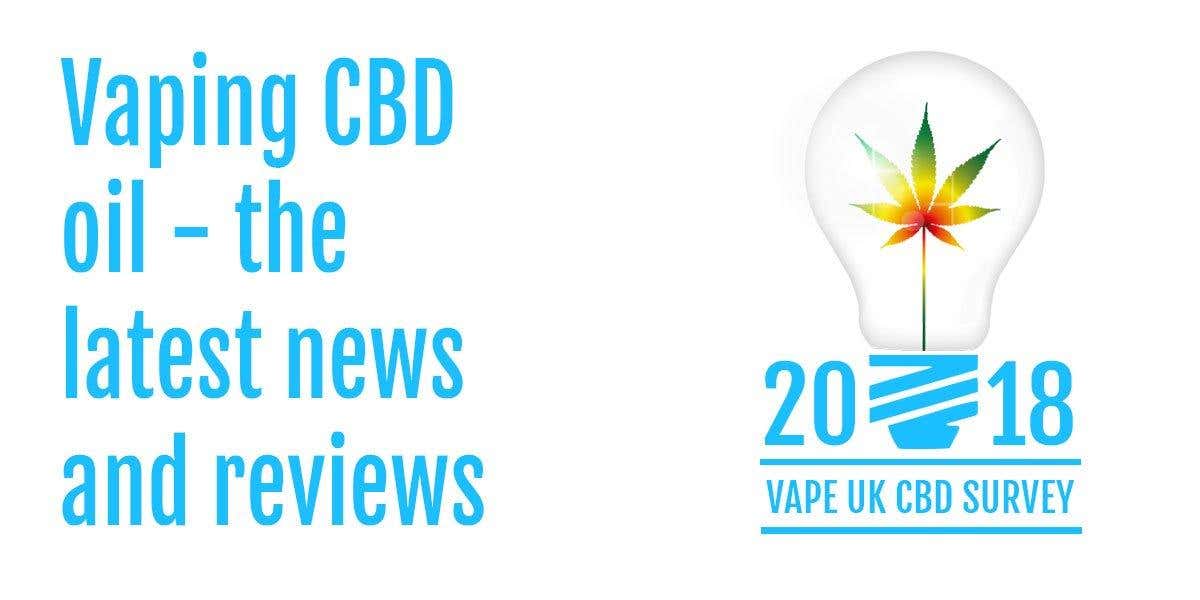 The latest CBD news and reviews for you to peruse!
It's been a few months since we introduced CBD oil e liquid to the Vape UK range. Our Vape UK CBD oil vape liquid range has been extremely popular, and our guide to vaping CBD oil has become one of the most viewed pages on the whole website!

So we thought it was about time to share some of the fantastic feedback and reviews that we have received from our customers; as well as update you all on the latest news and trends from the CBD vaping world. Enjoy!
Our BIG CBD survey 2018 - check out the scores on the doors!
Shortly after we started to sell CBD e liquids, we decided to ask our customers to answer a few questions. Firstly to help us make sure that we were selling the right products; but also to ensure we are providing enough information about vaping CBD, and giving the right advice to new users. Here are the results:

82% of customers had purchased CBD vape juice to help with a physical or mental health problem. Exactly the same percentage had never tried CBD e liquid before.

However, nearly a quarter of our respondents had tried CBD in other forms previously, including drops, as a concentrate, or through cannabis itself. Of these, two thirds reported that vaping CBD e-liquid was as effective, or more effective, than the other forms they had tried.

Over three quarters of our respondents said that vaping CBD oil was having the effect they were hoping for, which is amazing news.

We are also pleased to report that a massive 82% of customers rated our CBD e liquids as high quality, and over two thirds rated the product as 7 or higher (out of 10) when asked if they would recommend the liquid to friends and family.
Vaping CBD oil - praise for our products
We also gave our customers the chance to feedback, in their own words, the things that they liked or disliked about our CBD e-liquid. Here are a few of their responses:

"I like that it eases the pain of my MS and that I can do it legally. Thank you for a great product I have recommended you to many friends who also have health issues."
"I liked the taste of the liquid and its therapeutic qualities."
"Clean liquid from what I can tell which is always a worry with CBD. Mixed up with some Nic salt e-liquid, it's instant satisfaction when needed."
"Like it because of my illness. It helps very much and I can mix it with my own juice."

Vaping CBD oil - how can we improve?
It wasn't all positive, however. We received some negative feedback concerning the flavour options, the price of the higher strength CBD, and the availability of a starter kit. We are pleased to report that we have taken this feedback on board and made some changes.

Firstly, we are in the process of introducing exciting new flavours to the range (more on that below). Secondly, we price checked our range against the market and reduced the price of the 500mg strength CBD e-liquids to ensure our pricing remains fair and competitive. Lastly, we recently introduced two great value starter kits for people who are new to vaping, but want to try CBD oil e-liquid for themselves.
Vaping CBD - five star e-liquids
We also offer our customers the opportunity to review the products that they purchase from us. These reviews are written by genuine customers, and are freely available for anyone to view on our website.

We've had some fantastic reviews about Vape UK CBD e-liquids, and the CBD starter kits. We've chosen a couple that go into fantastic detail about the benefits of CBD.

"As someone who suffers with anxiety and a great deal of chronic pain I was looking into alternatives to taking painkillers which can become addictive if I'm not careful. So far so good this is helping me chill out a lot and I seem to be suffering less. Nice little starter kit with straightforward instructions and easy set up. I've never vaped before now so it was kind of scary to me but this is awesome and seems to be helping."
"I have tried CBD oil before but it didn't help much but I wanted to give it another go. I wanted to use the oil for both pain relief and anxiety. I was kept informed from the time of my order as to when the product would be despatched, when it was actually despatched and to check I had received it. I received the product very quickly and it works so well I have ordered several more bottles. My pain is relieved and I've only had one panic attack since using the oil (approx five days) normally it would have been nearer six or seven. I can't thank Vape UK enough for their excellent customer service, great delivery times and fantastic product. I look forward to using your products and being relieved from pain and anxiety for a long time. For anyone with pain, anxiety or stress wondering if they should try CBD oil I would say absolutely yes. It's not too expensive (a 10ml bottle has lasted me ages as I use half and half with normal vape oil), I think there must be less health issues than using real cannabis and you can use it without fear of prosecution. Do try it and I very much hope it works as well for you as it has for me. Thank you so much Vape UK."
Vaping CBD oil - our colleagues get the benefits
It's not just customers who are loving the benefits of vaping CBD oil e-liquids. Our lovely colleague, Becky, has been vaping Vape UK CBD for a few months now (and other CBD e-liquids prior). She kindly agreed to answer a few questions about her experience.

Q: What made you want to try CBD?
A: My fiancé did some research into alternative pain relief options for my disabilities - we both thought it would be worth a go.

Q: Have you tried CBD in any other forms before?
A: I've tried the honey sticks and the gummies. I didn't find them anywhere near as good. CBD e-liquid works quicker and I can control the dose. Plus, the others tasted awful!

Q: Did you have any concerns about trying CBD?
A: It took me 6 months to actually try it after we purchased the first bottle as I was scared about the effects that it would have, and that I might be sick.

Q: How do you find vaping CBD oil as an e liquid?
A: Having tried a few brands of CBD in the past, Vape UK CBD does not have a 'hempy' taste which is a great plus for me. The flavours I have tried taste as they should.

Q: Can you explain the effect that vaping CBD has had for you?
A: It helps me to sleep. On normal pain days, I take ⅓ to ½ less painkillers since using it. On extreme pain days, it still takes the edge off.

Q: Has vaping CBD enabled you to do things you weren't able to do previously due to pain?
A: I can stand for longer. The main thing I have noticed is that, in the mornings, I am more awake and alert than before. Also, I haven't needed to use my wheelchair - just my walker.

Q: How likely is it, on a scale of 1-10, that you would recommend CBD to others?
A: 10!

Q: Can you describe the things that you like or dislike about our CBD e-liquid?
A: The main thing I like is that the packaging is discreet and doesn't have a hemp/cannabis leaf on it. I also like the range of flavours, and that none of the flavours have a 'hempy' aftertaste.
Vaping CBD oil - what's new?
As we mentioned above, some of our customers are hoping to see a broader range of choice in the flavours of CBD e-liquid that we offer.

We've been looking into new advancements in CBD flavours to learn more about where the market is going. The most interesting trend is around terpene flavour profiles, which we have now introduced into the range.

Terpenes and OG Kush
Terpene is probably not a familiar term to anyone new to the world of CBD. Terpenes are the natural, fragrant oils that are found in many plants, cannabis included. Cannabis terpenes are extracted from the same glands that produce the CBD cannabinoids. Not only do terpenes enhance flavour, but they can also enhance the effect of the CBD oil on the brain's receptors.

The three most common terpene profiles found in e liquids at the moment are:

Linalool - provides a uniquely spicy floral flavour and aroma and can be found in OG Kush e-liquids.
Myrcene - this has a tropical fruit flavour profile and is most commonly associated with mangos, hence its use in Mango Kush vape liquids.
Limonene - found in the peel of citrus fruit, this aromatic lemony oil has the perfect fresh flavour for vape juice.
We have expanded upon the science and benefits of terpenes in two comprehensive guides - read them here and here.

You can also check out our guide to the difference between CBD Isolate, Broad Spectrum, and Full Spectrum which was created following our introduction of our range of high quality broad spectrum e-liquids.
Vaping CBD oil - in summary
We are excited about the direction that CBD oil e-liquids are going in. As we learn more from clinical studies, and our customers, we can make informed decisions about our own products, and the advice that we provide.

Keep checking back as we introduce new CBD products, and update our information resources with the latest relevant insights, data and trends. Plus, you can always get in touch with us if you have any questions about how CBD could benefit you.
The content in this article is not intended to be a substitute for professional medical advice, diagnosis, or treatment. Always seek the advice of your GP, or other qualified health provider with any questions you may have regarding a particular medical condition. Never disregard professional medical advice or delay in seeking it because of something you have read on this website.