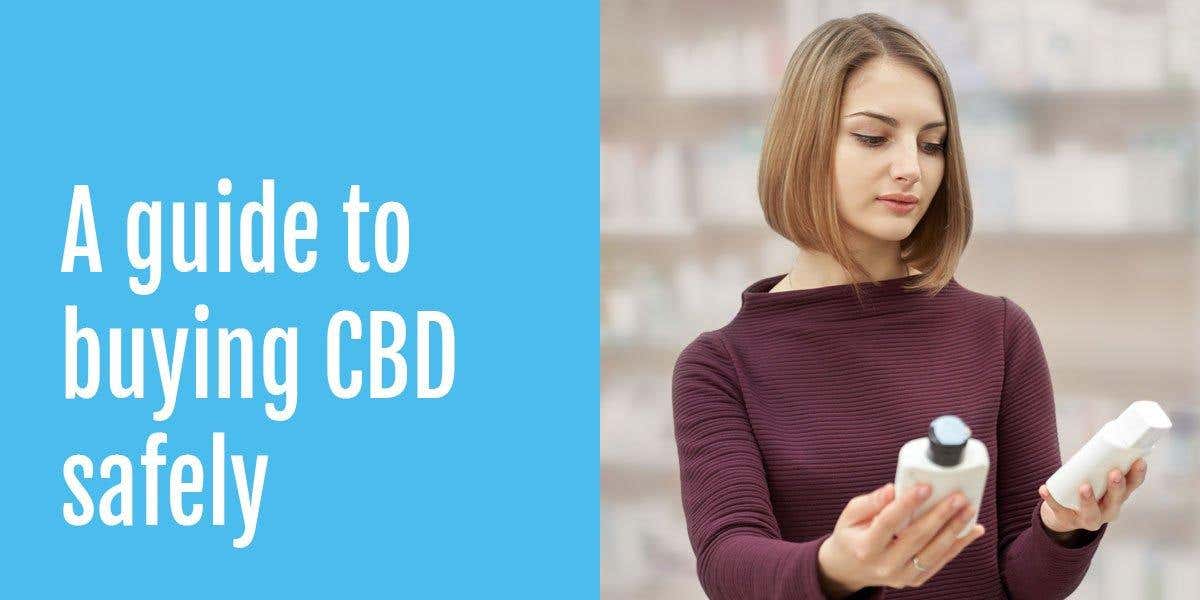 Following the news of bootleg THC and CBD vape cartridges being linked to seven deaths in America, we wanted to create a guide to help consumers distinguish the good CBD products from the bad.

Consumer interest in cannabidiol (CBD) is growing fast. The buzz surrounding the health and wellbeing potential of CBD is palpable. New studies are underway around the world, including the UK, to further explore the full extent of CBD's therapeutic capacity.

New data for the growth of the CBD market in the UK indicates that the current 'hype' is not just a passing fad. The popularity of CBD has now reached a level of market penetration that is unlikely to subside.

However, to counter the spreading popularity, there is still widespread misinformation and confusion surrounding CBD. The legal status of CBD products; conflation between CBD and THC; the differences between a good CBD product and a bad one...
So many CBD products to choose from
As the industry grows, hundreds of companies are jumping on the CBD bandwagon - eager to get their slice of a lucrative pie. Usually consumer choice is a good thing. However, as is the case with many growing industries, the CBD market is now flooded with bad products as well as good ones. As the market is still relatively new, the challenge for consumers lies with knowing how to tell the difference.

This can lead to shoppers wasting their money and not getting the positive results they were hoping for; potentially making them write CBD off as yet another wellness gimmick.

Even worse, as we've seen these last few weeks in America, some unscrupulous vendors can take advantage of consumers' lack of knowledge in order to use cheap and unsafe ingredients in their products to improve their profit margins.
How can you be sure the CBD product you're buying is safe?
So, in the midst of all this confusion around CBD, what's the solution? The answer is quite simple - education.

It is more important than ever for you to understand what to look for in a high quality CBD product. We've created this guide to buying CBD products safely to help you make good decisions.
1. Does the vendor have 3rd party lab results?
If a CBD retailer was unable to supply lab reports, I would be extremely wary of purchasing CBD products from them.

The CBD e-liquids we manufacture are all thoroughly tested before we stock them. Plus, we won't stock any third party products where the manufacturer can't supply us with a full report from an accredited laboratory. Our customers can have sight of the lab reports from any of the CBD products we stock before they commit to purchasing - they only need to ask.

Without a lab report, you have no way of knowing exactly what is in the product and if it's safe to use. The presence of unsafe levels of harmful ingredients or contaminants will display a Fail in the Status column of the report.

The lab results should also confirm that the amount of CBD, or other cannabinoids, stated on the product label is in fact the amount it contains. A small deviation is normal; a big difference should raise a red flag.

Check that the testing was completed by a reputable laboratory by making sure they are accredited by the International Organisation for Standardisation (ISO) or a similar body. If not, the vendor could have just compiled the lab report themselves.
2. Other than CBD, what ingredients are in the product?
High quality CBD products will have a clear and comprehensive list of the ingredients they contain. Ideally they should state that the CBD is organically sourced and GMO free.

Some of the best CBD oral drops (tinctures) and capsules use MCT as the carrier for the CBD. You may not recognise MCT as an ingredient but worry not. MCTs (medium-chain triglycerides) are found in abundance in food products such as coconut oil, olive oil, soybeans and avocados. They are safe for human consumption and improve the bioavailability of CBD, allowing more to reach the bloodstream.

If you prefer to vape your CBD, then your chosen e-liquid should ideally mirror the ingredient list found in nicotine vape liquid. Although CBD vape juice doesn't contain nicotine, the stability of the PG/VG base in e-liquids is well tested and documented for the temperatures required to vaporise the CBD.

If the product does contain stuff you've never heard of, it's not necessarily cause for concern. A simple internet search will reveal all and let you know if the ingredient is safe for use in the delivery method the product intends. For example, the bootleg vape cartridges that have caused health problems in the US contain Vitamin E-acetate - perfectly safe when applied topically but not when inhaled.
3. What is the THC content?
In order to comply with UK laws, the CBD product must contain 0.2% THC or less. This is the amount that is considered safe and unlikely to generate any psychoactive effects. All of the hemp strains that are certified by the EU for use in UK CBD products contain <0.2% THC.

That being said, even in those extremely low quantities, THC can show up on some drug tests. If you are someone who is regularly screened for drugs at work, you will want to opt for a product that is completely free from THC. Again, the lab test will confirm the presence or absence of THC in your chosen product.
4. What type of CBD is in the product?
There are three main types of CBD products that you can choose from; understanding the difference is important when selecting the CBD product that is right for you.

The first type is CBD Isolate which is pure CBD that was extracted from the hemp plant and then isolated from all of the other cannabinoids using a process called winterisation. The result is a >99% pure CBD extract.

Next you have Full Spectrum which doesn't go through the winterisation process. This means that all of the other cannabinoids are still present. Full Spectrum has its own particular benefits known as the Entourage Effect. However, THC is present in the extract. For the product to be legal, this THC level needs to be <0.2%; however, as we've discussed above, this may still be unwanted by some consumers.

Finally, and growing in popularity in the UK, is Broad Spectrum. Increasingly regarded as the perfect hybrid between CBD Isolate and Full Spectrum, Broad Spectrum is basically Full Spectrum without the presence of THC.
5. Where was the hemp sourced from?
It's common sense that the quality of the hemp affects the quality of the CBD that is extracted from it. Manufacturers of premium CBD products will source the best quality hemp from reputable suppliers. Less scrupulous manufacturers will buy from whichever supplier sells their hemp for the cheapest price.

Hemp can be sourced from many places around the world, including Europe. However, as the industry evolves, the nutrient rich soil in certain states of America is regarded as perfect for producing top quality hemp.

Furthermore, cultivation practices employed by renowned hemp farms in the United States are being widely recognised as the best quality standard.

Maintaining the proper ph-balance in the soil, abstaining from pesticides, rejecting GMOs, and sourcing seeds from certified collectives all add up to a superior hemp plant from which to extract top notch CBD.

You are unlikely to find all of this information by looking at a label on a CBD product; however, reputable CBD suppliers should be readily prepared to provide you with the details of their sources if you ask.
Choosing your CBD products wisely - takeaways
As the CBD industry grows in the UK, it's clear that more needs to be done to provide consumers with the correct advice so they can make sensible, well informed decisions about the best CBD products for their particular needs.

Check the ingredients carefully, and ask vendors for lab reports, to ensure that your product of choice contains the advertised dose of CBD. Furthermore, it's really important that you purchase your CBD oil from reputable sources. The popularity of CBD is such that some shady manufacturers are jumping on the bandwagon. To be sure of the purity of the CBD, as well as any other ingredients used, do your research and only buy certified products.
Using CBD safely
There is no current evidence to suggest that CBD oil is harmful to humans. It is a plant based cannabinoid, and cannabinoids are found naturally in our own bodies. Hence, if you decide to try CBD oil to find relief from your particular health condition, even if you don't find the positive results you were hoping for, you're unlikely to find any negative ones.

This being said, it's still recommended that you consult with a doctor before taking CBD oil if you are taking prescribed medication.
The research into CBD continues
As more studies are undertaken, and more research published, we will continue to update you with all the latest findings regarding CBD.

If you still have more questions, we are always happy to help. Just get in touch with any queries you have about CBD or vaping in general.
The content in this article is not intended to be a substitute for professional medical advice, diagnosis, or treatment. Always seek the advice of your GP, or other qualified health provider with any questions you may have regarding a particular medical condition. Never disregard professional medical advice or delay in seeking it because of something you have read on this website.