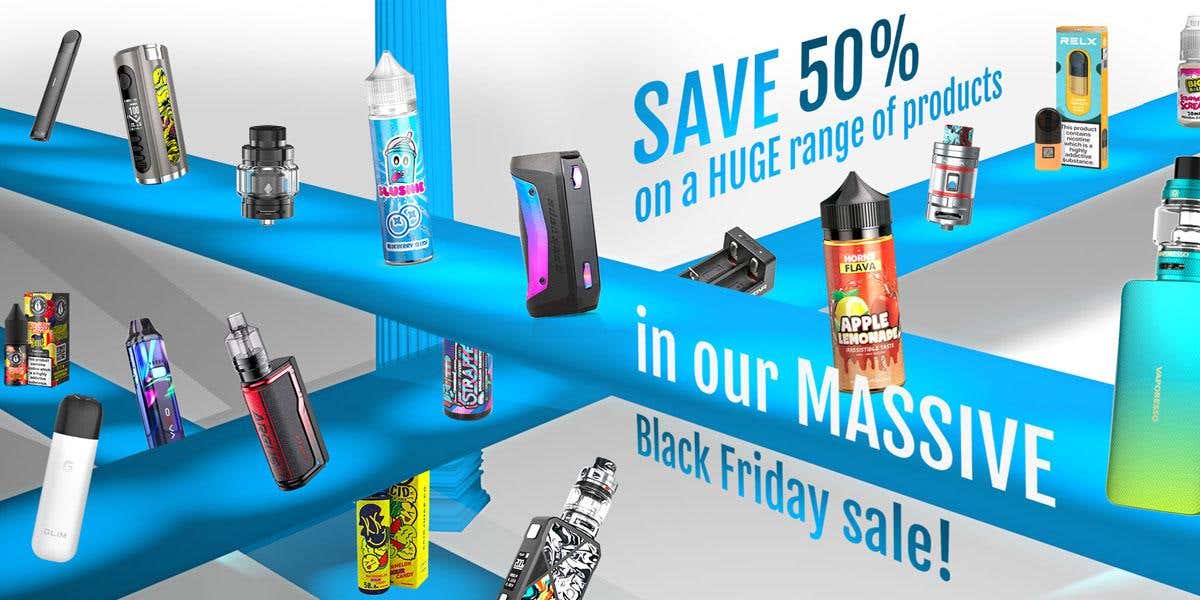 At Vape UK, we're celebrating the Black Friday 2021 weekend by offering our customers amazing vape deals until midnight on Cyber Monday!
Black Friday is a US tradition that happens the day after Thanksgiving when American retailers mark the official start of the Christmas shopping period with great deals to encourage budget conscious shoppers. The story goes that the term 'Black Friday' was coined for this particular day because shoppers would spend so much money on discounted goods that retailers would actually see their profits move 'into the black'. In reality, the term goes back much further, and has a much darker history. You can read more about the real story of Black Friday here, if you're interested.
I was surprised to learn that Black Friday has only been a thing in the UK since 2010 when Amazon decided to extend their Black Friday offers to their UK customers. In fact, most British retailers only got involved after 2013, so as not to lose out on the pre-Christmas trade to US brands, like Apple and Asda.
In 2013, Asda, owned by US retailer Walmart, discounted half a million products by up to 70% which led to chaos, assaults, and injury. It feels to me like the news of people battling each other for discounted plasma TVs happened a lot longer ago, but no.
Black Friday 2021
Nowadays, of course, Black Friday is a far more civilised affair. This is mainly due to the fact that the discounts are less likely to be offered for just a single day. We now recognise Cyber Monday, and Small Business Saturday, as part of the whole event, rather than days with a purpose of their own. This has turned Black Friday into a four day retail period with brick and mortar stores, and ecommerce brands alike, offering great deals across all of their channels.
At Vape UK, we have always rewarded our valued customers with outstanding offers on a huge range of fantastic products during our Black Friday event. For 2021 we will run our massive sale from midnight on Black Friday until the end of Cyber Monday.
Black Friday Vape Deals
This year we have discounted a huge range of fantastic vaping hardware, and delicious e-liquid ranges, by a massive 50%! You'll find deals on starter kits, pod kits, vape mods, sub-ohm tanks, and vape juice. Whether your vaping style is mouth-to-lung (MtL), direct-lung (DtL), or half-direct lung (H-DL), there are significant savings to be had for every kind of vaper!
What's not to love about that?!
We're here to help you quit smoking for good
At Vape UK, we pride ourselves on being responsible vaping advocates. We keep up to date with all of the latest news and studies; we supply high quality TPD compliant vaping products; and we are always on hand to offer helpful and honest advice about vaping. Please get in touch if you have any questions about vaping for our team.

* Sale starts from midnight on Friday 26th November 2021. Deals end at 11.59pm on Monday 29th November 2021. While stocks last.